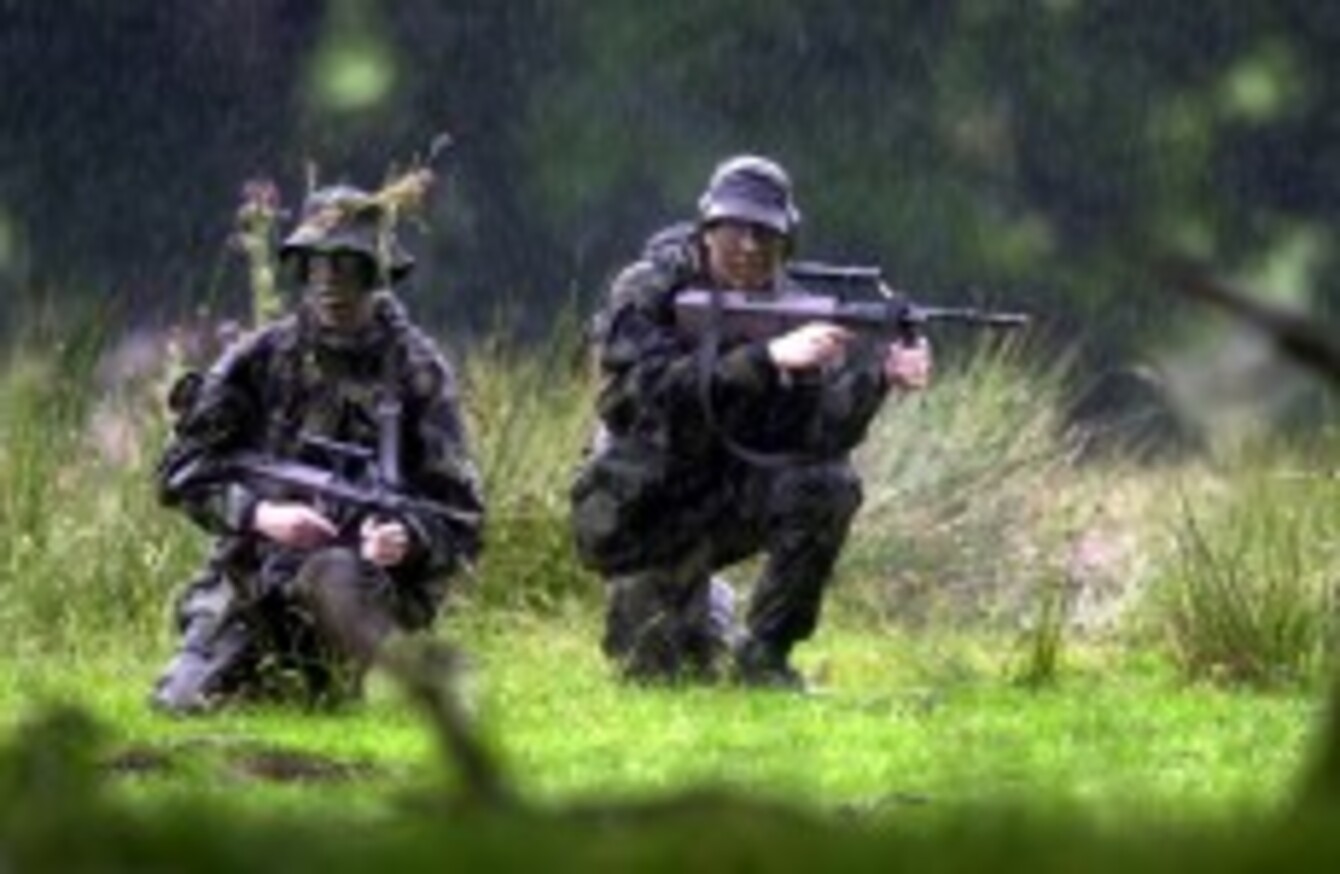 Reserve Defence Forces in training (File photo)
Image: Eamonn Farrell/Photocall Ireland
Reserve Defence Forces in training (File photo)
Image: Eamonn Farrell/Photocall Ireland
THE GOVERNMENT AND the Defence Forces have both insisted this evening that no decision has been made on the future of the Reserve Defence Forces following claims from a representative group that it was to be shutdown.
The Reserve Defence Forces Representative Association (RDFRA) has claimed on its website and Facebook page that no further training of reservists will be carried out and "that the Military Authorities have made strident moves to shut down the RDF as and from 1st September 2012."
"Feedback from RDF Units / personnel around the country is that no further RDF training is to take place after 01/09/2012.
"Some unit accounts have already been closed down which effectively means that they can no longer operate, train or do anything," the RDFRA's Tom Walsh said in a statement on its website.
However, both a spokeswoman for the Department of Defence and a spokesman for the Defence Forces have denied this saying that a "value for money" review is still ongoing and no decision has been made at this point.
The spokesman for the Defence Forces told TheJournal.ie this evening: "There is no curtailment of RDF training and there are no details about any cessation of training. There has been no change in RDF training."
The Reserve Defence Forces is made up of both the Army Reserve and the Naval Service Reserve.
According to figures from last October it has a current strength of 5,361 reservists including 5,133 Army reservists and 228 Naval Service reserve personnel.
It is a part-time force in which new recruits – who must be over 17 and under 35 – receive professional military training. The force is currently subject of the aforementioned "value for money" review.
This is separate to the permanent Defence Forces review carried out earlier this year and which saw a reduction in the number of brigades from three to two and a ceiling of 9,500 personnel that was initially imposed last December maintained by Justice and Defence Minister Alan Shatter.
The RDFRA could not be reached for comment this evening.