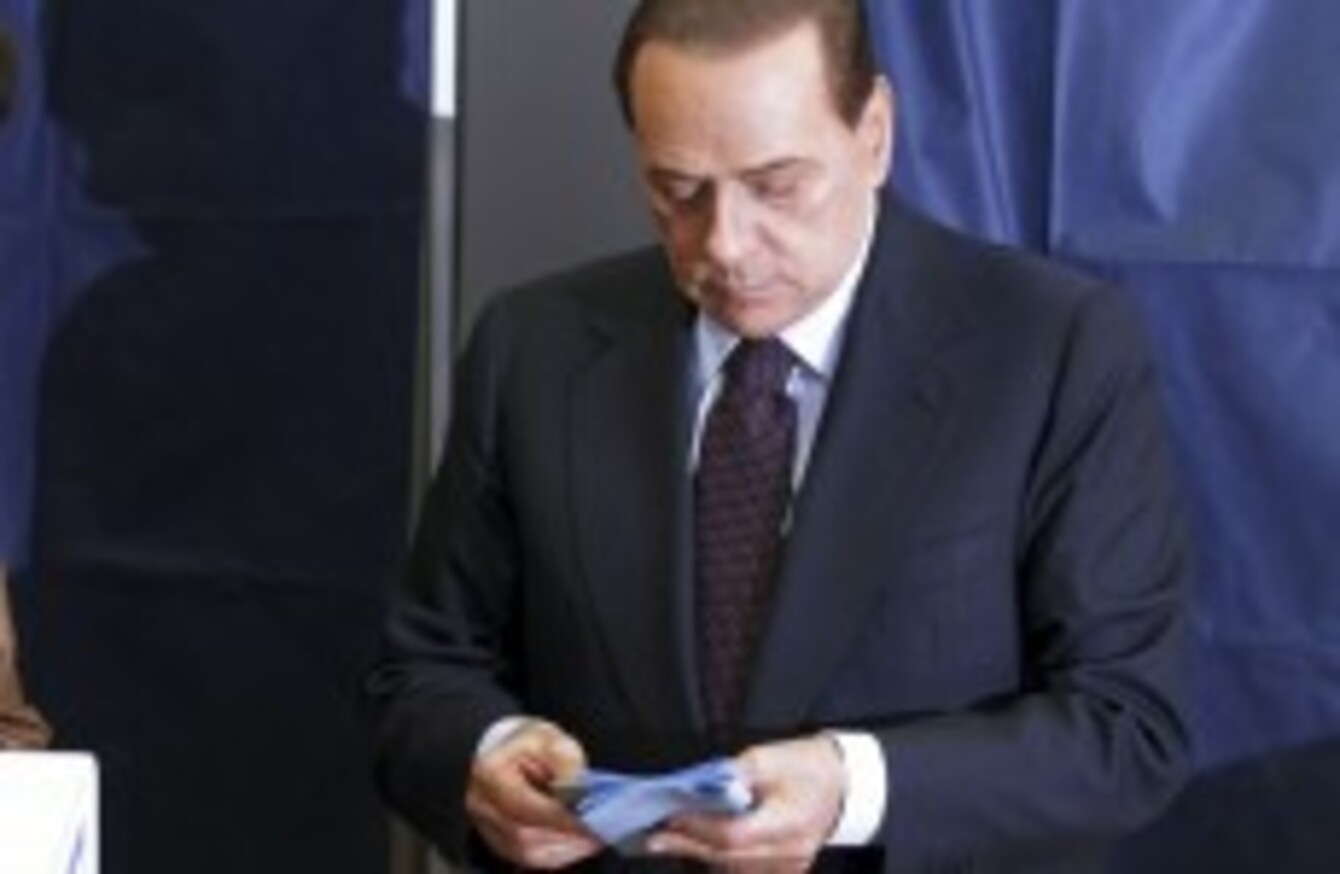 Image: Luca Bruno/AP
Image: Luca Bruno/AP
SILVIO BERLUSCONI HAS admitted he was "surprised" and "sad" after his party suffered heavy losses in Italy's local elections – potentially expediting a full general election.
Incumbent mayor of Milan, Letizia Moratti, of Berlusconi's 'House of Freedoms' alliance, had been expected to clinch re-election – but only came second, scooping 41 per cent compared to the 48 per cent of Giuliano Pisapia.
With neither candidate securing over 50 per cent of the voters' support, the election will now head for a run-off ballot in two weeks' time.
Worse still for the incumbent but troubled prime minister was the fact that Berlusconi himself, who had listed himself as the main name on the party list vote in his hometown of Milan.
Berlusconi took only a third of the 53,000-or-so votes he managed to take just five years – having last week said it would be his "political funeral" if he lost votes, the Wall Street Journal reports.
That report also quoted a leader of a major party in Berlusconi's coalition, the Northern League, who said that while the premier's popularity was usually enough to gain more votes than the alliance would otherwise receive, his ongoing legal and personal battles lost votes this time.
"In Milan, it looks like there is some rejection of Berlusconi. This is not a knockout blow for Berlusconi, but it is a blow," political analyst James Waltson of Rome's American University told AP.
Around a quarter of the population voted in the elections, with four cities returning to the polls for run-off elections in a fortnight. Those elections are due just two days before Berlusconi is next due in court charged with paying a teenage Moroccan bellydancer for sex.
Although the elections do not have a direct impact on Berlusconi's grip on power in the Italian parliament, the poor results could put strain on Berlusconi's coalition – especially given how he only scraped through confidence votes in parliament last December.