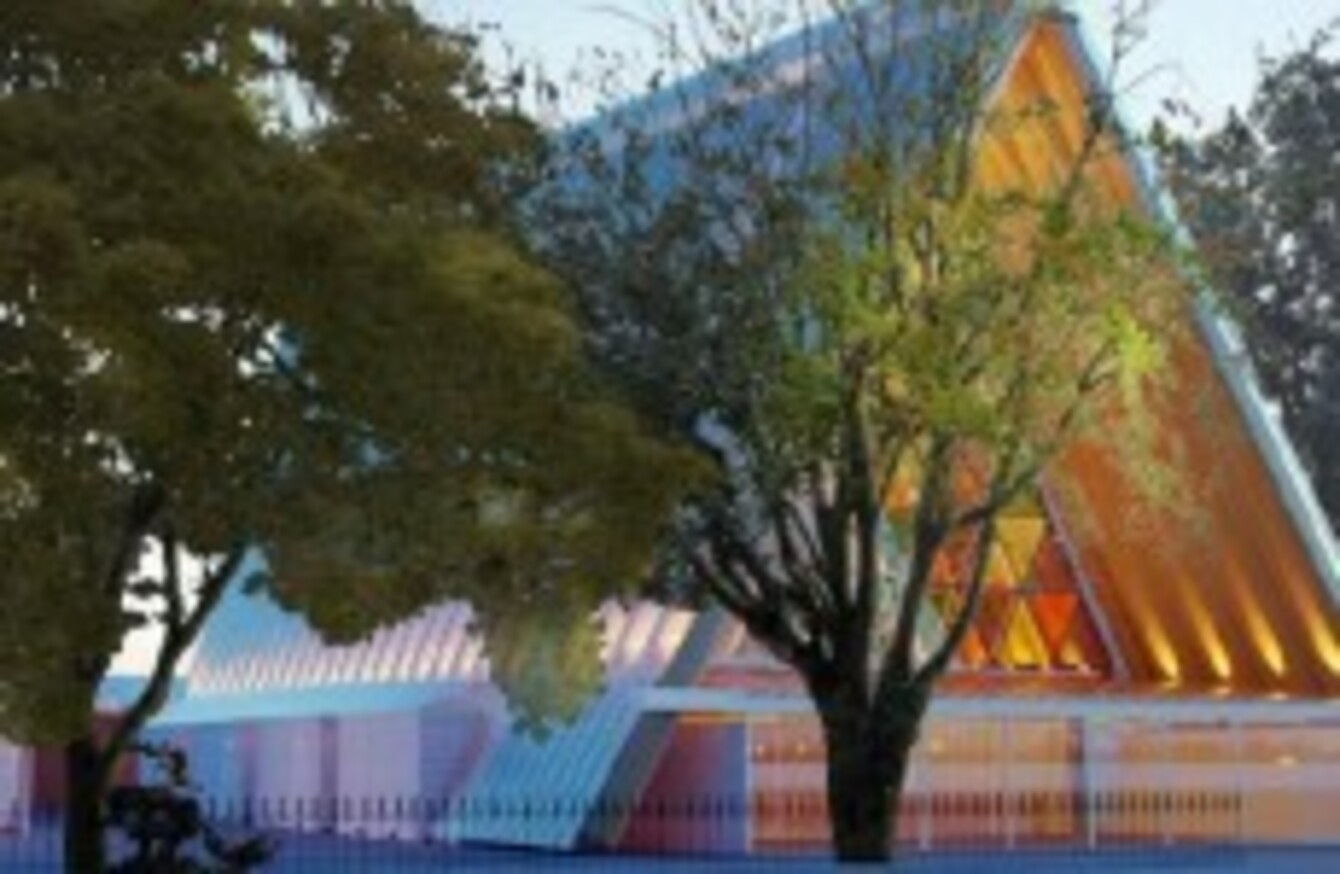 An artist's rendering of Shigeru Ban's design for the temporary cathedral.
Image: ChristChurch Cathedral
An artist's rendering of Shigeru Ban's design for the temporary cathedral.
Image: ChristChurch Cathedral
CHURCH OFFICIALS in the earthquake-struck New Zealand city of Christchurch have announced plans to build a 25-metre-high cathedral constructed with 104 tubes of cardboard.
The 700-seat structure is planned as a temporary replacement for the iconic stone ChristChurch Cathedral, which was severely damaged in the February 2011 earthquake.
Over 180 people were killed by the 6.3-magnitude earthquake on 22 February 2011.
The Rev Craig Dixon, a church spokesman, said the temporary cathedral would cost up to NZ$5 million (€3.15 million) and would be used for ten years while a permanent replacement is designed and built.
File photo of the severely damaged cathedral in downtown Christchurch. (AP Photo/Martin Hunter)
The Japanese architect, Shigeru Ban, has used cardboard as a material for other temporary buildings, including a "paper church" which used as a community centre after the 1995 Kobe earthquake in Japan.
Dixon said he hopes construction can begin within about six weeks and be completed by the end of the year.
"I think this building has the potential to become an icon in its own right," he said. "I think it will be greatly loved for a long time."
Dixon said the structure would be weatherproof and fire-resistant. He said the plan is to use traditional materials like concrete, steel and wood to provide structural support to the A-frame-style cathedral and an attached annex.
Up to two dozen shipping containers inside would provide space for offices, a kitchen and storage, he added, while the roof would be made of an opaque polycarbonate material.
An artist's rendering of the temporary cathedral's interior. (Image from ChristChurch Cathedral)
Richard Gray, the chairman of a church group that has been driving the project, said the cathedral will make a statement that Christchurch is moving forward, and that people are finding solutions that are not only innovative but also environmentally friendly — after all, he points out, the cathedral would be recyclable.
Anglican leaders in Christchurch have chosen a site in Latimer Square, about 300 metres from the ruins of the current cathedral and near where 115 people died when the Canterbury Television (CTV) building collapsed.
"It's very symbolic that it's across the road from the CTV building. It's very poignant," Gray said.
Gray also said that the "bulk" of the finance required for the project "is in hand", but said that further fundraising would be carried out to cover the cost of erecting the temporary structure.
Anglican leaders have yet to submit their final plans to city officials, who would need to approve them before construction could begin. City officials did not respond to requests for comment today, although Gray said he's confident the church has done its due diligence and the project will be approved.
- Additional reporting by Susan Ryan