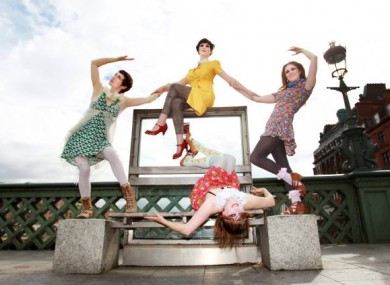 Members of the performance company, PaperDolls, Emily Aoibheann, Karen Anderon, Niamh Creely and Elaine McCague.
Image: Leon Farrell/Photocall Ireland
EVERY DAY, TheJournal.ie brings you a round-up of all the day's news as well as the bits and pieces that you may have missed.
The number of complaints against doctors in Ireland rose by more than 20 per cent last year, according to the newest figures released by the Irish Medical Council. Most complaints related to professional standards, treatment, poor communication and the rudeness of medical practitioners as well as a failure to supply medical records. According to the records an average of one in every 49 doctors on the register was subject to a complaint.
Gardaí are appealing for information regarding an armed robbery at a Tipperary shop last Monday. Raiders made off with a large quantity of jewellery after entering Annerley Jewellers on O'Connell Street in Clonmel, Co Tipperary at around 11am. Witnesses are asked to o contact them at Clonmel garda station n 052 6177640.
The government has pledged that there will be no further pay cuts or forced redundancies in the public sector – however, the wording of the statement appears to leave the door open to reduce wages of new hires.
A Dublin man has gone on trial accused of raping his mother three years ago. He claims the sex was consensual.
Authorities in Serbia have arrested Goran Hadzic, the last remaining fugitive sought by the UN war crimes court. Hadzic, the leader of Croatia's rebel Serbs during the country's 1991-1995 war, is wanted for atrocities stemming from the conflict, when he fought against Croatia's independence from the former Yugoslavia.
The environmental group Greenpeace has been prevented from posting online or distributing any material recorded by protesters who occupied the headquarters of an energy company on Monday, following an injunction by an Edinburgh court.
Twenty-one people have been arrested worldwide in connection with an international investigation into various computer hacking groups like Anonymous, AntiSec and LulzSec. Three teenagers were among the arrested.
Libya's civil war could be ended by allowing Muammar Gaddafi to stay in the country if he relinquishes power, according to France's foreign minister.
Survivors of the 11 September attacks on the World Trade Centre will not be allowed to attend a commemoration of the atrocity, it has been revealed. Instead, the commemoration ceremony will be open only to family members of the 2,753 victims of the attacks.
The organisers of Electric Picnic have announced a slew of new acts including dance veterans Underworld, singer-songwriter M Ward and Bob Geldof.
The Minister for Arts, Heritage and the Gaeltacht told the launch of the Dublin Absolut Fringe Festival at the Project Arts Centre today that Dublin's Temple Bar has been "a success" as a cultural space: "It is working and it's something very precious," he said.
Chinese bloggers have hailed Wendi Deng – the wife of Rupert Murdoch – for laying the smack down on a demonstrator who threw a shaving foam pie at her 80-year-old husband yesterday. "When you marry, you should marry a Chinese woman. In times of danger, she will act," wrote one blogger.
"Daddy, is it really true that they used to fly to the moon when you were a boy?" These were the words that shocked rocket scientist Jeff Greason to leave his well-paying job at Intel to work on creating affordable, reusable space transportation. In a fascinating presentation, Greason explains that there are many reasons why he made his choice but that, ultimately, it was to avoid "a new dark age".