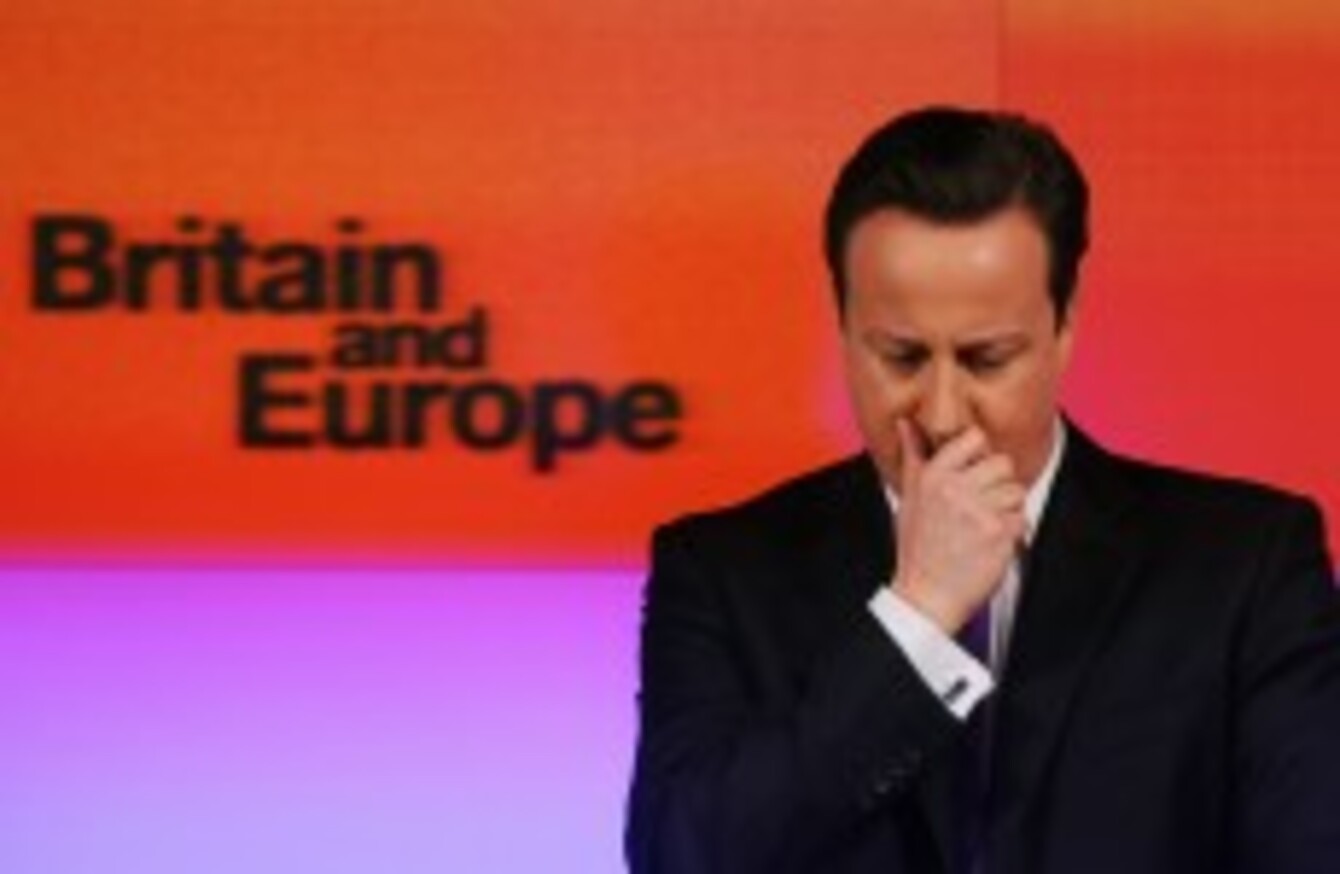 David Cameron at his speech on Europe today
Image: Stefan Rousseau/PA Wire
David Cameron at his speech on Europe today
Image: Stefan Rousseau/PA Wire
THERE HAS BEEN criticism from a number of groups in Ireland over David Cameron's announcement of a referendum on Britain's membership of the European Union.
The British Prime Minister today promised to hold a referendum by 2017 asking British people whether they want to be in or out of the European Union.
However Fianna Fáil leader Micheál Martin has said the British 'Eurosceptic' agenda should not be indulged and that Ireland must fight against Cameron's vision to dismantle the EU. He said:
David Cameron is right when he says that public support for the EU is low in his country, but this is at least partly the fault of people who have spent thirty years in a relentless campaign to caricature and demonise the Union.
If David Cameron and his party are so reckless that they will try to bring Britain out of the EU if they don't get their way, it will be a bad day for everyone, not least the working people of Britain.
Martin said the EU is a "far from perfect union and is in need of reform" but said the British Eurosceptic agenda would dismantle the parts of the EU which have given the greatest benefits to the citizens of Ireland and all other member states.
His comments were echoed by business group IBEC. CEO Danny McCoy said that any shift in Britain's relationship with the EU could have "massive economic implications for Ireland".
Tánaiste Eamon Gilmore has said that Britain would be "rocking the boat" if they withdrew from the European Union.
"While we respect that this [Britain's decision regarding membership of the EU] is very much a British matter, we [Ireland] have an interest in it. At this critical time, we need to concentrate on the things that Europe needs to do.
A recent Red C poll found that two thirds of Irish people think Ireland should remain in the EU if Britain leaves.