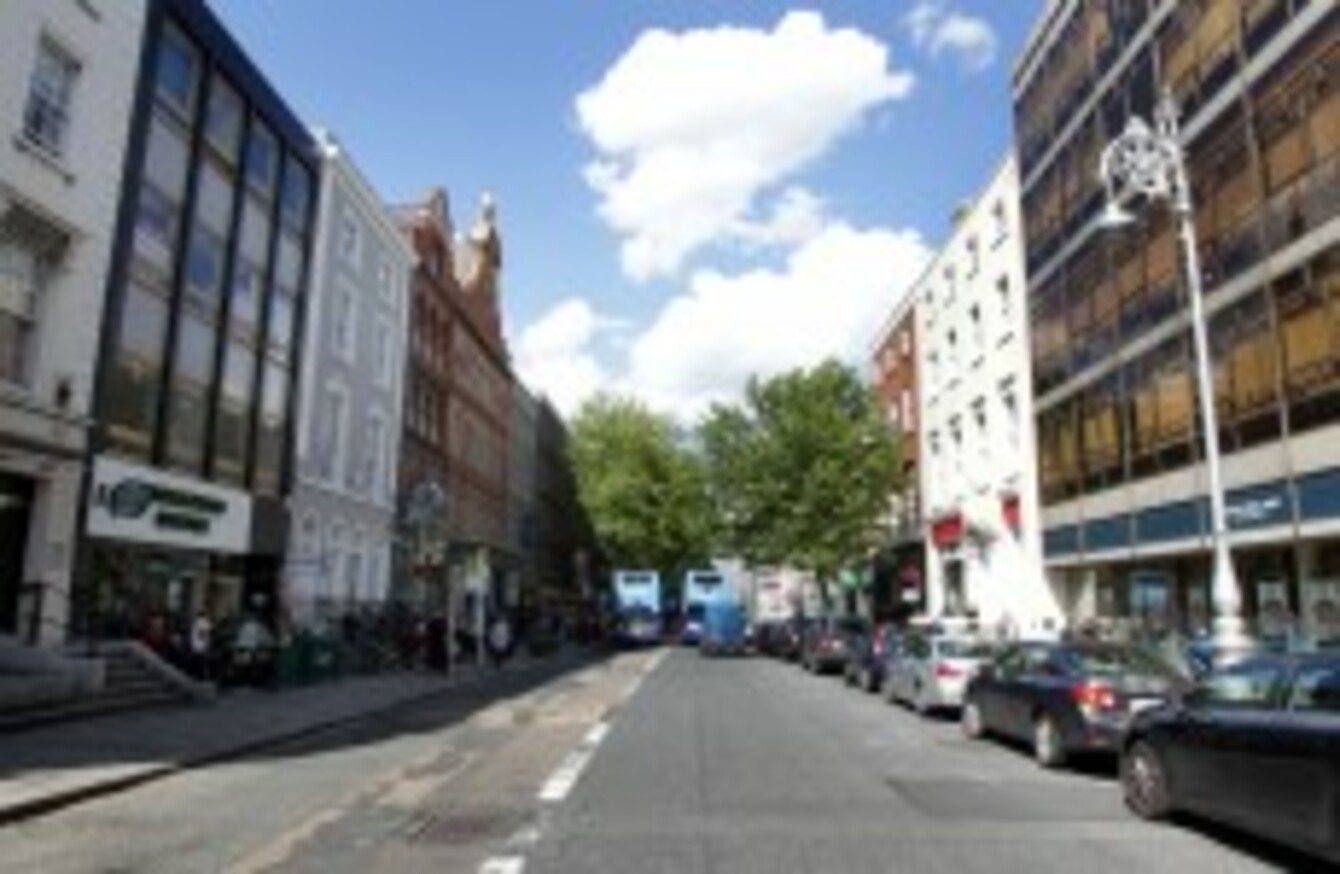 Dawson St before the works begin
Image: Mark Stedman/Photocall Ireland
Dawson St before the works begin
Image: Mark Stedman/Photocall Ireland
WORK ON THE new Luas Cross City line, which will link up the green and red lines in Dublin's city centre, is well underway, and the next area to be worked on will be Dawson St.
Back in January, utility works began at St Stephen's Green, and as the works continue all road users will be affected to various extents.
Under the current plans for Dawson St, commuters will only be able to get off or on heading in the southbound direction at the Dawson St stop.
Changes
Last year, the first phase of the work began with the infilling of Georgian cellars. In total, 327 of the cellars had work done on them in anticipation of this latest utility works phase.
Here's what the works mean for Dawson St:
From next Tuesday, 25 February, Dawson St will be reduced to having one traffic lane.
Works will begin at the Dawson St and St Stephen's Green junction, then continue along the east side of Dawson St, between St Stephen's Green and Molesworth St.
At the end of June, the works will switch over to the west side of Dawson St.
Dawson St will remain open to traffic throughout the works, and local access will be maintained.
New loading bays and service locations will be provided.
A 24-hour tow truck service will be put in place "to ensure the continuous movement of traffic".
In addition, the footpaths will be retained on both sides of the street and the taxi ranks will be suspended and replaced with temporary full-time ranks on Molesworth St.
Are you a Dublin Bus user? The bus stops at the north end of Dawson St will be in use, and the Bus Éireann, Aircoach and St Kevin's Glendalough bus stops will be moved to the entrance of the Royal Hibernian Way.
Commuters using Dawson St as a through road are advised to take alternative routes:
Coming from Leeson St? Turn right onto St Stephen's Green east, followed by a right turn onto Merrion Row.
Alternatively, travel along St Stephen's Green South and take a right turn onto St Stephen's Green West to access the car parks and the area west of Grafton St.
Over the next few months, workers will construct 40 deep drainage manholes, deal with 1,220m of sewer 'rehabilitation', and also deal with gas services, water services, telecom services, ESB services and carriageway reinstatement.
For more information and maps, visit the Luas Cross City official website.