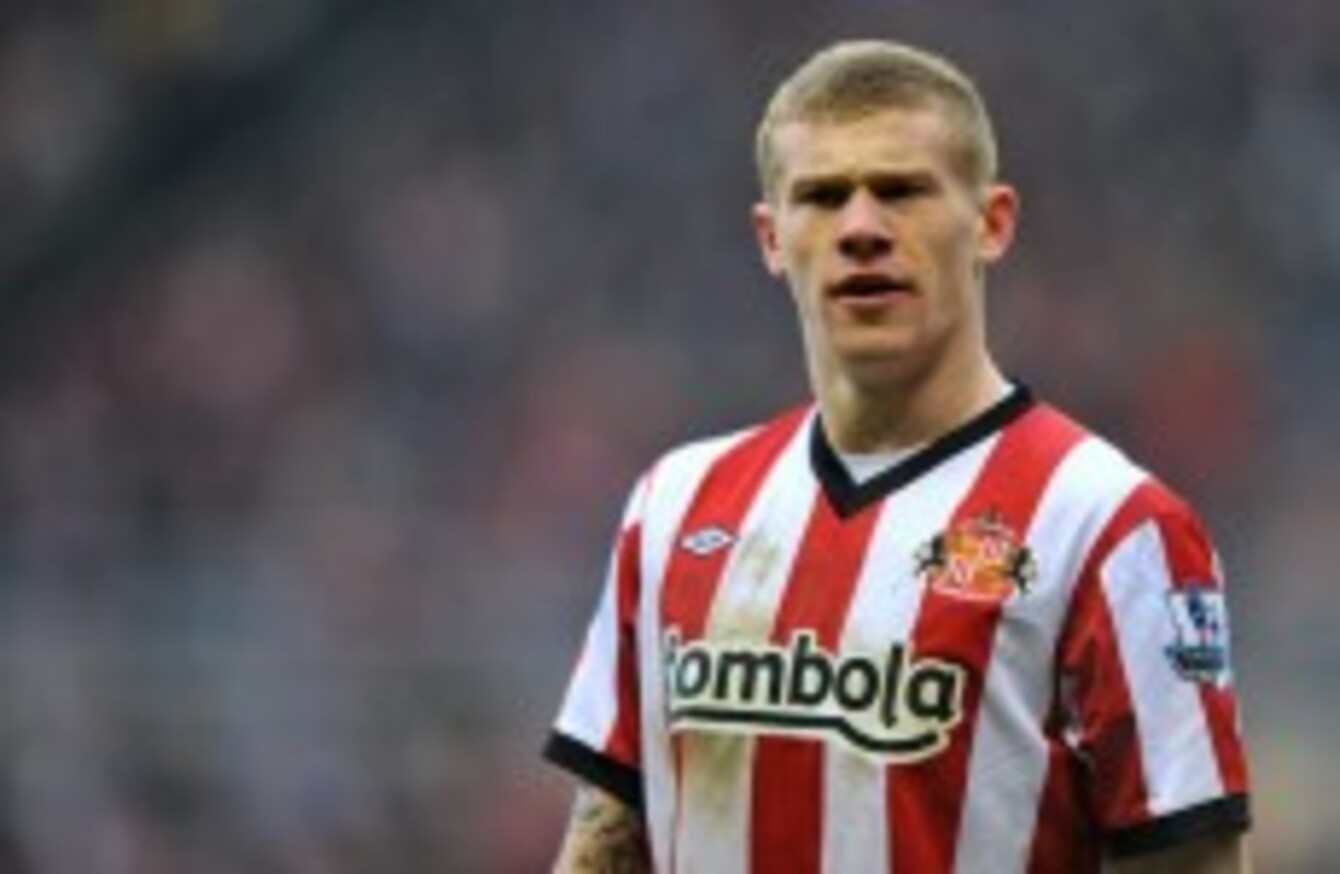 Sunderland midfielder James McClean has been cleared to play for the Republic of Ireland, despite having represented the North at underage level.
Image: Steve Drew/EMPICS Sport
Sunderland midfielder James McClean has been cleared to play for the Republic of Ireland, despite having represented the North at underage level.
Image: Steve Drew/EMPICS Sport
Updated, 11.13
THE DEPUTY LEADER of the Democratic Unionist Party has urged the British and Irish governments to work together to stop the 'haemorrhaging' of Northern Irish footballers to the Republic.
Nigel Dodds made the call after Sunderland midfielder James McClean, a Derry native, was last night cleared to play for the Republic of Ireland despite having represented the North at under-21 level.
The 22-year-old had previously been called up to the Northern Ireland senior squad for competitive games, but pulled out before making any on-field appearances – which would have render McClean ineligible to play for any other international side.
FIFA rules dictate that players who represent a country at international level cannot switch teams later, though in 2004 new rules were introduced allowing players to switch country if they did so before they reached the age of 21, or before they had played in a competitive senior international fixture.
McClean follows the lead of the likes of Everton midfielder Darron Gibson, who represented the North at under-16 level before switching allegiances to the Republic at under-17 level and later as a senior international.
"Action should now be taken to stop the haemorrhaging of talent from Northern Ireland," DUP deputy leader Nigel Dodds said in response to McClean's declaration.
The British and Irish governments should now work to address this injustice which sees footballing talent developed in Northern Ireland, at some considerable cost, lost to compete at international level with the Republic's team.
"No one should be opposed to the idea of talks to resolve this issue, and there is a degree of irony about the demands for free eligibility."
'All-Ireland team'
Dodds said it was the Football Association of Ireland's breakaway from the Irish Football Association, which governs the game in the North, that had led to the modern problems, and said the original restrictions on eligibility had been introduced after the FAI complained about players representing both Irish teams.
There simply is no point in thoughtless calls for an all-Ireland team to resolve this issue as that is not going to happen.
"What is required are discussions at a higher levels between the British and Irish Government as well as a recognition by FIFA that the current situation isn't sustainable and a change is required to bring an end to this ongoing problem," the North Belfast MP said.
Though players switching allegiance between Irish teams is not a new phenomenon, relations between the FAI and IFA became significantly more strained after Darron Gibson – then a promising prospect with Manchester United – opted to switch to the Republic.
In a subsequent case, the international Court of Arbitration for Sport conclusively ruled that Peterborough midfielder Daniel Kearns was entitled to declare for the Republic because he held Irish nationality alongside his British nationality.
Though it is much less common for Republic players to later opt for the North, it is not unprecedented: Leeds midfielder Alex Bruce, the son of former England defender Steve Bruce – who signed McClean while managing Sunderland – last year switched to Northern Ireland.
Though the younger Bruce had played for the Republic's senior team on two occasions, both of those games came in international friendlies – meaning he was entitled to switch allegiance once he could demonstrate a connection to the North.
Despite the FAI's enthusiasm about his switch, McClean has not been included in Giovanni Trapattoni's Ireland squad, announced this morning, for the pre-Euro 2012 friendly against the Czech Republic later this month.