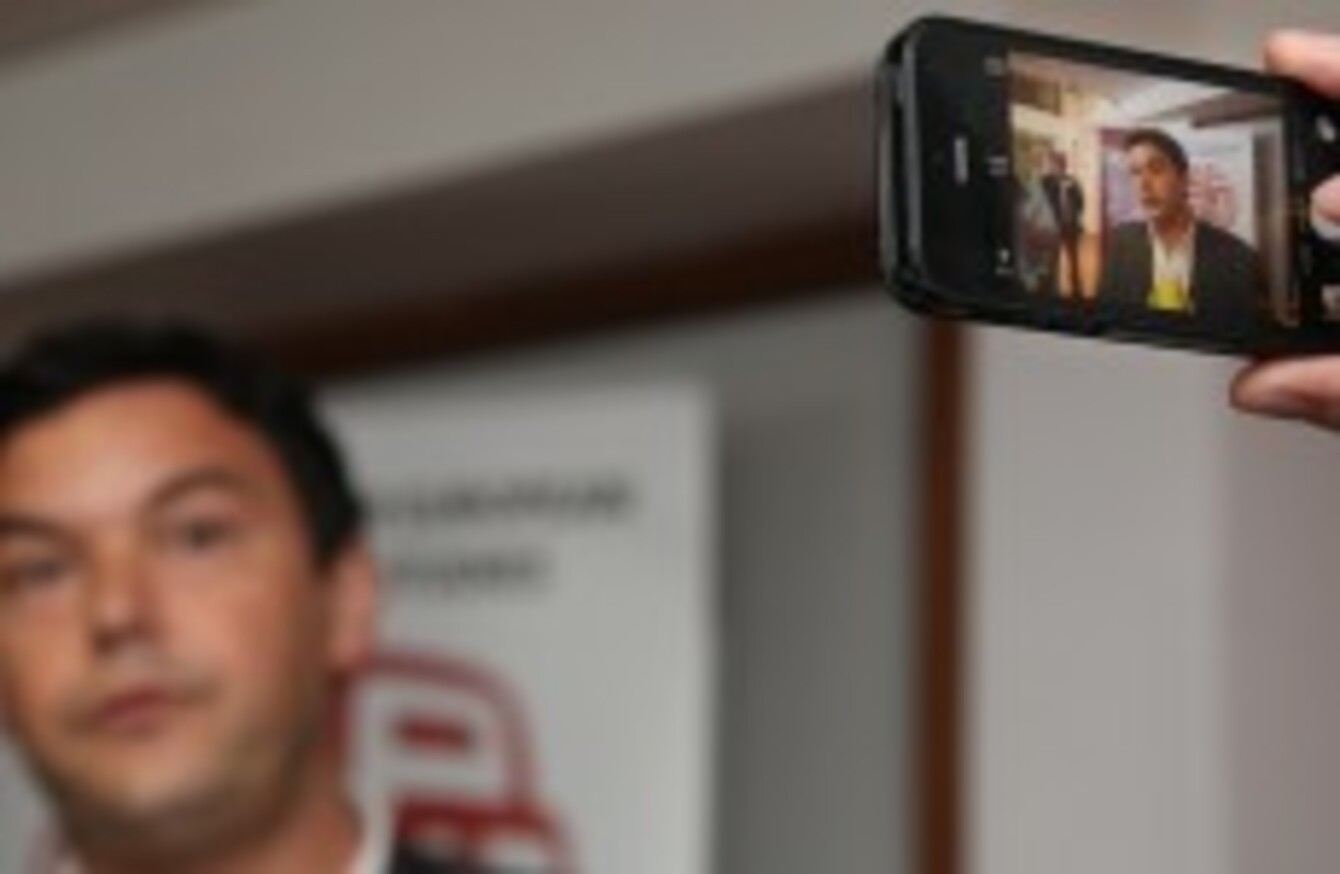 Piketty in Dublin yesterday
Image: JOHN MC ELROY
Piketty in Dublin yesterday
Image: JOHN MC ELROY
THERE WAS A buzz around Croke Park yesterday that you don't usually associate with an hour-long talk about one hundred year trends in the distribution of capital and income.
But the headline speaker was no ordinary academic bore. He's the latest to be granted the dubious title of 'rock-star' economist.
Usually, this means that a smattering of people will turn up to your talks. This, however, was different. There was anticipation in the air. The man from Paris would tell us all where we'd gone wrong.
For context, a recent lecture by no greater personage than Nobel prize winning economist, not to mention New York Times columnist, Paul Krugman in UCD drew about 50 people.
But even in such exalted company, Thomas Piketty is of a different class. 650 people turned up to Croke Park to see the Professor from the Paris School of Economics speak about inequality.
What's more, they paid for the privilege.
Such was the level of hype that an insider quietly confided in TheJournal.ie that whatever line organiser TASC was trying to push would invariably be blown out of the water by the dapper Piketty.
The great and the good
It was certainly the place to be seen for the great and the good of the Irish left (and leftish). Union top brass such as David Begg and Jack O'Connor were doing the rounds, backed up by SIPTU communications head Frank Connolly.
Politicians also were on the beat. Joan Burton had a front row seat, with Senator Fiach Mac Conghail and Europe's nearly man Eamon Ryan also among the crowd.
Peter Matthews was also in attendance, and, when he got his turn to address the room, wasn't cowed by TASC chair Paul Sweeney's half-jocular threat to cut his microphone off if he went on for too long.
The Patrick and Thomas show
Piketty is a compelling speaker, as is the man tasked with responding to him, Central Bank Governor Patrick Honohan (who admitted to being a fan of the book, disappointing those who expected a scurrilous attack from this organ of the orthodoxy).
Piketty and Honohan seemed to get on like a house on fire, in fact.
When Patrick put up his slides on the impact of budgetary policy on different income bands, Thomas twisted fully 180 degrees in his chair and nodded enthusiastically along as the Governor talked us through it.
Nonetheless, there is a limit to how long people can do heavy intellectual lifting on a sunny Friday afternoon.
The collective mind seemed to wander when Piketty got into the minutiae of his work.
However, we could be wrong. Far be it from TheJournal.ie to suggest the audience was anything but rapt.
Perhaps the smattering of nodding heads were doing so in agreement, and maybe those closed lids were done so in deep contemplation rather than slumber.
Plus, as we said, it was very warm indeed.
Revolution in the air?
The hardcore economics fans would definitely have been satisfied by Piketty's talk, but it was only once the question and answer session got started that the rhetorical temperature really began to rise.
Despite the Professor's stated desire for "an informed and quiet discussion about taxation", one questioner from the audience was determined to ask whether it was not, in fact, time for "mass revolt by the people".
Another implored Piketty to come and lead us in our struggle. Ursula Barry of the school of social justice in UCD made a well-received call for the proceeds of any wealth tax to be ringfenced for domestic use, rather than in the service of debt.
The crowd clapped enthusiastically, chided the Governor, and generally had a good time. Piketty, who was in top lecturer form and formed a good double act with the ebullient Honohan, seemed to enjoy himself.
At the end of the day, one gets the sense that it was the economics fans that went home happier than the revolutionaries. A cheerful "let's do it" from the main man at the end went down well, but it was hardly Hasta la victoria siempre.
Even rock-star economists are still economists first, and entertainers second. This one, it seems, is no revolutionary, but he makes an impressive fist of the other brief.