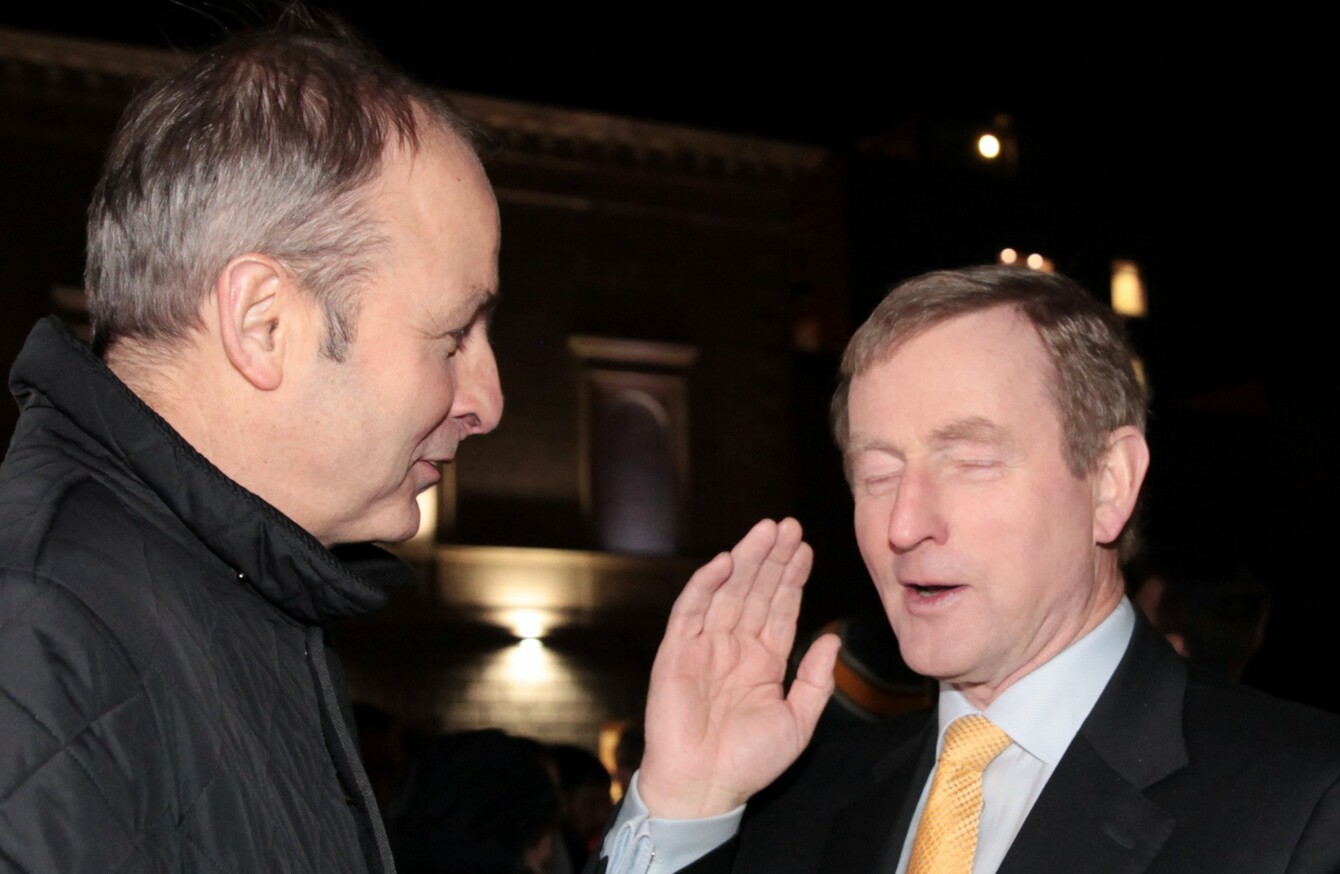 Micheál Martin and Enda Kenny at Leinster House before Christmas
Image: Leah Farrell
Micheál Martin and Enda Kenny at Leinster House before Christmas
Image: Leah Farrell
Updated 9.35pm 
MICHEÁL MARTIN HAS stepped up his attacks on the government, claiming a "very right-wing" Fine Gael is advocating policies that will mean severe cuts to public services.
With the general election looming, the Fianna Fáil leader was responding to comments by Taoiseach Enda Kenny before Christmas when he said he wanted to move Ireland towards a US-style tax system.
Speaking at Leinster House, Martin said this would not be possible without "slashing expenditure" in areas like health, housing, and education.
"You can't be everything to all people and Enda Kenny, with his kind of US tax rates approach, would continue a trend that has witnessed a decimation of public services, an undermining of them and further privatisation, which we oppose," he said.
Martin said his party would be going to the electorate next month with the proposition that a change of government would mean recovery for the entire country.
Our very strong view is that Fine Gael, ideologically, is very much to the right. It's a very right-wing party, particularly in terms of how it has evolved over the last number of years.
This evening, Tánaiste and Labour leader Joan Burton defended Fine Gael, insisting they are not a right-wing party but a "christian democratic party". She told reporters:
We have had lengthy discussions around issues like the reform of taxation and Fine Gael agreed with the Labour party proposal to reform USC and to focus the benefit of that reform on middle income families, in particular, earning up to €70,000.
"I believe that's the correct approach and they were certainly open to persuasion that that was the correct approach."
Meanwhile, Fine Gael TD Jim Daly accused Fianna Fáil of not having any jobs plan and claimed the party wanted to maintain a high tax burden on working families.
"Fianna Fail and Michéal Martin would be better off spending their time developing a jobs policy rather than constantly returning to populist politics and attempting to rewrite history," he said.
Earlier, Martin claimed that Kenny's party wants to privatise large parts of the public sector, including the health service and said the coalition has presided over a "chaotic" situation in hospitals and housing.
Asked to describe the political ideology of his own party, Martin said Fianna Fáil is "a bit to the left" of centre and believes in "strong, publicly-funded social services with a fair taxation system that would enable us to pay for that".
He denied it's a high tax party, insisting it is for "fairer taxes".
Martin said Fianna Fáil in government would eliminate USC for people earning under €80,000, but he declined to drawn on the specifics, saying they would be published in the party's election manifesto.
"We believe in a fairer taxation system that would allow for a reasonable and proper investment in public services," he said.
Martin said voters are open to voting for Fianna Fáil again after the party was nearly wiped out in the 2011 general election.
He claimed Fianna Fáil candidates are raising issues on the doorsteps that are "striking a chord" with the electorate.
[embed id="embed_2"]