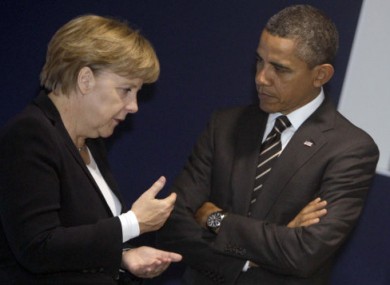 Top of the top ten entries: Angela Merkel and Barack Obama.
Image: AP Photo/Michel Euler/PA Images
US WEALTH MANAGEMENT magazine Worth has released its Power 100 list of the most powerful people in the world of finance, and three of the top ten are Europeans – two of whom are women.
The list of 100 includes a host of familiar names including New York Mayor Michael Bloomberg (at #95), economist and New York Times blogger Paul Krugman (#97), Rupert Murdoch (#92) and Bill Gates (#27).
Nicolas Sarkozy and the governor of the Bank of England Mervyn King both made the top 25, at numbers 24 and 17 respectively.
The global head of credit ratings agency Standard & Poor's almost made it into the top ten (David Beers came in at #12), while vague 'computer hackers' are in at #14 for cyberattacks that are "increasingly targeting corporate America", according to Worth.
There are a few interesting names in the top ten, including new ECB chief Mario Draghi: