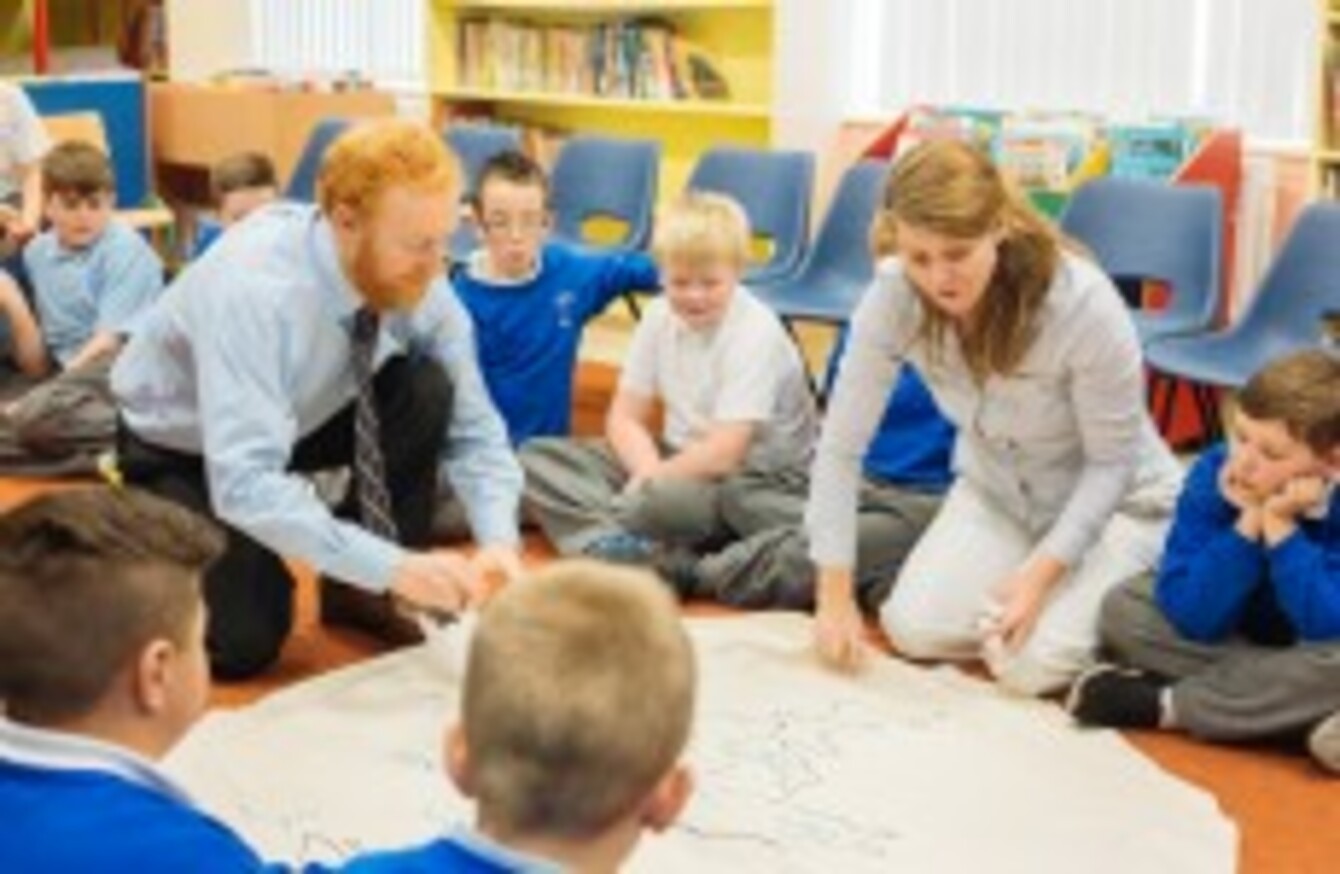 SCHOOLCHILDREN IN DUBLIN are learning about Ireland's pirate queen Granuaile – and she's helping to teach them about gender equality.
Dublin's Axis Ballymun arts centre is bringing the tale of Grace O'Malley (known as Granuaile – pronounced Grainne Whale) to kids in eight schools in the local area.
Granuaile hailed from the west of Ireland, and was the daughter of Eoghan Dubhdara Ó Máille. She inherited her father's shipping and trade (or as it is usually referred to, piracy) business after his death, and refused to let gender stereotypes get her down at a time when gender roles were strictly enforced.
Leigh Hussey of Axis Ballymun explained that the project involves showing a performance of the play (acted by Gabrielle Breathnach and Karl Quinn and directed by Veronica Coburn), to the school children, which is followed by a number of workshops.
Transformed into a new space
Granuaile isn't a traditional play, in that the audience is set around the action, and there's an interactive element too.
"It's often not possible for schools to go to the theatre," said Hussey. The pupils get to see their school "transformed into a totally different space".
Breathnach and Quinn play a brother and sister, who tell Granuaile's story to the children. Her story is echoed through the siblings' story – the sister is not supported by her brother, who thinks her choice of career is awful.
In the workshops, the children get to discuss Granuaile's life, the challenges she faced and how she overcame them – like how she was married at 15.
Her life is compared to the lives and opportunities that children have now.
"There's a lot to play with in the story," said Hussey. "Gruanuaile had a particularly adventurous life, being an outlaw, a pirate and a heroine 500 years ago. She wasn't a chieftain's daughter in the sense that she was going to be inheriting land; she had to fight to be allowed on boats because women weren't allowed on boats then."
She has a lot of adventure in her history. The thing that really resonates is the triumphs that she has. She overcame not being allowed to do something.
Director Veronica Coburn said that "quite a lot of effort was put into the points of connection with children today".
"We're going to tell you a story about a girl who lived 450 years ago and she couldn't be what she wanted to be because she was a girl - ultimately she became a pirate queen. We frame it in that way. Before we say it to the kids we divide them up and say 'what do you want to be? And imagine you can't be that because you are a girl'."
What do the students think?
"The girls always go 'that's not fair'," said Coburn, but the boys' reaction can vary.
"In some schools the boys will go 'that's not fair', in some schools they go 'yay, hooray'. So it just depends on the school. But in a way it's a very simple reaction, and in the same class over the course of the story the boys will settle in and start to go 'oh OK', and chat away."
She fondly refers to the 'hooray' comments as the "football match reaction" but says that it's not the facilitators' job to say 'this is the wrong opinion' to have. It's about discussion.
"There's an interesting dynamic that happens when both [boys and girls] sit in together," said Hussey. "When the piece is about girls not being allowed to do something, it's lovely to hear boys' voices saying 'that's not fair'."
Vivienne Bryan, principal of Holy Spirit Boys' National School, said that Axis Ballymun is an invaluable resource for the local schools. Her school is a Deis, or disadvantaged, school, and is the largest primary school in Ballymun.
"They find it really interesting," said Bryan of Granuaile. "The boys would think it's quite cool to be a pirate. We're trying to bring it out in them that all of us can be the best we can be."
With a high unemployment rate in Ballymun, Bryan said: "From our point of view, the children here need to be told that 'if you work hard enough you can do what you want to do too'."
They want to "just to get the idea in there that when you grow up you can pick something and you can work towards it and do it, and if you try hard enough you can do it".
She said her pupils love the interactive theatre experience that Granuaile offers.
It's not just about sitting back [and watching] passively. The message is quite strong about gender, how Granuaile had to fight to do something that was perceived as a man's job 500 years ago. Has anything really changed, you'd question. The actors are wonderful and so talented.
Learning to embrace the arts gives her pupils "another life skill, it's another string to their bow, another asset to help them succeed. Lots of children don't get an opportunity to watch live theatre and take part in it".
You're trying to broaden the pupils' experiences. You could hit that one kid who wants to be in acting, theatre, drama.