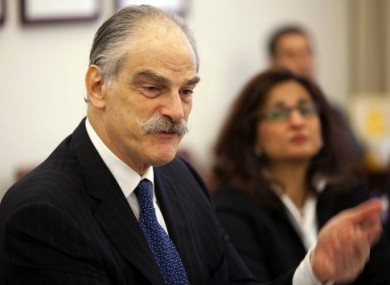 Acting Managing Director of the IMF John Lipsky meeting with staff last month in Washington.
Image: AP Photo/IMF, Stephen Jaffe
A SENIOR IMF official has said Ireland appears to be on track with its economic recovery programme, but ruled out any plan for Greek debt restructuring.
Acting head of the IMF John Lipsky said yesterday that the latest plan for Greece did not include any provisions for debt restructuring but instead focused on getting "the current programme on track", Reuters reports.
Meanwhile, today another senior IMF official went further by saying it would not be possible to introduce 'soft restructuring', which had been suggested in recent EU ministerial meetings. "There is no such thing as being a little bit pregnant", the IMF's senior official in Greece Bob Traa said, by way of comparison.
Ireland's programme, though, is on track and showing positive signs, according to Lipsky. However, he said the economy still needs "forthright action by the Irish authorities to re-establish the basis for sustained growth". Last month, the head of the IMF's mission to Ireland, Ajai Chopra, said that although Ireland's plan was on track, the state's ability to return to the international markets for funding remained "elusive".
UK economy relying on eurozone bailouts
In its latest report on the UK, the IMF said no changes are needed to the UK's economic policy but warned that the UK's economic recovery relied on the success of bailouts for Greece, Ireland and Portugal.
Lipsky said the UK's trade with Ireland and the eurozone were vital in supporting those bailouts, according to the Telegraph.
The IMF said it expects inflation to remain above 4 per cent in the UK for the rest of this year, but that it would return to its 2 per cent target, the BBC reports.