FANCY A WALK through 1916 Dublin? What about a quick tour of your parish, as it looked 300 years ago? With so many archives now online, Irish history has never been so easy to explore.
Here are nine of the most useful websites to help you dig up the past.
1. Bureau of Military History (1913-1921)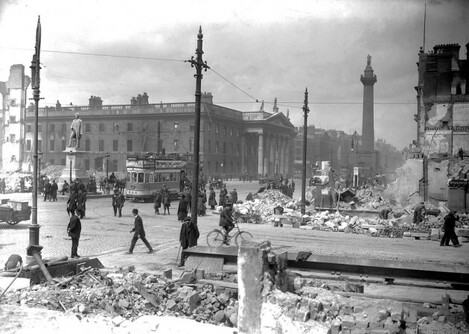 A tram travels down Sackville Street (O'Connell Street) in the aftermath of the 1916 Rising. Source: National Library of Ireland
Graphic witness statements on the Easter Rising and War of Independence are among the highlights of the Bureau of Military History collection, which was digitised four years ago after being locked away for decades.
The database – which features 1,773 personal accounts, 334 sets of contemporary documents, 42 photo collections and 13 voice recordings – offers rare insight into the everyday experiences of revolutionary Ireland.
2. Census of Ireland (1911, 1901, 1821-1851)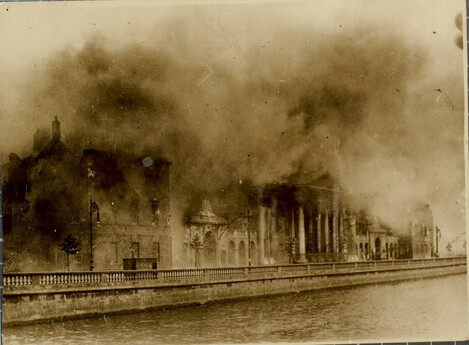 A devastating fire at the Four Courts in June 1922 destroyed many of the census records of 1821, 1831, 1841 and 1851. Source: Wikimedia Commons
The 1901 and 1911 Irish censuses are fully searchable online using any combination of name, sex, age and town.
The National Archives site also contains images of records from 1821 to 1851 that survived the Four Courts fire, providing a valuable, if limited, source of information on pre-Famine Ireland.
3. Catholic Parish Registers (1740-1880)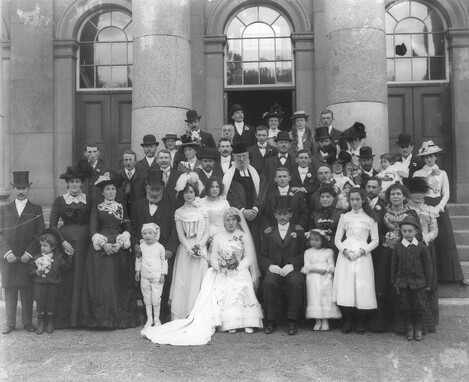 Esther Levin of Waterford and Myer Stein of Dublin sit for a photo with their wedding party in 1901. Source: National Library of Ireland
The dedicated National Library of Ireland website collates baptism and marriage certificates from over 1,000 Catholic parishes in Ireland and Northern Ireland.
The registers are considered to be the most important resource for family history research prior to the 1901 census.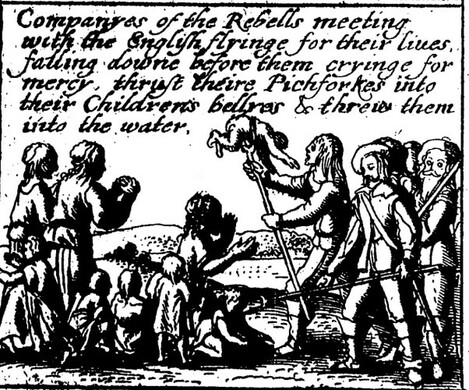 An illustration of the alleged massacre of Protestants during the 1641 rebellion. Source: Trinity College Dublin
The depositions are eyewitness accounts from mostly Protestants, and some Catholics, of the brutal atrocities said to have been committed by Irish insurgents during the 1641 rebellion.
The online collection, a Trinity College Dublin initiative, contains 31 handwritten volumes of statements from victims of the uprising.
Source: Trinity College Dublin/YouTube
The Down Survey website maps out every barony and parish in 17th century Ireland, showing churches, roads, rivers, bogs, woods and settlements as well as townland boundaries.
The survey is overlaid on top of Google Maps and the 19th century Ordnance Survey maps, and linked to landowners' records for 1641 and 1670, to give us an understanding of the massive transfer of land from Catholics to Protestants overseen by Cromwell.
6. National Folklore Collection (1937-1938)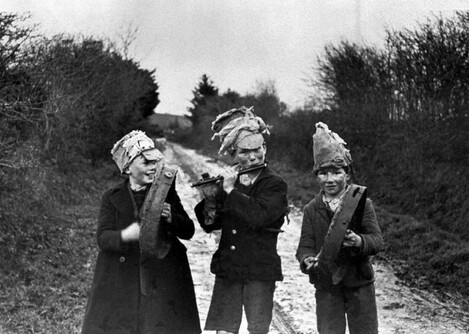 Three wren boys prepare for their St Stephen's Day hunt in Athea, Co Limerick. Source: Folklore Photograph Collection
Dúchas.ie contains over 60,000 pages of handwritten folklore and local history recorded by Irish schoolchildren between 1937 and 1938.
Search its database for stories related to specific people or use its interactive map to find records from particular areas.
7. Ellis Island Archive (1892-1924)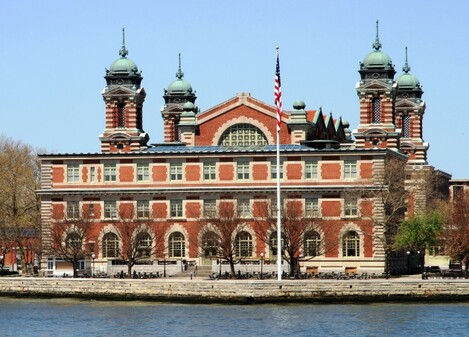 Over 51 million emigrants to the US were processed at the immigration centre on Ellis Island. Source: Wikimedia Commons
The online Ellis Island passenger database can be used to find the age, arrival date, destination and last permanent address of any Irish immigrant who passed through the US gateway between 1892 and 1924.
The archive includes over 22 million passenger and crew entries.
8. Griffith's Valuation (1848-1864)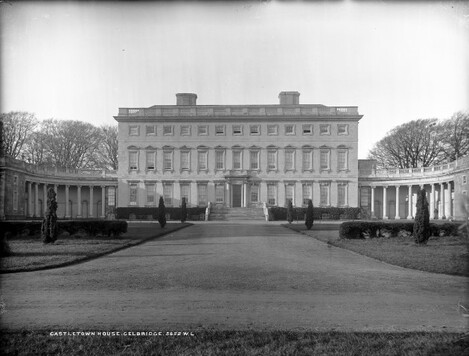 Palladian mansion Castletown House in Kildare in the late 19th century. Source: National Library of Ireland
Griffith's Valuation, a 19th century survey of landholders and householders, is fully searchable online at askaboutireland.ie.
Following the Four Courts fire, it became the only detailed guide to where people lived in in the immediate post-Famine period.
9. Placenames Database of Ireland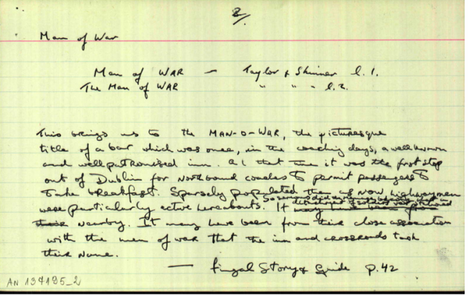 Man of War in Dublin was named after a well-known pub, according to its entry in the database. Source: logainm.ie
The logainmn.ie website provides the official Irish language names – and their meaning, in some cases – of close to 100,000 towns, streets and post offices throughout the country.
Most entries are accompanied by sounds recordings of the local pronunciation of placenames.