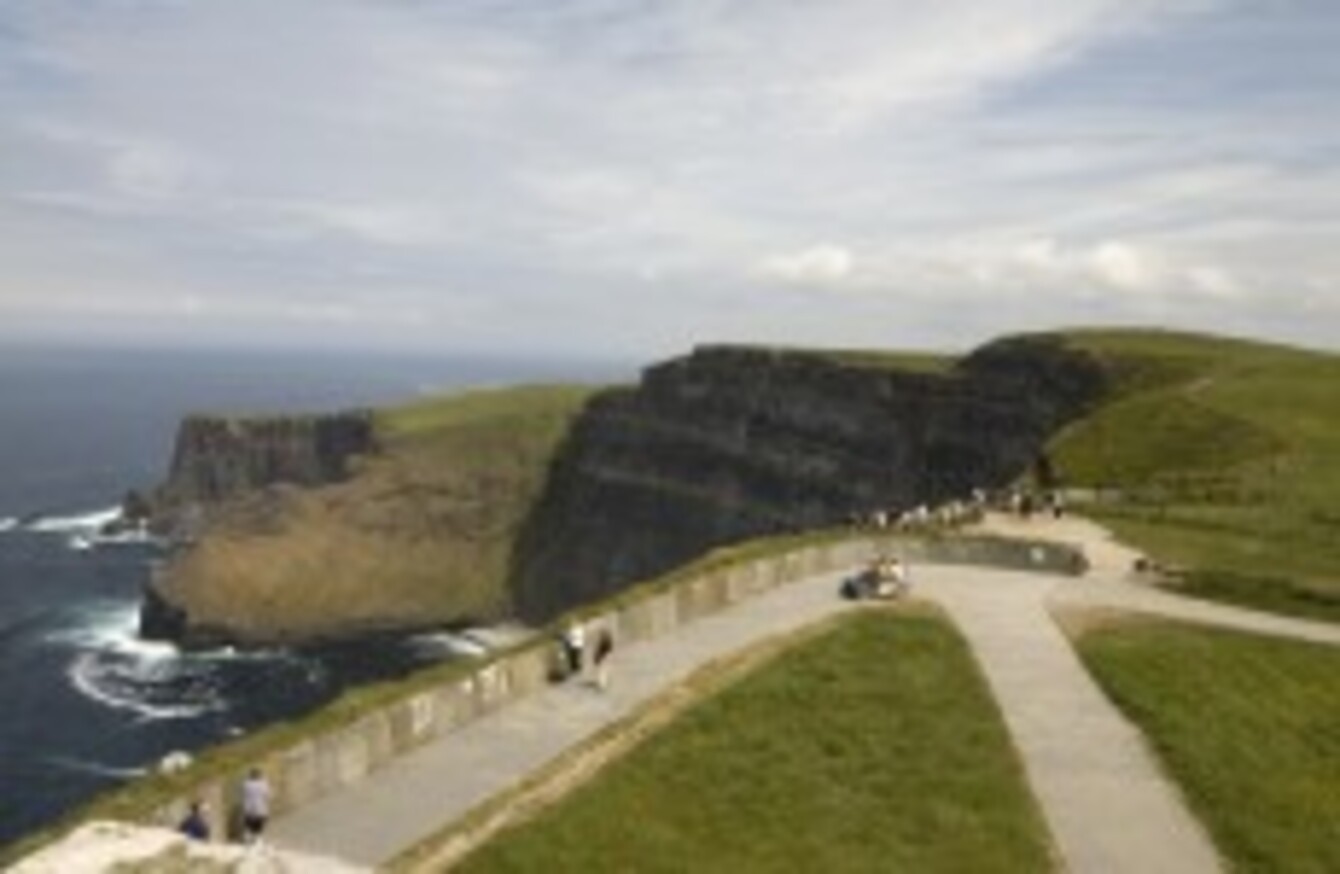 Visitors at the Cliffs of Moher in County Clare
Image: Eamonn Farrell/Photocall Ireland
Visitors at the Cliffs of Moher in County Clare
Image: Eamonn Farrell/Photocall Ireland
IRISH TOURISM REMAINS in a "fragile state", the chief executive of the Irish Hotels Federation has said.
Tim Fenn was speaking at the Irish Hotels Federation (IHF)'s 74th annual conference yesterday, where he noted that hotels and guesthouses around the country are "struggling to cope" with a "two-speed recovery" in the sector.
He said that while there were improvements in occupancy levels across Dublin, the West and South West, this "masked" disappointing figures throughout the rest of the country.
Fenn said that a 7 per cent increase in visitor numbers to 6.26 million last year shows a recovery from the impact of the volcanic ash cloud in 2010. But he said that attracting more British visitors is high on the agenda this year, as the market has experienced a cumulative drop of 26 per cent in visitors since 2007.
The fall-off in British visitors from 3.8 million in 2007 to 2.8 million last year is a stark reminder of the amount of ground lost and the urgent need to reinvigorate our most important tourism market.
A 3 per cent increase in British visitors last year is some level of progress but we need innovation and creative thinking from our tourism bodies to encourage the level of British visitors to return.
Fenn explained:
When people think of holidaying in Ireland, the image should be of a fun and vibrant destination – blessed with a wealth of scenic attractions, steeped in history and culture and offering a warm and friendly welcome. This is the challenge we face.
There was an increase in total tourism revenues to €4.77 billion in 2011 (up from €4.6 billion in 2010), but the sector is still recovering from the 27 per cent reduction in overseas revenue since 2007, said Fenn.
Revenues were made up of €3.56 billion from overseas visitors and €1.21 billion from the domestic market. The high dependence on the home market continued in 2011, with 70 per cent of hotel bed nights now coming from island of Ireland. Despite a 1 per cent recovery in hotel room occupancy to 57 per cent in 2011, most hotels and guesthouses are still witnessing severe pressure on room rates.
Only three regions experienced increased room occupancy rates to 2011:
Dublin 64 per cent (up 2 per cent), the South West: 63 per cent (up 5 per cent) and the West: 60 per cent (up 4 per cent).
In the Shannon region, occupancy rates remained unchanged for the third consecutive year at 51 per cent.
Reduced room occupancy was seen in the East & Midlands: 41 per cent (down 1 per cent); South East: 56 per cent (down 1 per cent) and North West: 47 per cent (down 3 per cent).
Said Fenn:
Hotels and guesthouses are struggling to deal with reduced revenues that are effectively the lowest room rates in Europe. Our members are offering prices that give very little return but, in the current climate, it's the only option to stay in business.
Tourism accounts for almost 4 per cent of Ireland's gross national product, bringing in €3.56 billion in foreign exchange earnings last year. There are 180,000 people employed in tourism in Ireland.