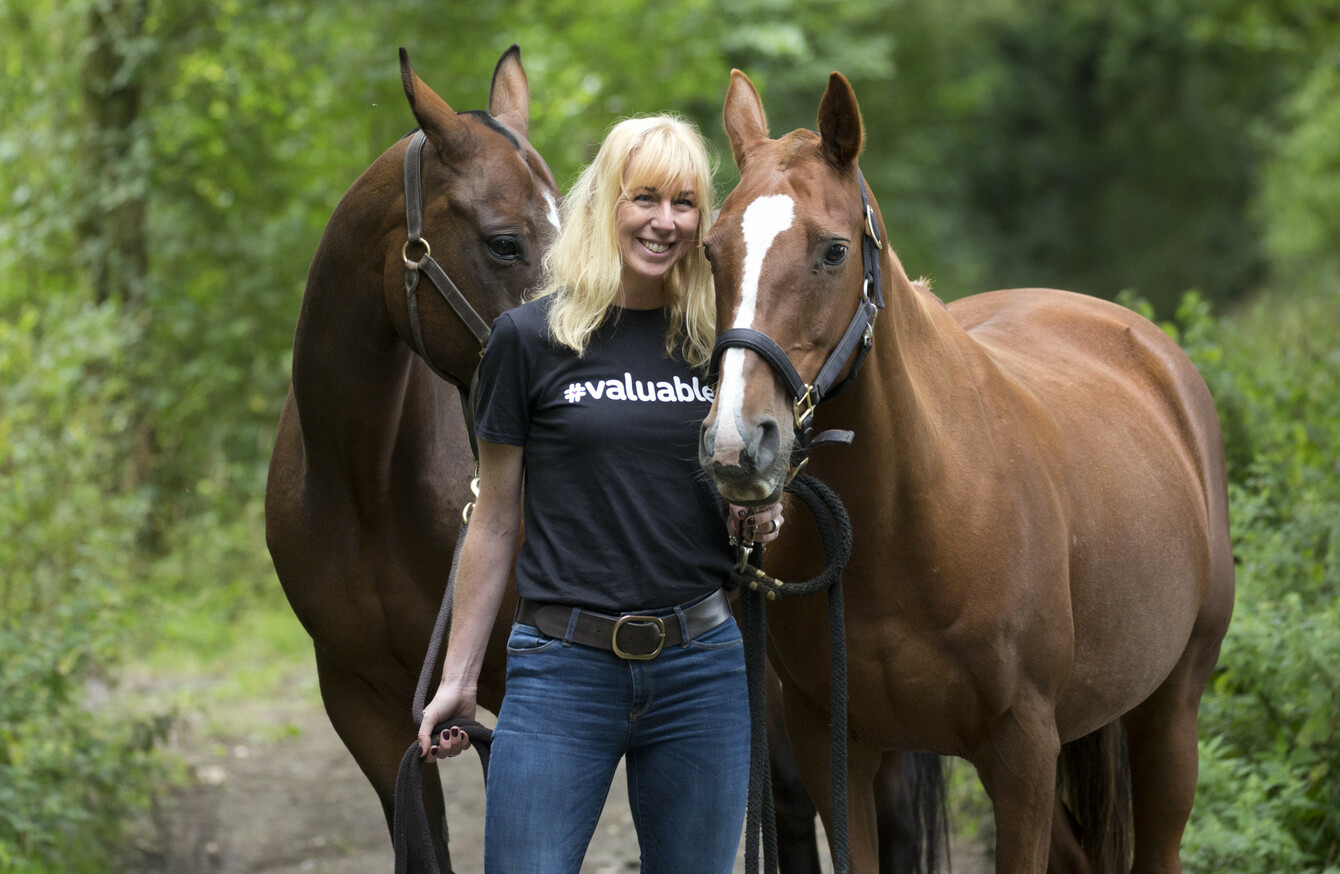 Image: PA
Image: PA
Source: TheJournal.ie/YouTube
THE DISPOSABLE INCOME of the more than a billion people around the world who experience some form of disability, together with their friends, families and carers, is estimated at more than $8 trillion.
And an Irish activist is pointing companies towards this potential windfall, looking for them to take advantage with more inclusive policies.
It's a win-win, according to Caroline Casey. They make money and her community get more equality of resources, services and opportunities.
Aged 17, Casey discovered that she was actually born legally blind. (Writing for TheJournal.ie previously, she explained how this happened: "When I was 17, I was told that I was legally blind and I had been since birth. I was born with ocular albinism, but my parents chose not to tell me. They believed that it would result in myself and others placing limits on what I could achieve.")
Continuing their mantra, she also decided to keep the fact quiet from others, continuing her high-powered employment in Accenture.
Now, 28 years later, after leaving her job and dedicating herself to adventure and social entrepreneurship, she's launching a global campaign, challenging businesses to include those with disabilities at all levels.
"We forget," Casey says, about how those with disabilities contribute to our economies.
We all wear clothes, we all eat … so we have to remember that we actually are a market, and a valuable market, and so are our family and friends. So we have to reframe that for business.
In her theory, this reframing would involve businesses entering into a conversation and learning from other firms that have developed best practice, and for the public to hold companies accountable for their policies and actions.
Casey launched the #valuable campaign alongside some of Ireland's best-known social campaigners – Mark Pollock, Sinead Burke and Niall Breslin – in Dublin's convention centre on 22 August. The Irish launch is significant for Casey – a final grounding before heading to Colombia to travel 1,000 km on horseback, culminating in a call to more than 500 businesses to add disability to their boardroom agendas.
The campaign already has the support of businesses including Linkedin, Fossil, Telefonica and Channel 4.
"Business is the most powerful force on the planet," says Casey. "And if business recognises the value of one billion people with a disability then society will."
The campaign is calling on organisations to recognise the potential of the one billion people with disabilities "right across their value chain – as consumers, and talent, and suppliers, and members of a global community".
By capitalising on the financial advantages estimated by the US-based Return on Disability Group, this improved relationship could also fundamentally change the lives of these billion people, who across the world have lower educational achievements, higher rates of employment and are often excluded from the workforce.
Casey leaves from Cartagena in Northern Colombia on 4 September, meeting Colombians with disabilities to talk about their experiences on the way. She'll travel to Bogotá, the country's capital, in October to address the summit of charity One World, which brings together the world's young leaders, where she will officially create a global call on 500 businesses to discuss disability by the end of 2018.
This engagement with young people is deliberate "because inclusion to the under 35s seems to be much broader… than it ever was for our generation".
Casey is hesitant, however, to arrive without a platform already built.
I didn't want to walk on to the stage in silence. I kind of wanted to walk on the stage and say, 'Listen, the world does care. It really does care.'
Hence a 1,000km trip to raise awareness – one that's rooted in the powerful message behind Casey's popular and inspirational TED talk during which she admits her childhood desire was to be a cowgirl or Mowgli from The Jungle Book.
"I want to get you back into the idea in our minds of remembering what it was like to be a kid, when we didn't even understand what impossible was. Let's just go out into nature and remember what it's like to dream. Why are we always making excuses not to do things?"
It was on revealing her blindness 11 years after her diagnosis – and leaving her job – that Casey embraced this philosophy, covering 1,000km in India on an elephant. She cites that trip as giving her a new platform, and a new motivation, but admits it still took years to accept her sight. "I thought other people's perceptions would stop me. But actually in the end it was my perception that was the problem."
Source: TED/YouTube
With her 2010 TED talk receiving over two million views on the organisation's website, Casey identifies it as the turning point in how she's approached campaigning. Having become visibly emotional during her talk, she found that vulnerability changed how people engaged with her, and the issues.
As such, she's unafraid to be open about her fears for this campaign, which began as an idea in 2007 and had just "a dongle, a skeleton team, a broken toilet and absolutely no money".
I'm scared I won't get it right. I'm scared I won't make the noise. I'm scared to find out that people don't care. But I really believe that they do, because to belong and to be accepted and to be seen for who you are is not a disability issue."
While such journeys are often billed as feats of endurance used as fundraisers, Casey is clear that the journey is not to be seen as such: "It's not an inspirational story. It's not an endurance ride." She is instead hoping for engagement, online or in person, and for people's opinions.
Having remortgaged part of her house to fund the trip itself, as well as ensure the horses' welfare, Casey is hoping for a loud start to the campaign: "I'm just there to start this. I'm only here to ignite this. This is not mine. I have no right to speak on behalf of anybody, this is an opinion that I have that resonates with a lot of people. So don't give us your money, just give us opinion."
While Casey is calling for a public leader to champion the issue, she also believes it's the responsibility of businesses and consumers to engage. "We forget that of the one billion people in the world who have a disability, 80% acquire it between the ages of 18 and 64. And so it's to that group I'm saying: what world do you want to live in? How do you want businesses to treat you?"