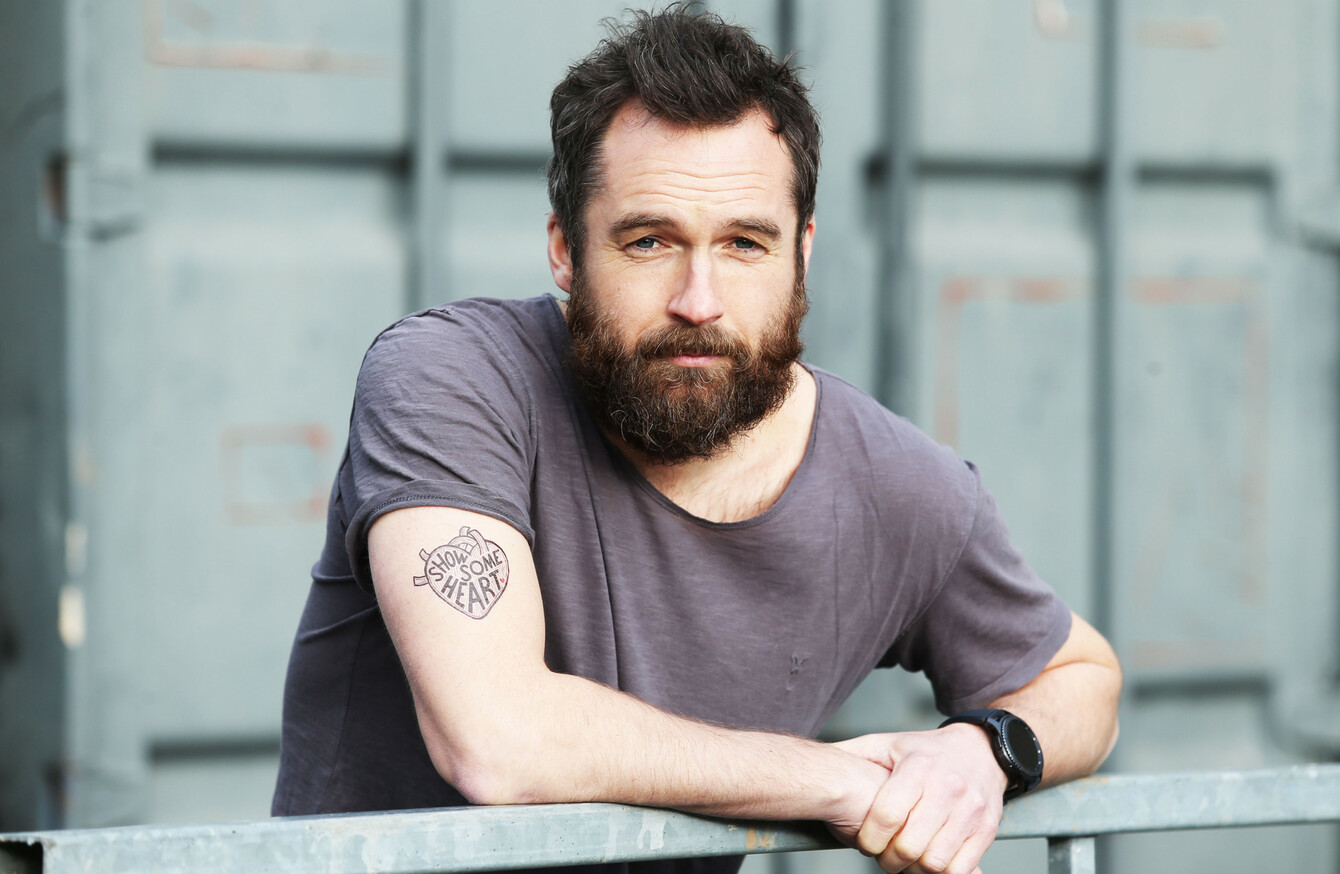 Keith is one of the faces of the Irish Heart Foundation's #ShowSomeHeart campaign.
Image: Irish Heart Foundation
Keith is one of the faces of the Irish Heart Foundation's #ShowSomeHeart campaign.
Image: Irish Heart Foundation
IRISH RADIO DJ Keith Walsh presents 2FM's Breakfast Republic every weekday morning. He lives in Kildare with his wife Suzanne and their two children.
Keith is one of the faces of the Irish Heart Foundation's #ShowSomeHeart campaign, encouraging the nation to raise awareness by wearing a temporary tattoo. Here's his heart health story…
PEOPLE THINK A HEART attack is an old person's thing, but my dad was 39 when he had his. Of course as a kid I thought he was an old man at that stage. He definitely wasn't.
Back in the eighties people weren't as aware of food and nutrition as they are now, but Dad didn't have a terrible diet. He didn't drink heavily, he didn't smoke.
The whole thing happened without us realising. He was showing off at the sports day, taking part in all the games. My mum always says she noticed his face was grey during the tug of war.
Doctor's visit
He ended up with flu-like symptoms that evening, stayed off work for a week and that was that. It wasn't until over a year later when he visited the doctor with a back problem that he was told he had actually suffered a massive heart attack after the sports day.
For 15 months he'd been living with 15 per cent heart function, no doubt feeling awful but just getting on with it.
He was sent off straight away for a quadruple bypass and had to make diet and lifestyle changes afterwards – no butter, no tea, walking to work, all of that.
As a result of all that happening, I spent most of my twenties and thirties assuming I was going to die early – or at least acting like I was. I drank a bit too much, I partied a lot.
Turning point
Then in my late thirties I had a full heart examination and they told me, 'You're grand'. Strangely enough, once I knew that my heart was in good shape, it became more important for me to keep it that way heading into my forties.
Fitness was the first thing I thought about, but I wasn't really focused. I took up hurling again, I joined a gym… where I did a lot of running on the treadmill and sitting in the sauna.
The real starter for me came about four years ago when I decided to give up sugar. By that stage I'd already given up smoking and drinking, and without sugar I lost weight and knew I had to be doing my heart some good too.
The hunt for a six pack
About a year later, in 2015, I took part in a show for RTÉ with the aim of ending up with a six pack. It was all filmed, I had a personal trainer, a nutritionist, the lot.
I did it for six months, got through it, made some drastic diet changes, got the abs… and then after all that I realised that emotionally I was feeling awful.
I started having serious anxiety issues and constantly feeling nervy, so much so that one day I had a panic attack on air.
When I sat back and looked at the food I had been eating for the last six months, I realised that my diet was full of sh** thanks to the protein bars, pre-workout drinks, post-workout drinks, during-workout drinks and whatever else.
Unclean eating
It was clean eating on paper, but really it was full of rubbish, with a lot of caffeine and sugar. I knew something had to change, so I went back to basics.
I did some research and realised that the very best diet for your heart is a vegan one, because you cut out animal fats.
Starting off, it wasn't easy. I think I cooked the same Happy Pear bean burrito for around six weeks. My son was initially upset that we wouldn't be going out for chicken wings any more, because that had been our 'thing,' him and me.
These days I've expanded my recipe range a bit more and though the kids aren't vegan, there's less meat cooked at home and they've taken it in their stride.
Keeping stress levels down
Aside from diet, I try to get a good work-life balance, which is easier said than done, I know. One thing I love about exercise is that it plays the double role of sorting out the work-life balance and keeping you physically healthy too.
In the evenings I might go for a run, help train my son at football, or myself and Suzanne might go to the gym together. It's something that breaks up the working week.
In my line of work you're up before dark, so I do a lot of preparation the night before, because nothing sends the heart rate up like heading off to work stressed. I try to start the day calmly with my bag ready to go, and time to spare if I hit traffic on the way to RTÉ.
After his heart attack, staying healthy became the most important thing in my dad's life. It was a necessity because he had to keep working. He's 78 now and still thinks in that vein. I've always had that in my head, I guess, and my aim these days is to be heart attack proof.
Want to help fight Ireland's number one killer? The Irish Heart Foundation urgently needs €250k in the battle against heart disease and stroke. #ShowSomeHeart this February with a €2 temporary tattoo, available in any Insomnia Coffee Co, Daybreak store or on irishheart.ie. The #ShowSomeHeart campaign is supported by RTÉ 2FM.
Source: TheJournal.ie/YouTube