Liveblog
While water continues to dominate the political agenda, with a vote due to take place on the water committee's report today, Leaders' Questions today centered on rural Ireland, the affordable childcare scheme and mental health. 
Fianna Fáil's Robert Troy says banks are closing, the bus strike is ongoing and retailers are being hit in the country.
He tells Tánaiste Frances Fitzgerald that rural Ireland feels neglected by this government.
He wants to know what plans are in place for Brexit?
Fitzgerald said the economy is growing and there are plans in place, but the negotiations on Brexit have not yet begun.
Troy isn't happy with her response and says she is taking all the credit while ignoring the sacrifices that have been made by the people of Ireland.
"By business people who are actually creating employment with little help from your government," says Troy.
Sinn Féin's Louise O'Reilly is up now and she says there is chaos across all departments, particularly health.
She says trolley numbers have hit an all-time high and says reviews and commissions haven't worked.
"People need solutions that work," says O'Reilly.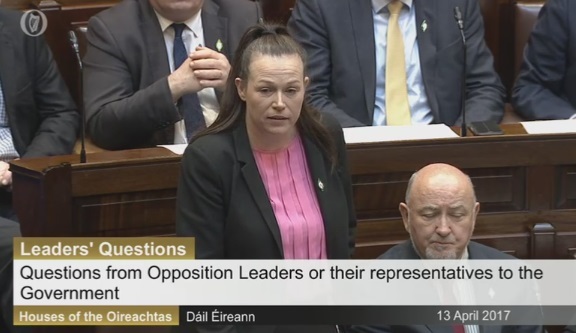 Fitzgerald says her government is taking action and points out that this is the largest health budget in history.
She says the minister met with INMO this morning to discuss nurse recruitment. The Tánaiste says recruitment and retainment of staff is key and committed to there being 1,200 fully funded new positions in place this year.
Fitzgerald acknowledges the stress of both families and staff working in extremely difficult circumstances.
"There is progress but there are challenges."
"Would you like to go down to the 409 people on trolleys and tell them about your plans," says O'Reilly, who states that her party are more concerned about who their next leader.
"You can't spin this as a good news story," she tells the Tánaiste.
"Your recruitment plan is not working."
Brendan Howlin is up next.
He wants to talk about the affordable childcare scheme. It hit a bit of a snag yesterday.
He says it now lies in tatters stating that the legislation isn't ready and the IT system to deal with it doesn't work yet.
You can read more about that here:
What do you have to say to the people who were lead up the garden path, he asks Fitzgerald.
Fitzgerald says the government are committed to make childcare more affordable.
We are determined to go from one of the most expensive to one of the best
She said that it is "beyond the control" of the Department of Children that the fully automated system will not be ready by September.
She says it will be ready early in the new year.
More than 70,000 families will benefit in September, says Fitzgerald.
Howlin says  Pobal told the government back in February that there were issues.
"At least be honest with people and tell them it won't be delivered in the timeline," says Howlin.
What's needed to ensure that everyone who was promised the childcare scheme can avail of it?
We will need some legislation and an IT system, says Fitzgerald, who adds that it is a priority for the department.
"When that has been done a further 9,000 families will benefit."
The Tánaiste is now being asked about mental health provisions.
She said she knows there are unmet needs around the country, but highlights the stigma is decreasing.
"There are wonderful changes in our country in relation to that," said Fitzgerald.
Speaking about the review of the Vision for Change she says she is pleased to announce that it will be published within two to three weeks.
She says it will identify current gaps in mental health services.
Upon publication an implementation group will be established immediately.
We will move to have services every day of the week and out of hour services, say the Tánaiste.
That's it for Leaders' Questions.
The Dáil rises today for the Easter break, so politicians won't be back until 2 May.
Contribute to this story: