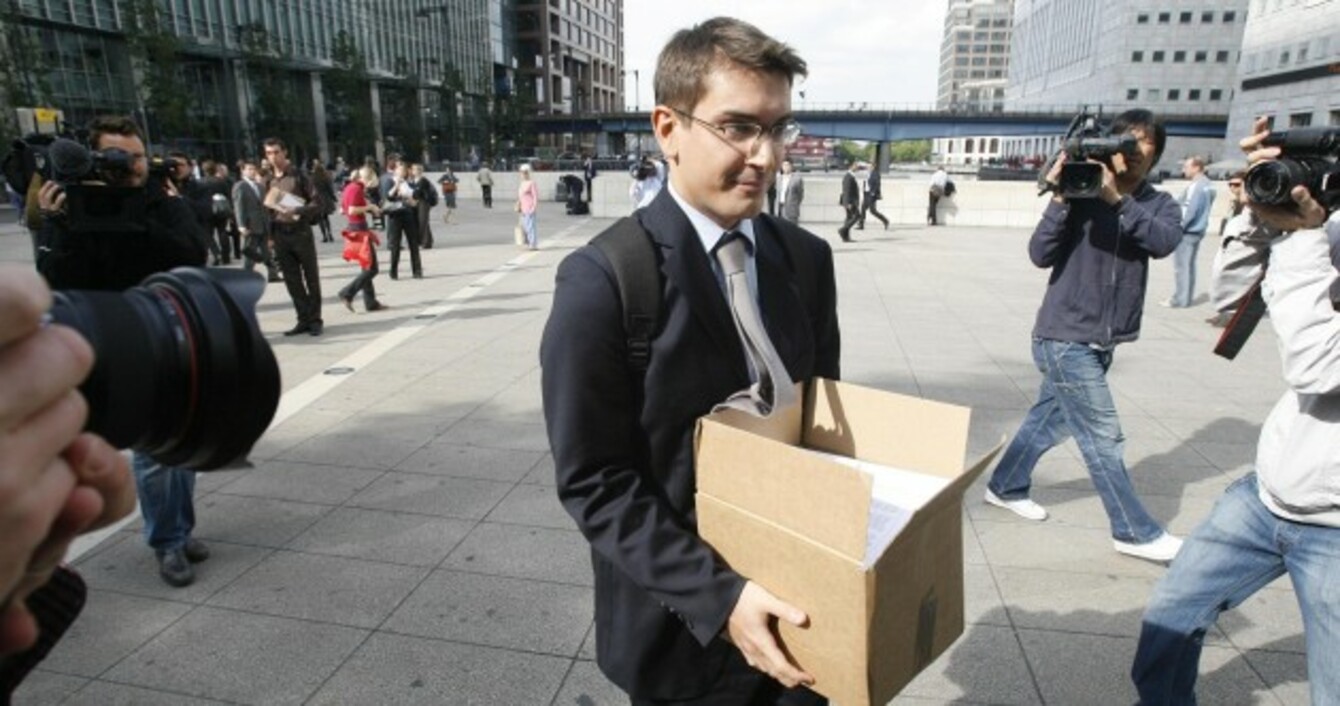 A worker holding a box, leaves the Lehman Brothers headquarters at Canary Wharf in London on Monday 15 September 2008
Image: Johnny Green/PA Archive/Press Association Images
A worker holding a box, leaves the Lehman Brothers headquarters at Canary Wharf in London on Monday 15 September 2008
Image: Johnny Green/PA Archive/Press Association Images
IT IS AN anniversary without celebration: five years after the implosion of banking giant Lehman Brothers sparked the worst crisis in generations, the US can say it avoided catastrophe.
After just barely pulling back from the precipice, industry is picking up, home prices are gaining, banks are stable and American consumers have started spending – albeit still with great caution.
But the millions still jobless, and an economy still needing stimulus, shows the scars have yet to heal.
"I wouldn't say we're anywhere near having a fantastic situation again," says Harvard economics professor Kenneth Rogoff. "But at least the economy has stabilised and is now moderately robust."
The economy was already struggling under the housing market collapse when on 15 September 2008, Lehman crumbled and the government's decision not to save it sent a shock down Wall Street.
The fall of the century-old US investment banking stalwart detonated an implosion in the US financial sector that reverberated around the globe.
The government quickly mobilised more than $420 billion to prop up other banks and automakers General Motors and Chrysler, whose collapse would have meant hundreds of thousands more jobs lost.
But that was not enough to contain the hemorrhage.
Rocketing unemployment
In the 12 months from September 2008, unemployment rocketed from 6.1 per cent to 9.8 per cent. The economy melted down, contracting at an 8.3 per cent annual rate in the final quarter of 2008.
With receipts sinking and intervention costs rising, the government deficit soared to $1.4 trillion, from 3.2 per cent of gross domestic product to 10.1 per cent by 2009.
"It was a very risky period, we could have had a new Great Depression," said Rogoff.
Five years later, that nightmare has passed. With the exception of a mild relapse in early 2011, the economy has been growing steadily, if slowly, since the autumn of 2009.
"The ability of the US authorities to take an aggressive approach to resolve the financial crisis was decisive," said Nicolas Veron, a researcher at the Peterson Institute for International Economics in Washington.
It was crucial to shore up faith in the banks.