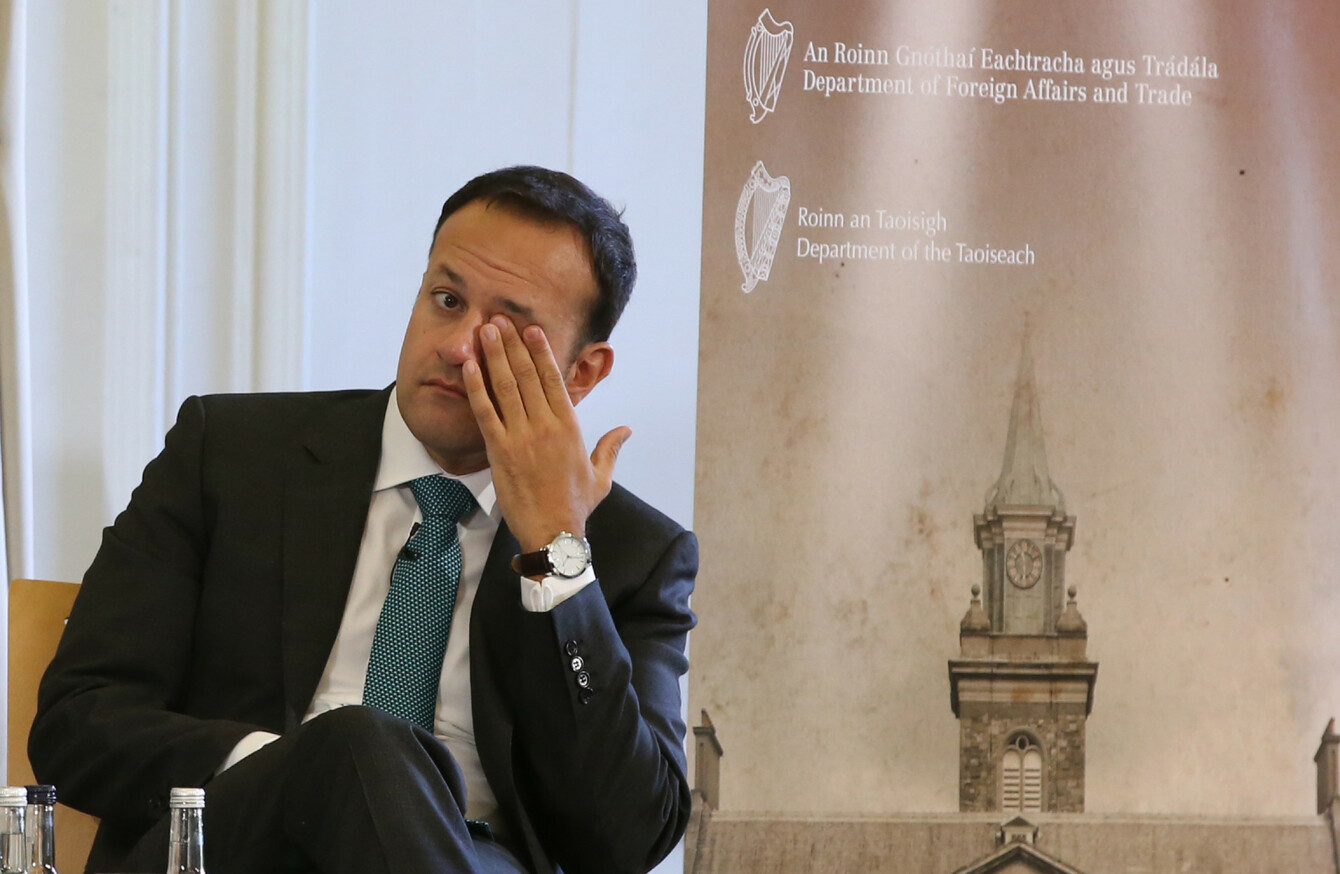 Taoiseach Leo Varadkar at the All-Island Civic Dialogue on Brexit last month.
Image: Sam Boal via RollingNews.ie
Taoiseach Leo Varadkar at the All-Island Civic Dialogue on Brexit last month.
Image: Sam Boal via RollingNews.ie
TAOISEACH LEO VARADKAR has said that Northern Ireland's citizens will want to become Irish and European "at the very least for convenience" after Brexit.
Speaking to RTÉ News ahead of a summit of EU leaders today, Varadkar said that negotiations weren't at a cliff edge, but that he was "very keen that Ireland builds new political alliances in Europe".
Negotiators in the thick of Brexit talks have been batting away rumours of a stalemate in brokering a deal – mainly due to a lack of progress on three core issues.
The European Union team want these three issues solved before discussing the UK's preferred topic of free trade. (The EU's wishlist are the rights of EU citizens living in the UK (and vice versa), the bill that the UK will have to pay upon leaving (hinted to be €20 billion), and the issue of a border in Northern Ireland.
A deadline was set for those three things to be ironed out before moving on to the next phase, which hasn't happened, setting negotiators and the press pack around them into a panic.
Those strained relations were exacerbated when the UK's chancellor called Europe "the enemy".
Today, Leo Varadkar said more detail was needed from the UK on their position on Northern Ireland in particular.
"I don't think it's enough to say you don't want certain outcomes, you have to really explain how you're going to avoid them," he told RTÉ News.
He then said:
"After the UK leaves the EU it is very likely that the majority of people in Northern Ireland will be Irish and European citizens. Even people from a unionist background will want to become Irish and European citizens at the very least for their convenience."
Today, British Prime Minister Theresa May published an open letter to EU citizens living in the UK.
In her message, she said that citizens' rights remained her first priority and that accusations that she was treating "EU nationals as bargaining chips" couldn't be "further from the truth".
I couldn't be clearer: EU citizens living lawfully in the UK today will be able to stay.
She said that her government are developing a digital process for those applying for settled status in the UK.
"People applying will not have to account for every trip they have taken in and out of the UK and will no longer have to demonstrate Comprehensive Sickness Insurance as they currently have to under EU rules," she said.
We want people to stay and we want families to stay together. We hugely value the contributions that EU nationals make to the economic, social and cultural fabric of the UK.
May will make a personal address to the other leaders over a working dinner tonight, before leaving early tomorrow when EU leaders will discuss Brexit without her.