Liveblog
WATER, WATER, EVERYWHERE so let's all kick up a stink.
Last night the water charges committee approved its final report. We've answered some vital questions about what this means, but there's not complete agreement yet.
It was approved by 13 votes to 7 with Sinn Féin and Solidarity-PBP opposing it.
An Taoiseach faces a steady stream of water-based questions during today's Leaders' Questions.
This how it played out.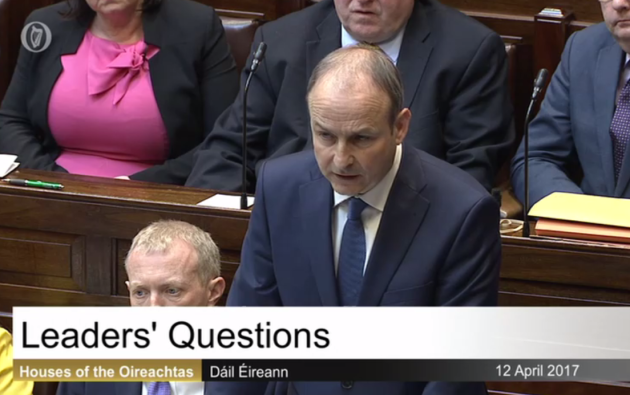 Source: Oireachtas.ie
Fianna Fail leader Micheál Martin isn't talking about water. He's asking the Taoiseach about the number of children availing of emergency accommodation.
'The housing policies are not impacting on this daily reality," Martin says.
Martin wants the Taoiseach to acknowledge government policies have had "no impact" on the problem.
He speaks specifically about Capuchin Day Centre for Homeless People run by Bro. Kevin Crowley in Dublin.
The Taoiseach says he hasn't visited the centre and is aware of the work they do.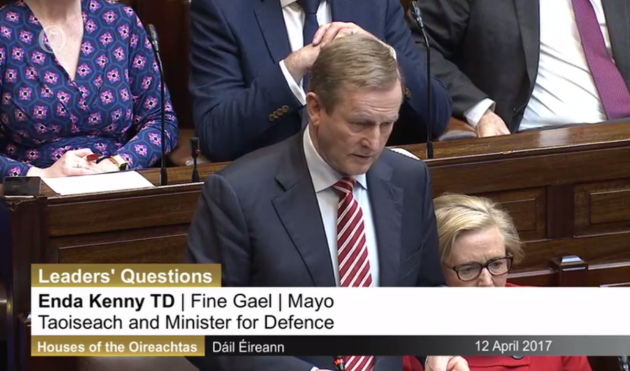 Source: Oireachtas.ie
The Taoiseach has responded by outlining what has been spent on homeless services and new home building.
He claims that €1.3 billion will be spent this year when the building of social housing is included.
Last year nearly 18,000 housing supports were implement the Taoiseach says.
Leas Ceann-Comhairle Pat the Cope Gallagher  is warning about speaking over time.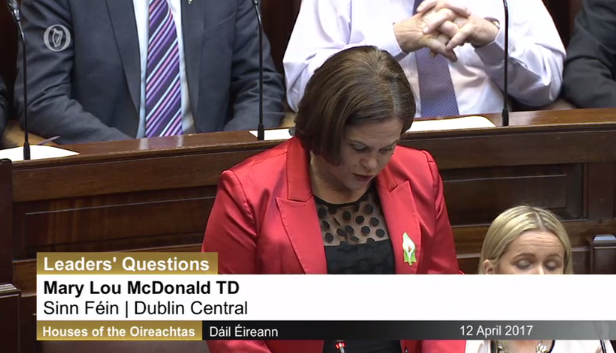 Source: Oireachtas.ie
Sinn Féin's Mary Lou McDonald IS talking about water.
She says that Fine Gael and Fianna Fail have 'cobbled together a deal that subverts the will of the people.'
McDonald says that the Confidence and Supply Agreement between Fine Gael and Fianna Fail is in fact an agreement for "connivance and cute-hoorism".
This has roused members around the house who aren't happy.
"The ordinary people get screwed by Fianna Fail and Fine Gael," McDonald says.
"Well, I want to congratulate the deputy leader for cynical outrage," Kenny says in beginning his response.
It draws one or two laughs.
The Taoiseach is getting some rural-urban jibes in his response to McDonald
"I come from a part of the world when hundreds of thousands of people waited for water to come and they paid for it," he says.
You come from a place where you turned on the tap.
"Tell me Taoiseach, who are the chronic water wasters? And how will they pay for it," McDonald says.
Kenny accuses McDonald of spreading "false outrage" and "wanting everything for nothing".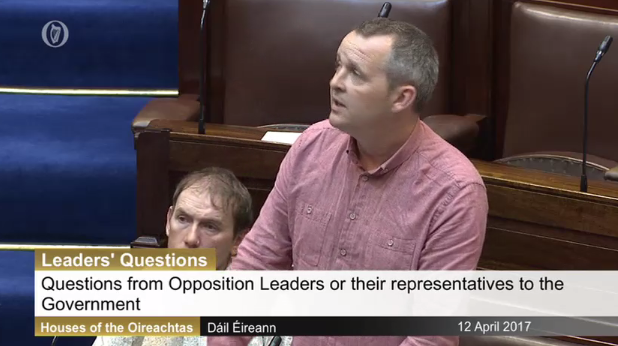 Source: Oireachtas.ie
Richard Boyd-Barrett TD is up now and is also talking about homelessness.
"I'm sick and tired of hearing you and your deputies saying it takes time to solve the homelessness issue," he tells An Taoiseach.
He points to families in the gallery who are currently homeless and living in emergency accommodation.
Boyd-Barrett is telling the stories of some of these people.
"Tell Antonia, whose father has motor neurone disease and is about to be evicted at the end of this month and has nowhere to go."
"Please tell them what you are going to do," the deputy says.
"This government is working very actively on this. That's why there's a special department on housing," the Taoiseach says as he lists a number of initiatives.
Richard Boyd-Barrett TD says the Taoiseach is in denial and is getting very animated.
He is being warned by the Leas Ceann Comhairle.
"If you're going to trying to circumvent the rules… I warned you," the Leas Ceann Comhairle says.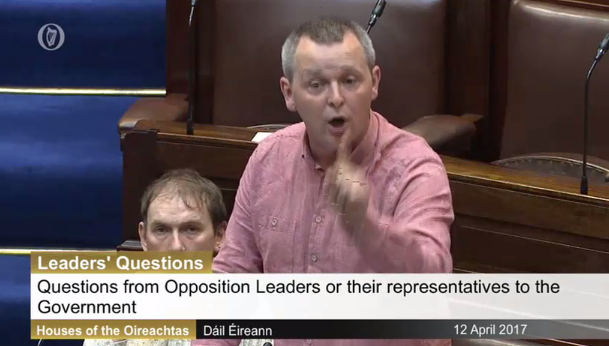 Source: Oireachtas.ie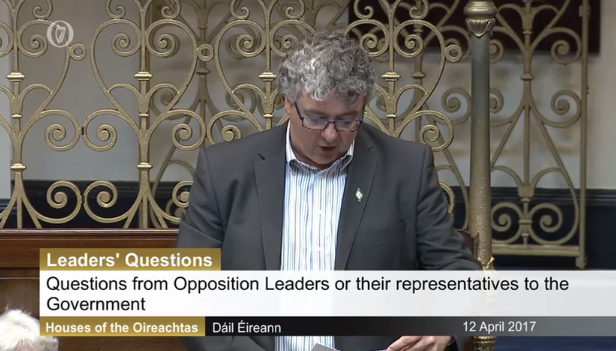 Source: Oireachtas.ie
Thomas Pringle TD is raising the issue of Ulster Bank closures.
Here's our story on the case from last month: 'Ulster Bank to close 22 branches in Ireland with 220 redundancies.'
Pringle is also speaking about the potential closures in An Post and is expressing fears about a growing crisis in rural life.
Pringle asks the Taoiseach will he: "Get the finger out and not commission another report?"
"I don't agree with you that this government is reneging on its commitment to rural Ireland. Every single regional sector has shown a growth in employment," the Taoiseach says.
That concludes today's Leaders' Questions. Thanks for joining us.
Contribute to this story: