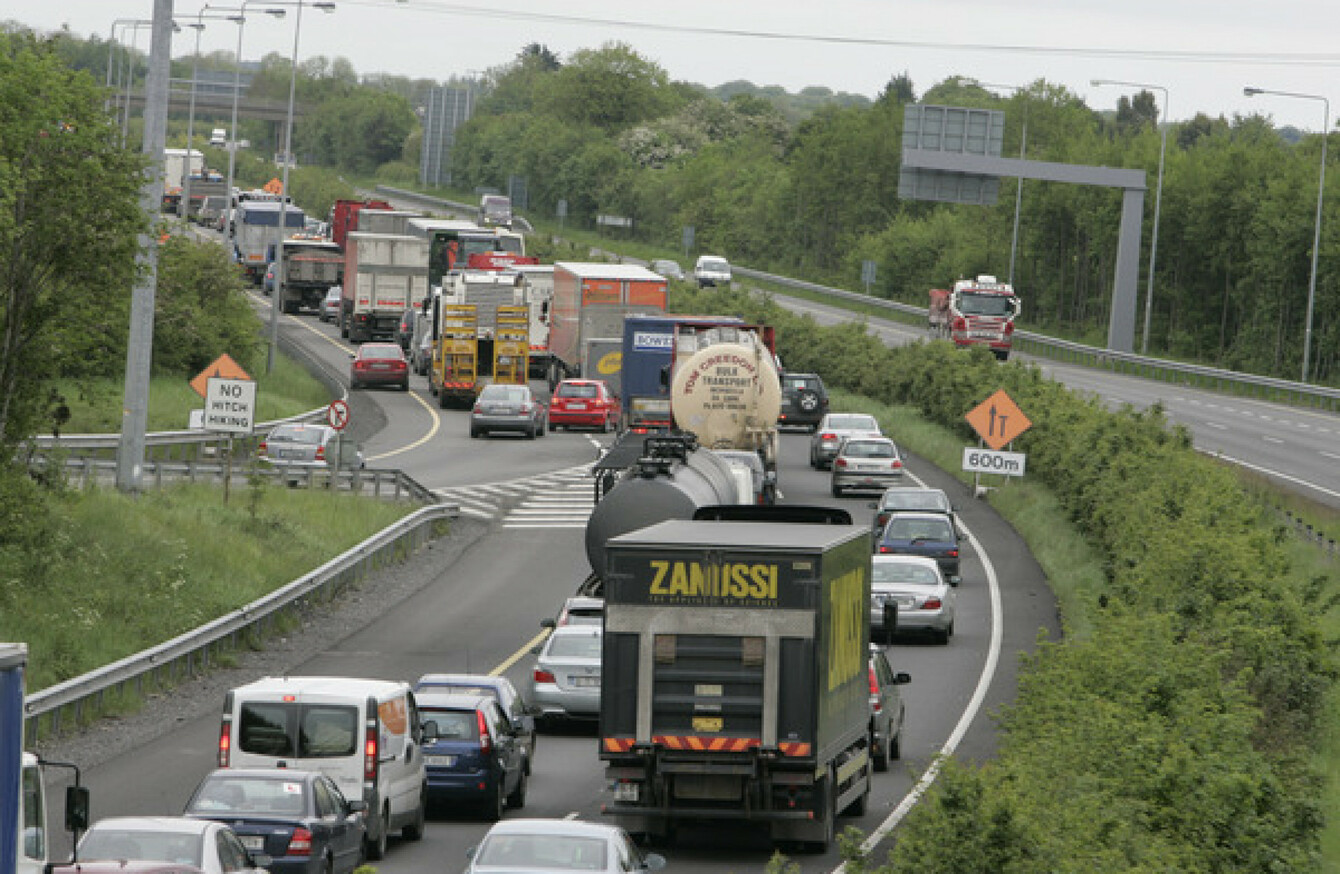 Traffic problems on the M7.
Image: Photocall Ireland
Traffic problems on the M7.
Image: Photocall Ireland
THE M7 MOTORWAY is being widened to three lanes between Naas and Newbridge in Co Kildare.
The current two-lane stretch is a noted traffic black spot, regularly grinding to a halt during rush hour.
The plans, which were announced today, include the widening of the motorway to three lanes in both directions from Junction 9 (Naas North), also known as the 'Perpetual motion ball' junction, to the M7/M9 interchange at Junction 11.
The ramps at Junction 10 (Naas South) will also be relocated as part of the scheme and a new junction, to be called Junction 9a, will be built at Oberstown.
Six new structures will be built as part of the works, including two new bridges over the River Liffey and a bridge over the Grand Canal.
Traffic management systems will be in place along the 14 kilometre stretch for the duration of the project; however two lanes will be maintained between 6am and 10pm.
The construction is scheduled to be finished in early 2020. The contract for the work was awarded to SIAC/Colas JV.
The motorway is the main network connecting Limerick and Dublin and it carries approximately 70,000 vehicles every day.
The Taoiseach, Leo Varadkar, said in a statement that he is "thrilled" that the work will start soon.
It's a vital motorway for commuters and for freight transport, which is prone to congestion at peak times.
"This project will also benefit residents and businesses in County Kildare with improved access," Varadkar said.
Meanwhile the government also announced the launch of a new scheme to improve non-public roads in rural areas.
The €10 million Local Improvement Scheme (LIS) will provide 90% of funding for improving non-public roads through the Department of Rural and Community Development.
Local residents or local authorities will provide the rest of the funding.
"The Local Improvement Scheme is about improving small roads and laneways in rural Ireland which are not under the normal maintenance of the local authorities," the Minister for Rural & Community Development, Michael Ring, said.
I urge the local authorities to implement this programme and spend this money without delay. The upkeep of these roads is a priority for people who live in rural Ireland.