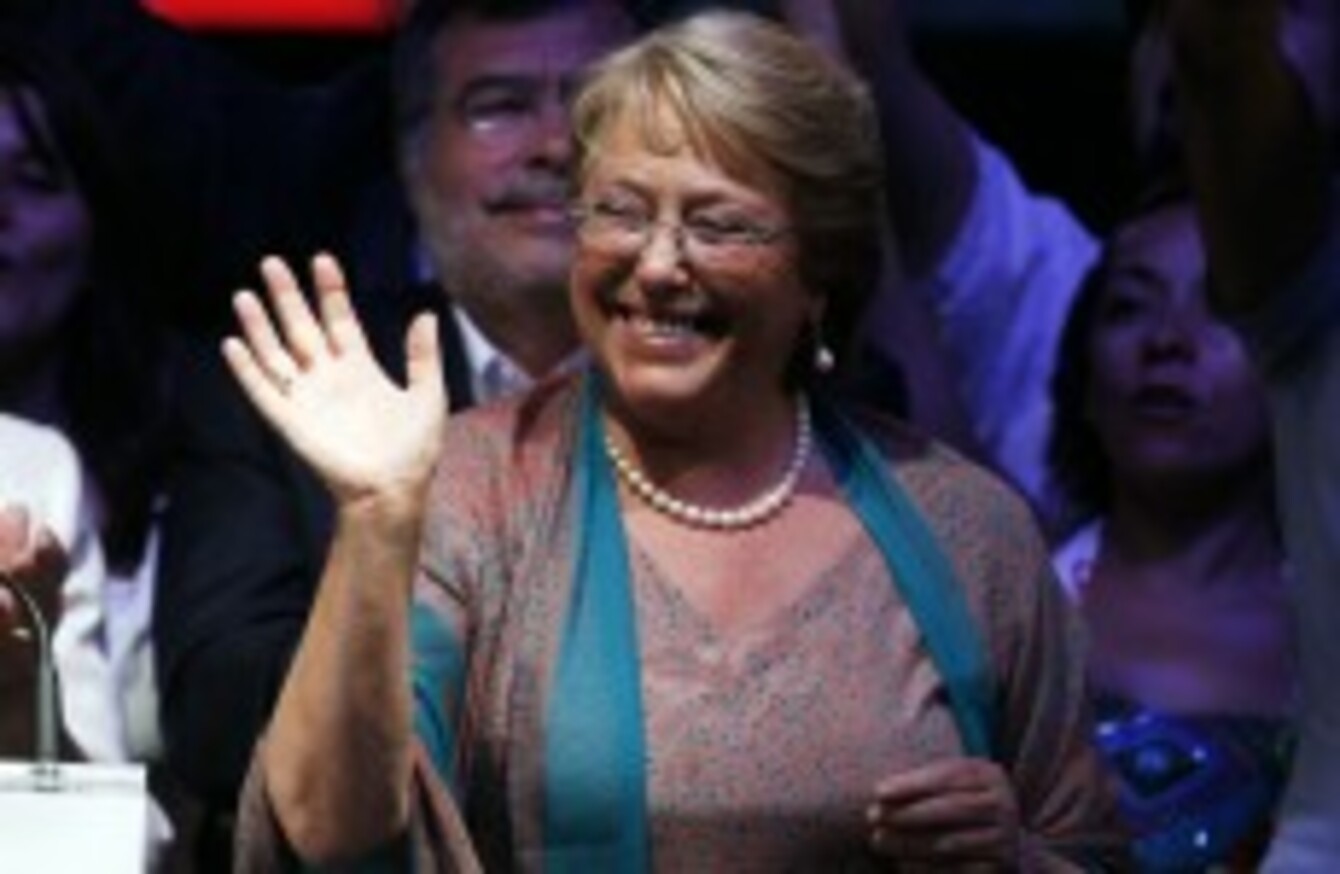 Presidential candidate Michelle Bachelet
Image: AP Photo/Luis Hidalgo
Presidential candidate Michelle Bachelet
Image: AP Photo/Luis Hidalgo
SOCIALIST MICHELLE BACHELET easily trounced her conservative rival yesterday and was swept back into Chile's presidency on a platform of narrowing the gap between the rich and poor.
One of the first challenges for Bachelet, who was president 2006-2010, will be to dampen the soaring expectations for quick changes as Chile's booming economy loses steam with Asian demands for Chile's copper diminishing.
Bachelet defeated conservative Evelyn Matthei in a landslide, 62 percent to 38 percent, according to official returns. The race marked the first time in Latin America that a presidential runoff was held between two women.
"Chile, now, finally, the time has come to carry out the changes," Bachelet, joined by her children and mother Angela Jeria, told cheering supporters in Santiago shortly after her resounding victory.
The 62-year-old president-elect takes office March 11 to succeed conservative billionaire President Sebastian Pinera for a term running through 2018.
Historic
This is a "historic" moment for Chile, Bachelet said, because the country "has decided that this is the time to carry out far-reaching reforms" such as free post-secondary education, raising taxes and adopting a new, more modern constitution.
Bachelet praised the thousands of student protesters who, starting in 2011, held massive street protests demanding free, quality university education.
"Money is not what should be driving education. Education is not merchandise. Dreams are not something that you go out and buy; everyone has the right to have them," Bachelet said.
"It isn't going to be easy" to carry out the necessary social and economic changes, Bachelet said. "But since when was it ever easy to change the world for the better?"
In this second term Bachelet will have a chance to cement her legacy as a transformative leader with reforms aimed at overhauling the constitution and the government structure, a legacy of the 1973-1990 military dictatorship of Augusto Pinochet.
High stakes for Bachelet's second term
Bachelet focused her 2013 campaign on promises of greater social justice in a country that has the highest per capita income of any Latin American country.
She has proposed increasing taxes to raise $8.2 billion for the state coffers, and wants to provide universally free access to post-secondary education.
As part of her ambitious reform agenda, Bachelet hopes to bring Chile in line with a wave of social liberalism spreading across once-conservative Latin America, including by legalizing abortion and opening discussions on same-sex marriage.
But she has also complained that four years will not be enough to meet all of the high expectations for reform.
Even the students that she praised did not all support her: the more radical leaders say they mistrust her and called for their followers to abstain from voting.
They are also organising a mass protest, along with environmentalists and gay rights groups, scheduled to be held four days after Bachelet takes office.
Bachelet is also inheriting an economy that is losing steam after some five years at a five per cent growth rate. Growth next year is forecast at between 3.75 and 4.75 per cent.
In her first term, Bachelet reformed the pension system, improved health and social services, and focused on the well-being of Chile's working class and elderly.
Her first term also coincided with a boom in global demand for copper.
The final vote results were the worst for any Chilean conservative candidate since democracy was restored in 1990.