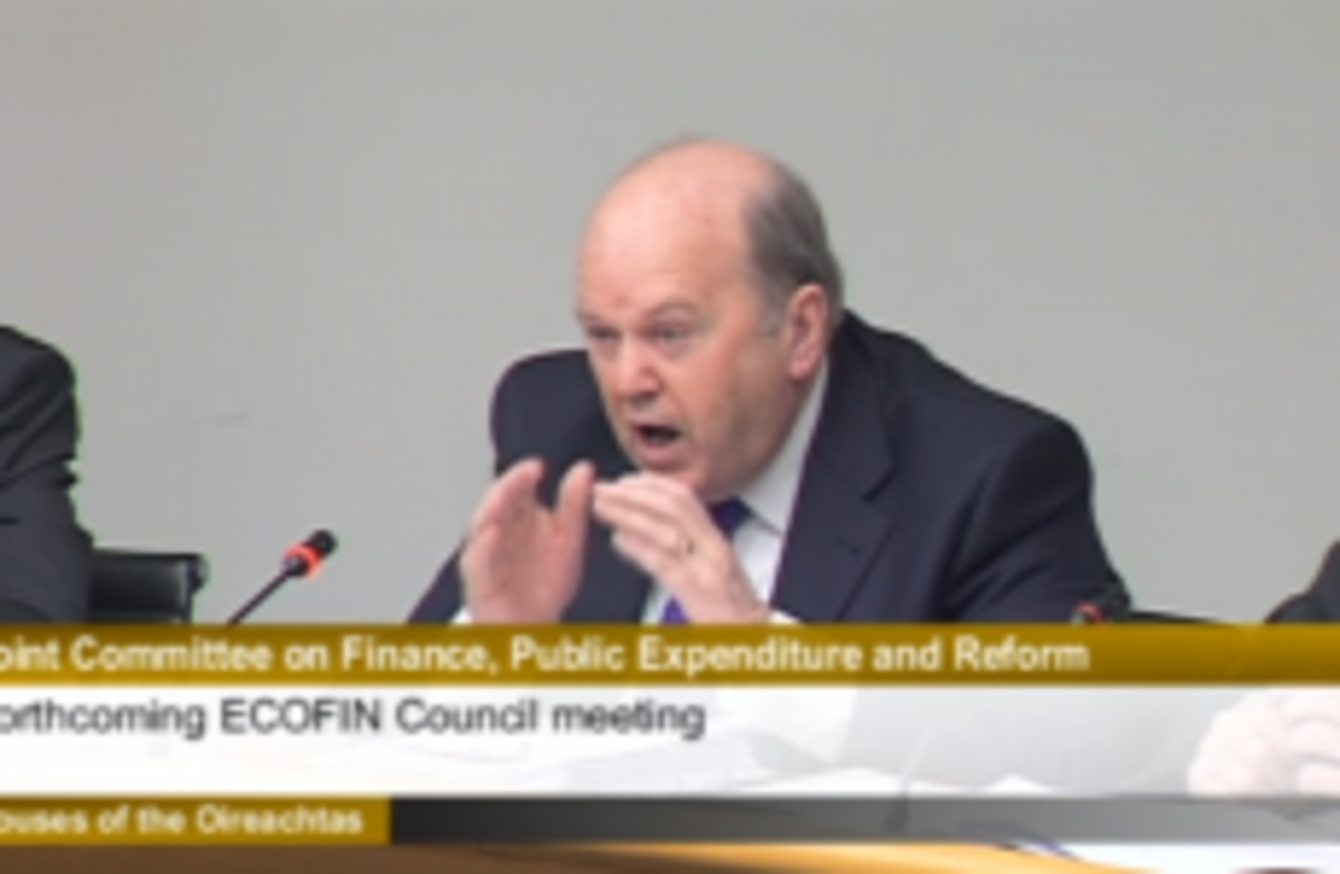 Finance Minister Michael Noonan tackles more committee hearings today
Image: Screengrab via Oireachtas TV
Finance Minister Michael Noonan tackles more committee hearings today
Image: Screengrab via Oireachtas TV
WHAT'S GOING ON in Leinster House?
Every day the Dáil and Seanad are sitting, TheJournal.ie brings you the most comprehensive guide to what our lawmakers are getting up to in the Houses of the Oireachtas.
So, here is what we can expect to be happening in the Dáil, Seanad and Committee rooms today…
3 things we'll be keeping an eye on
Dáil: Social Protection – Minister Joan Burton takes questions on her social protection portfolio, and no doubt on some of the controversial welfare measures announced in the Budget, from 9.30am
Dáil: Leaders' Questions – It's Tánaiste Eamon Gilmore – who's no doubt looking forward to his party's conference this weekend – who will be taking questions from opposition TDs from midday.
Committees: Health insurance – Changes to tax reliefs for health insurance will be discussed by the Health Commitee in Room 2 from 9.30am with the main insurers who will no doubt be talking of premium increases as a result of the recent levy increase.
Everything else that's happening in the Dáil
Changes to company law – as part of the Companies Miscellaneous Provisions Bill  - will be discussed with Richard Bruton at 10.45am.
This is followed by discussions on changes to road traffic legislation which is at second stage.
The Order of Business follows Leaders' Questions at 12.21pm or pronably a little later.
TDs then resume their morning business before breaking for Topical Issues at 4.42pm.
The Dáil adjourns for the week at 5.30pm.
Everything else that's happening the Seanad
Senators start the day by discussing anything and everything at the Order of Business from 10.30am.
The bill to abolish ministerial severance payments and change the parliamentary standard allowance reaches report and final stage at 11.45am.
The recently-announced changes to pensions legislation will be discussed in the form of the Social Welfare and Pensions Bill which reaches committee stage at 12.45pm.
Then it's Matters on the Adjournment before the Seanad itself adjourns.
Everything else that's happening in the Committees
Michael Noonan continues his mammoth session with the Finance Committee as they discuss the provisions of the Finance Bill – which encompasses the Budget's taxation measures – from 10am in Room 3.
Here's how to watch what's going on in Leinster House today