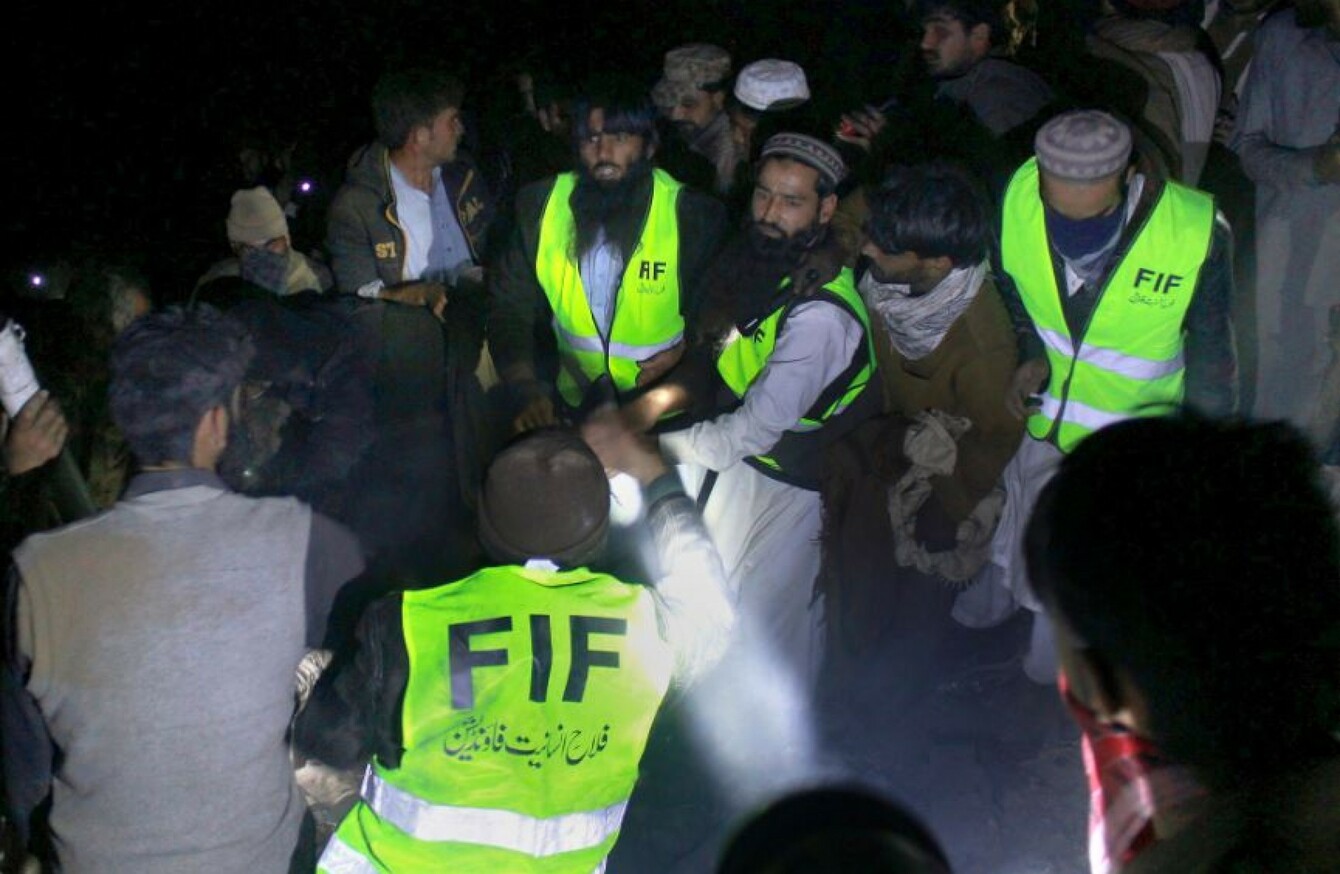 Pakistan army troops and rescue workers collect remains of victims.
Image: Aqeel Ahmed AP/Press Association Images
Pakistan army troops and rescue workers collect remains of victims.
Image: Aqeel Ahmed AP/Press Association Images
Updated 9.20pm
Warning: Some people may find details in the report distressing. 
A PAKISTANI PLANE carrying 48 people crashed today in the country's mountainous north, killing everyone on board, authorities have said.
It is one of the deadliest aviation accidents in the nation's history.
Pakistan International Airlines (PIA) Flight PK661 came down after one of its two turboprop engines failed while travelling from the city of Chitral to Islamabad, the civil aviation authority said.
Rescuers, including hundreds of villagers, pulled the charred remains from the wreckage of the aircraft, parts of which were found hundreds of metres away from the main site in Abbottabad district of Khyber Pakhtunkhwa province.
An AFP reporter at the site near the village of Saddha Batolni said part of the plane was still on fire more than five hours after the crash, as rescuers picked up torn human remains with their hands and placed them in bags before they were taken by ambulance to Islamabad for identification.
"The bodies were burnt so badly we could not recognise whether they were women or men," a villager told AFP.
We put into sacks whatever we could find…and carried them down to the ambulance.
Addressing a press conference in Islamabad, Azam Saigol, the airline's chairman, said the plane was an ATR-42 turboprop aircraft, which contacted ground authorities after one engine failed and issued a Mayday call at 4:14pm (11.14am Irish time).
It began descending a minute later before disappearing from radar at 4:16pm.
'Technically sound' 
"This plane was technically sound, and was checked in October," he said, adding the captain had flown more than 12,000 hours and the aircraft was nine years old.
"Our focus now is to retrieve all the dead bodies," Saigol said, vowing a full investigation.
A senior rescue official on the site who requested anonymity added: "The villagers told us that the plane was shaky before it crashed. It was about to hit the village, but it seems that the pilot managed to drag the plane towards the hills."
Three foreigners were among the dead, officials said, with Austria's foreign ministry later confirming two of its nationals were killed and Chinese state media saying one of its nationals was also among the victims.