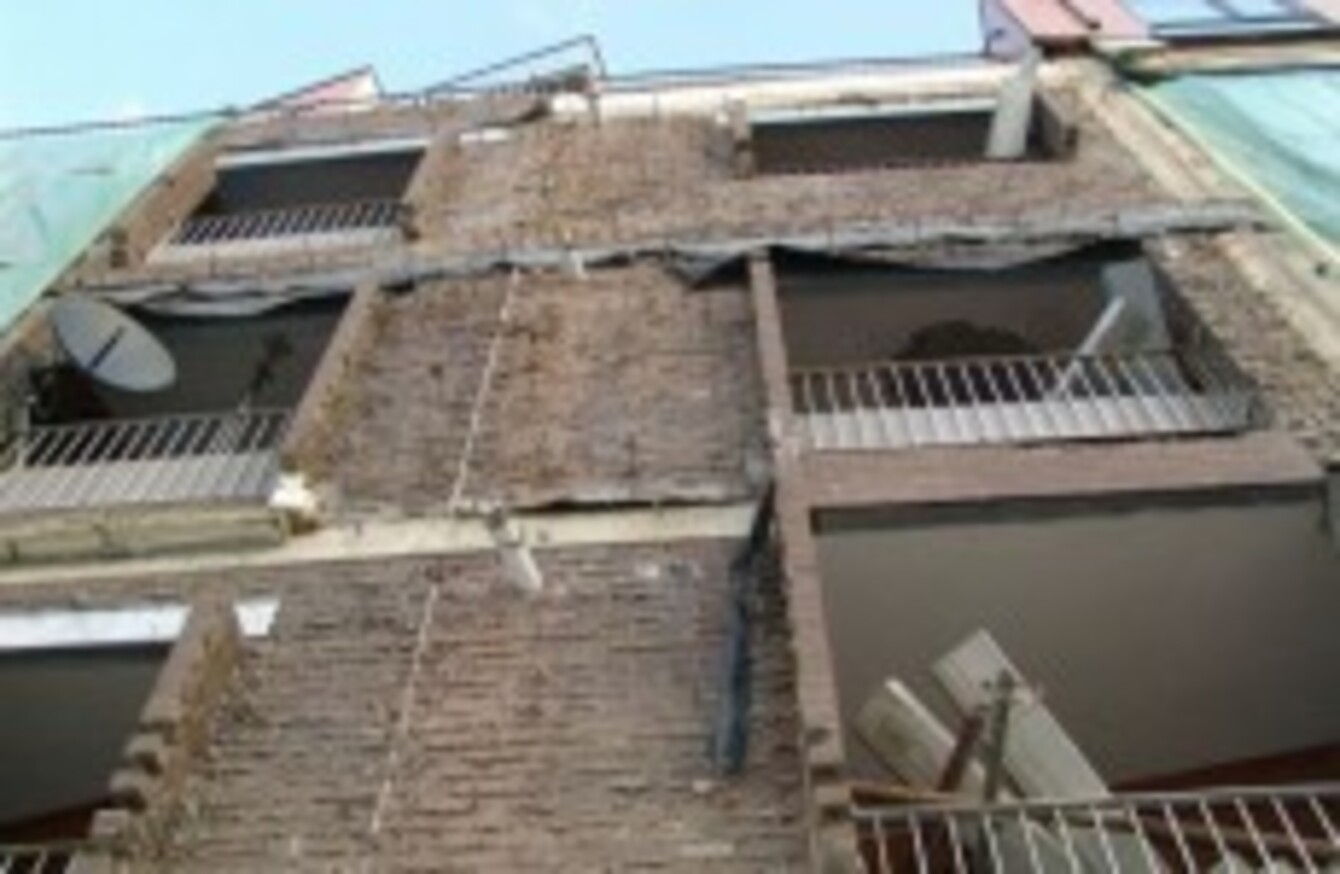 Priory Hall in January 2012
Image: Priory Hall Residents Committee Facebook Page
Priory Hall in January 2012
Image: Priory Hall Residents Committee Facebook Page
RESIDENTS AT PRIORY Hall have questioned how the developer of the defective apartment complex could afford to pay an Irish legal team to appear in the Supreme Court today after filing for bankruptcy in the UK.
The Supreme Court today dismissed an application by Dublin City Council to have Tom McFeely imprisoned and fined for failing to carry out necessary remedial works at the Donaghmede properties.
The council tried to argue that the courts should not have put a stay on his three month jail term or €1 million fine.
The Priory Hall residents committee immediately asked the question of how McFeely was funding the court appearance after his UK assignee confirmed in writing that funds would not be released for any further or retrospective legal fees.
Speaking to TheJournal.ie following the hearing, committee spokesperson Graham Usher said that five months after being evacuated from their homes, the residents are still the "only ones being punished".
The residents have all been warned that they may have to consider bankruptcy and insolvency in the near future.
"[24 April] is d-day for us essentially," explained Usher. "We've been getting a lot of financial advice of the past few months and essentially what they're telling us is that if you're not paying your mortgage interest and capital will continue to accrue, you may need to consider bankruptcy and insolvency."
He said they would only consider this under the new legislation that is coming in.
Currently, Dublin City Council is paying for the temporary housing costs for the majority of the 256 residents. However, this may cease after the council goes to the Supreme Court on 24 April.
The council, which says it can no longer afford to pay for rented accommodation for the homeowners, wants the Supreme Court to overturn a previous judgement that made it liable for such payments.
Usher and other residents have been told by lawyers to "expect the worst" from that hearing and they will then have to start paying for their own alternative accommodation.
Five months ago we were working away, paying our mortgages and now thanks to Tom McFeely and the incompotency of DCC and government all these people are facing bankruptcy, including myself.
"Because of nothing that I've done I am now facing bankruptcy. That's tough to take," he added.
Residents at the ill-fated apartment block were evacuated on 17 October over fire safety concerns discovered by the council. Remedial work was due to be carried out by McFeely but he was ordered off the site after failing to do so.
With a repairs bill of €7.3 million which the council, developer and residents all say they cannot afford to pay, it is unclear when (if ever) the residents will be able to move back in. Meanwhile, the properties remains uninhabited and risk becoming completely dilapidated.
Usher said that the committee has learned some "incredible things" over the past few weeks.
"The Department of the Environment found fire safety and building control issues that are still there today. DCC who despite clear signs that there were problems, chose not to carry out any inspection. We hold them responsible for what happened," explained Usher, who has demanded – but failed to obtain – a meeting with the Taoiseach or Environment Minister Phil Hogan.
"Hogan is clueless of the reality of what is happening here," he added. "The government seem to want to wash their hands of this."
Going back to the day they were evacuated, Usher remembers how her learned the news by listening to the radio.
On 14 October, the council went to the High Court and asked the judge to make an order so they could evacuate 256 people. That's an incredible action from a housing authority without prior notice.
The residents are now writing to the Irish Bank Federation to see if they can get a meeting to agree a "joined-up" approach to freezing their mortgages, which are all worth at least €250,000.
Usher also wanted to underline the fact that there is still no work being carried out at the site and no plans for any work to start.
"It isn't going to be done," he says. "The builder is 'bankrupt' and DCC won't take responsibility."
-Additional reporting by Hugh O'Connell