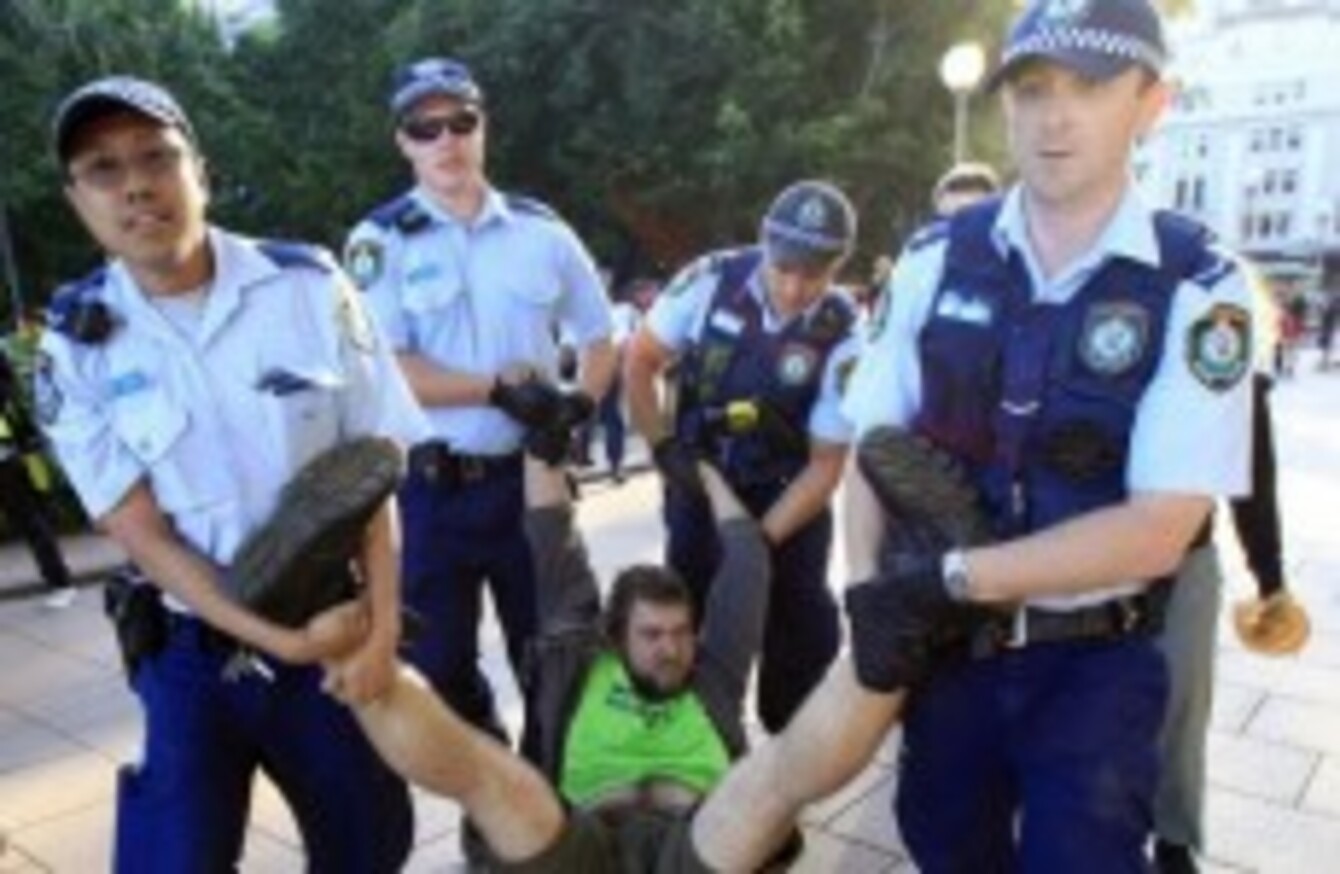 A protester being taken away by police from a protest in Sydney at the weekend
Image: Rick Rycroft/AP/Press Association Images
A protester being taken away by police from a protest in Sydney at the weekend
Image: Rick Rycroft/AP/Press Association Images
Updated 12.45pm
FIVE PEOPLE WERE arrested after police used grinders to entry a building taken over by Occupy Sydney protesters.
New South Wales police said on their Facebook page that they arrested five protesters who had allegedly barricaded themselves into an unused office building.
At about 4.30pm, the police were informed that the Occupy Sydney protesters had forced entry into the building on Clarence St via the rear fire doors.
The protesters unfurled a banner onto the outside of a window.
The police attending the scene included the Public Order and Riot Squad, Operational Support Group, Police Rescue and Bomb Disposal Squad and the dog unit.
NSW Police commented:
Officers attempted to communicate with the protestors inside the building, however, they refused to speak with police.
About 9:30pm, Police Rescue officers forced entry to the building and had to use grinders to gain access due to a number of doors having been barricaded.
Police entered the premises and arrested four men aged 22, 27, 32 and 44 and a 27-year-old woman, who they took to Surry Hills Police Station.
They are expected to be charged with trespass.
About 40 protestors, who had formed up outside the building, were moved-on by police with one man arrested for failing to comply with a police direction.
He has also been taken to Surry Hills Police Station.
A live stream of the scene was broadcast by Occupy Sydney Media on UStream.
Protesters were heard to shout "stop hurting me" and "I'm allowed to be here, I'm a pedestrian" as police tried to move them on from the road across from the building.
They also chanted "This is not a riot" to police.
Police asked activists to move as they were obstructing the footpath.
Activists converged on the Town Hall on Saturday with banners bearing the slogans such as "You can't eat money" and "Stop brutality".
Last month, police were accused of using excessive force after 40 protesters were arrested in a dawn raid that ended the group's weeklong protest at the mall, known as Martin Place, which is home to several banks and other corporations.
People have been tweeting about the situation using the #occupysydney hashtag on Twitter.
- Additional reporting by AP
The beginning of the police approach

Source: http://www.twitter.com/willdeasy

10 people inside the building

Source: http://twitter.com/nicraus

Update from a journalist on the scene

Source: http://www.twitter.com/kfbar

Protesters and police

Source: http://www.twitter.com/martincrummy

Reports of chainsaws

Source: http://www.twitter.com/2GBnews

Updates from the Occupy Sydney camp

Source: http://www.twitter.com/occupysydmedia

Riot police

Source: http://www.twitter.com/martincrummy