Updated 8.39am
FINE GAEL AND Labour look to be well short of an overall majority after today's General Election, according to the first exit polls.
The RTÉ exit poll this morning shows that based on first preference votes the parties are at these percentages:
Fine Gael 24.8%
Fianna Fáil 21.1%
Sinn Féin 16%
Labour 7.1%
Independents 11%
AAA/PBP 4.7%
Soc Dems 3.7%
Green Party 3.6%
Independent Alliance 3%
Renua 2.4%
Others 2.6%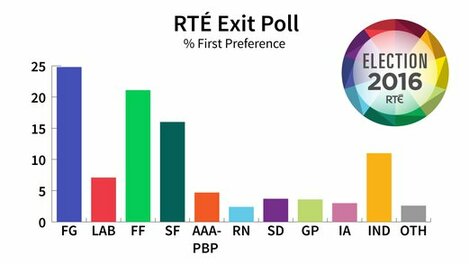 Source: RTE
This poll was conducted at 225 polling stations, with randomly selected 4283 people.
Last night's Irish Times exit poll showed similar results.
A tragedy
Responding to the results of the exit poll on Morning Ireland, Fine Gael's general secretary Tom Curran conceded his party looks likely to "fall short".
He said he was conscious of the fact that "good people that stood for both Fine Gael and the Labour party will probably lose their seats either today or tomorrow and that is a tragedy."
"If it's true, it's hard to put a finger on what one thing went wrong, the most important thing is we have to accept the decision of the electorate of that is the decision."
From the Taoiseach's point of view, he will be very disappointed and will be taking stock.
Labour TD Derek McDowell said "it's clearly not going to be a good day" for his party.
Clearly we're going to lose some good comrades in the course of he day and I'm very sorry about that.
When it comes to winning seats, Labour will be looking at how the independent vote splinters, he said. He expects between eight and nine seats but they could win more of independent votes transfer to Labour candidates.
"If they transfer between each other, frankly, we're in for a very bad day," he commented.
Coalition?
Fianna Fáil's director of elections, TD Billy Kelleher, said it was an "anxious and nervous" morning for the party's candidates.
He said that if the poll is reflective of the actual outcome of the election, Fianna Fáil will have met its targets, though he pointed out that none of the ballot boxes have yet been opened and there may well be some surprises today.
When asked if he still believed it would not be credible for his party to join Fine Gael in a coalition, Kelleher said that if a political party wanted to retain its identity, it had to stand up and campaign on its policies, they could not "in the same breath, say you can move that if things don't work out".
The results of the poll indicate support for Fianna Fáil is strongest among the older cohort of voters, and weak with younger groups. Kelleher said the challenge now for the party would be in attracting these younger voters by introducing new candidates.
A new alignment
Anti Austerity Alliance TD Paul Murphy described the results of the poll as "a political earthquake".
He said it will mean instability from the point of view of the political establishment, with the Labour party now "in very, very deep crisis".
With a result of 3.7% for the Social Democrats in RTÉ's exit poll, Roisín Shortall was feeling positive.
"Certainly, if that was to translate into the actual vote in this election, we'd be very happy with that," she said.
She said it would be a big win for the party considering it has only been in existence for the last eight months and had been "operating on a shoestring in many ways", dependent, for the most part, on young volunteers.
Results like these indicate, she said, "a new alignment happening in Irish politics", and it had been clear throughout the campaign that voters were looking for something different.
"The pitch that Fine Gael put to people about putting more money in people's pockets by cutting taxes simply was not believeable by the public."
- With reporting by Michelle Hennessy.