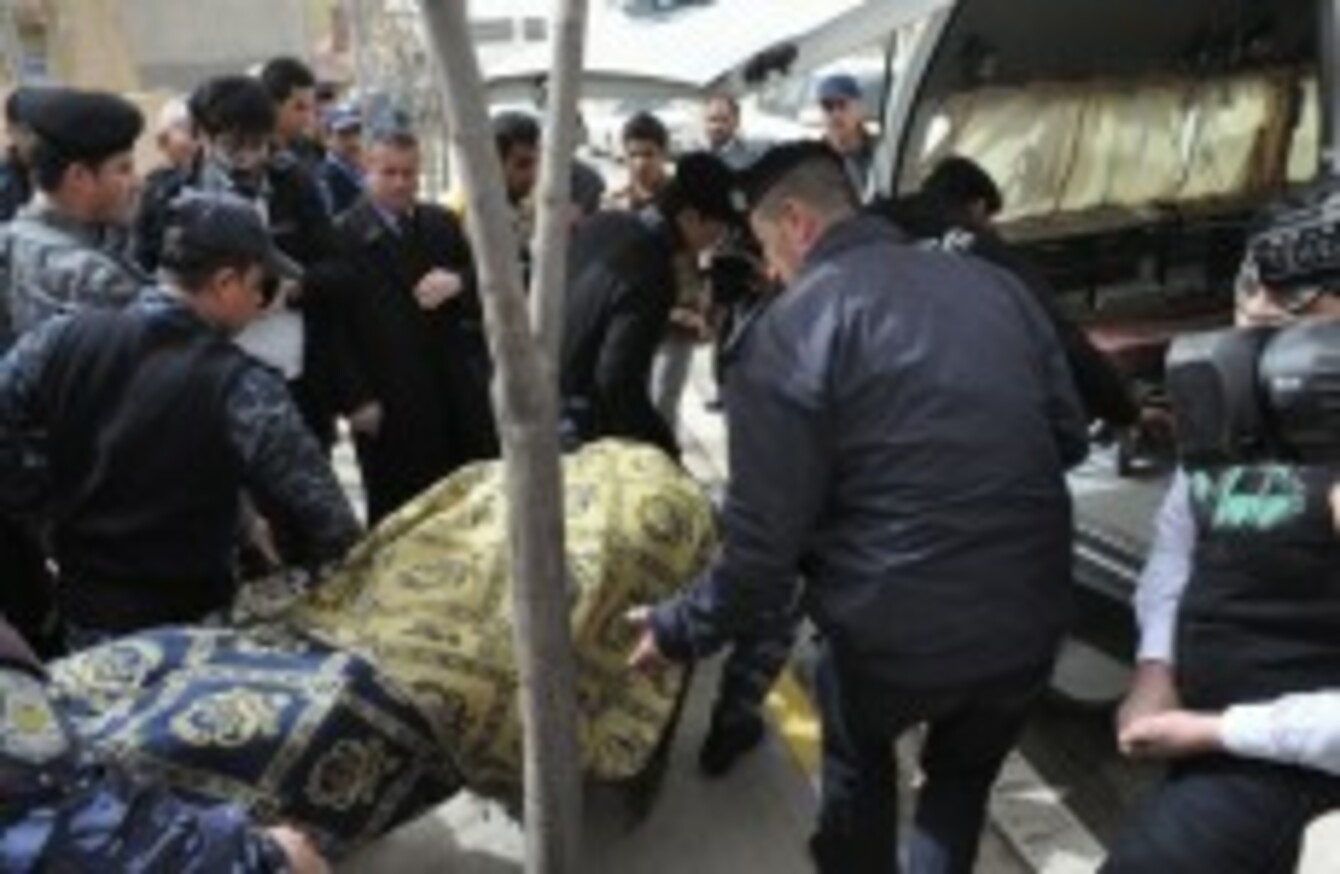 The body of the slain American gym teacher is carried out of the school in Sulaimaniyah
Image: AP Photo/Yahya Ahmed
The body of the slain American gym teacher is carried out of the school in Sulaimaniyah
Image: AP Photo/Yahya Ahmed
AN AMERICAN GYM teacher at a Christian school in the northern Iraqi Kurdish region was killed today when a student in a crowded classroom pulled out a gun, shot the teacher and then as his terrified classmates fled the room, shot himself, officials and eyewitnesses said.
The incident marked a rare violent death of an American in the relatively peaceful Kurdish region, which has been largely immune from the chaotic violence that has defined the rest of Iraq since the US invasion.
The quarrel broke out this morning at the Medes School in Sulaimaniyah between the gym teacher and the student, identified as 18-year old Biyar Sarwar, said city police spokesman Sarkawit Mohammed. During the argument, Mohammed said, Sarwar shot the teacher with a gun he had hidden in his clothes.
Mohammed said Sarwar then shot himself, and died of the wounds later at a nearby hospital. Sulaimaniyah health director Retawit Hama Rashid confirmed Sarwar's death.
Eyewitnesses described a scene of chaos in the classroom.
Ahmed Mohammed said he was there when the argument broke out. But he said he ignored it at first because Sarwar was in the back of the room and could barely be heard.
"Then I heard the gunshot," said Ahmed, his face pale as he recounted the argument.
I turned my head and saw the body of the American teacher on the ground with blood near it. All the students started to run out of the room. Seconds later as I was running to the reach the school gate, I heard another gunshot.
Sulaimaniyah mayor Zana Hama Saleh confirmed the police account but declined to speculate on Sarwar's motive.
The Associated Press is withholding the gym teacher's name pending notification of next of kin.
The attack came at the Medes School, a private, Christian, English language-based academy that covers elementary through secondary grade levels. It runs schools in the three provinces that make up Iraq'snorthern Kurdish region with a total enrollment of about 2,000 students.
Students described the slain teacher as a devout Christian who frequently praised Christianity and prayed in the classroom. However, Saleh, the city's mayor, said the teacher was not a missionary and cast doubt that the killing was motivated by sectarian issues because Sarwar "had no radical religious tendencies."
According to the school's website, American staff often help teach one or two courses each semester. An estimated 95 per cent of the students come from Kurdish Muslim families, and the rest are described as either Orthodox or evangelical Christians or from other backgrounds.
The US Embassy in Baghdad has not yet confirmed the death.
- Sameer N Yacoub, Sinan Salaheddin and Lara Jakes