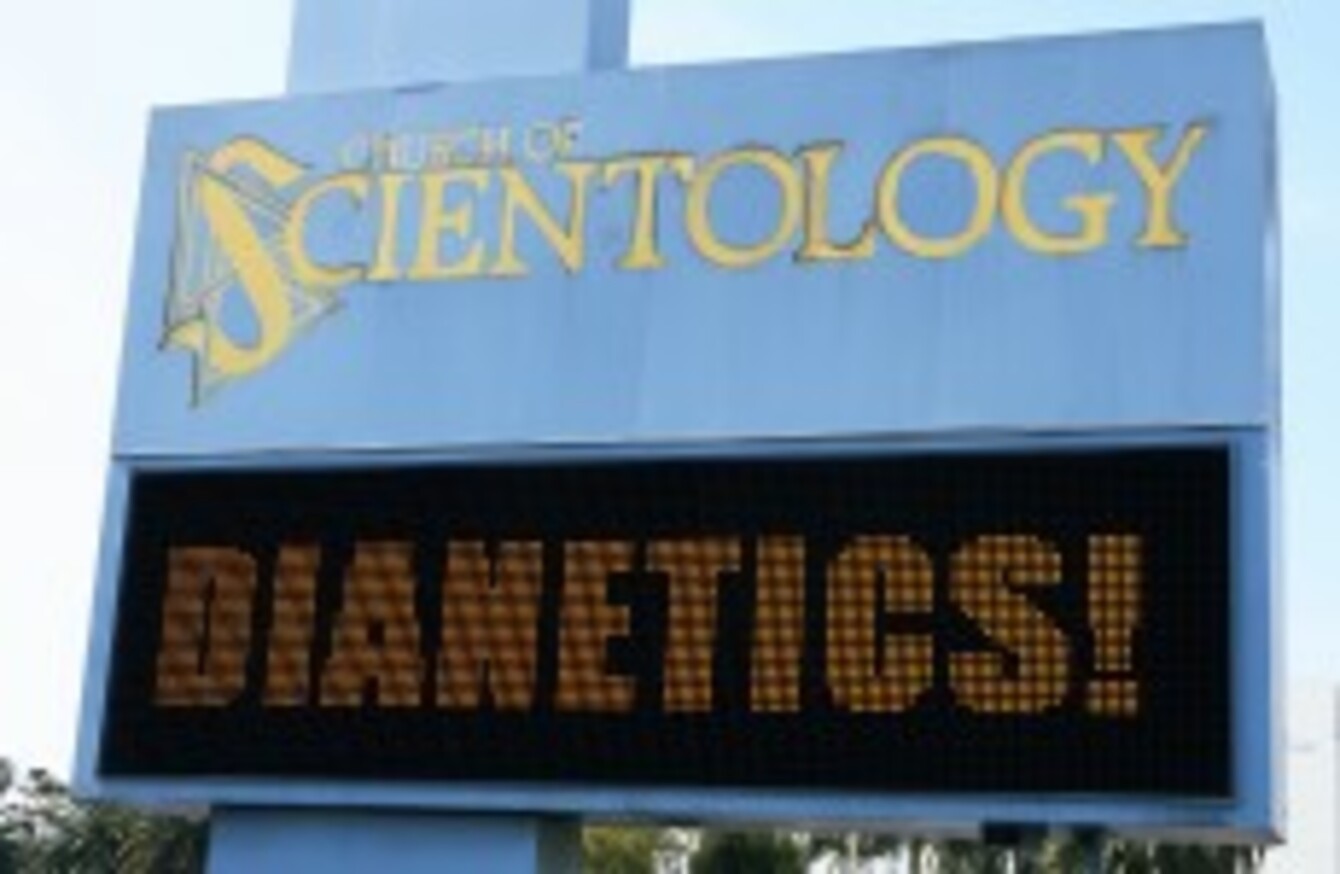 Image: Ian West/PA Archive/Press Association Images
Image: Ian West/PA Archive/Press Association Images
FOUNDED IN THE 1950s by American Science Fiction writer L Ron Hubbard Scientology is one of the most controversial spiritual movements of the twentieth century.
It's back in the headlines this week as a result of the divorce of Katie Holmes and Tom Cruise – who is one of the Church's most prominent members.
It's reported that Scientology played a big part in Holmes' decision to file for divorce, because of the role it would play in her six-year-old daughter Suri's upbringing. She's seeking sole custody of the child.
Lawyers for the church have denied sending anyone to follow Holmes and her daughter, or that Cruise wanted Suri to join the Sea Organisation, which is described as a Scientology boot camp.
However the LA Times reports that Scientology is unlikely to play a large role in the divorce proceedings in court, and that it will be viewed that same as any other religion.
So what is Scientology? And why is it so controversial? Here are the basics…
What is it?
Founded in the 1950s by L. Ron Hubbard, Scientology is a religion which has at its core a belief that humans have a reactive mind that responds to the traumas in life. A process called 'auditing', using a device called an E-meter helps members of the church to find the source of these traumas both from the person's current life and their past lives.
According to the Church of Scientology website:
Auditing uses processes – exact sets of questions asked or directions given by an auditor to help a person locate areas of spiritual distress, find out things about himself and improve his condition.
Scientologists believe each person is an immortal being called a thetan, which is similar to the concept of a spirit or a soul. They believe the body is the thetan's communication centre.

Why is it so controversial?

The secrecy surrounding some of the church's practices has led to criticism, with detractors saying that the church defrauds members by charging exorbitant fees for services like auditing.

Critics have said that some of the more controversial teachings, including the alleged belief that humans have lived on other planets in past lives, are not revealed until a member has reached the Upper Levels of the organisation – and has spent a lot of money doing so.

Last year it was reported that there were numerous allegations of physical and psychological abuse within the church, while people who have left the religion have described it as a "living hell" and said that they were asked to sign a billion-year contract tying them to the Church.



Scientologists believe that psychiatry and psychiatric drugs are as bad as illicit drugs because they interfere with the mind. In 2005 Brooke Shields hit out at Tom Cruise when he criticised her for taking anti-depressants for post-natal depression.

What about Scientology in Ireland?

Last year it was reported that the Irish branch of the Church of Scientology was struggling as a result of a drop in funding.

Financial documents showed that the church, based in Dublin, had seen a 150 per cent drop in revenues. The branch's  situation non-executive director Gerard Ryan put the situation down the recession