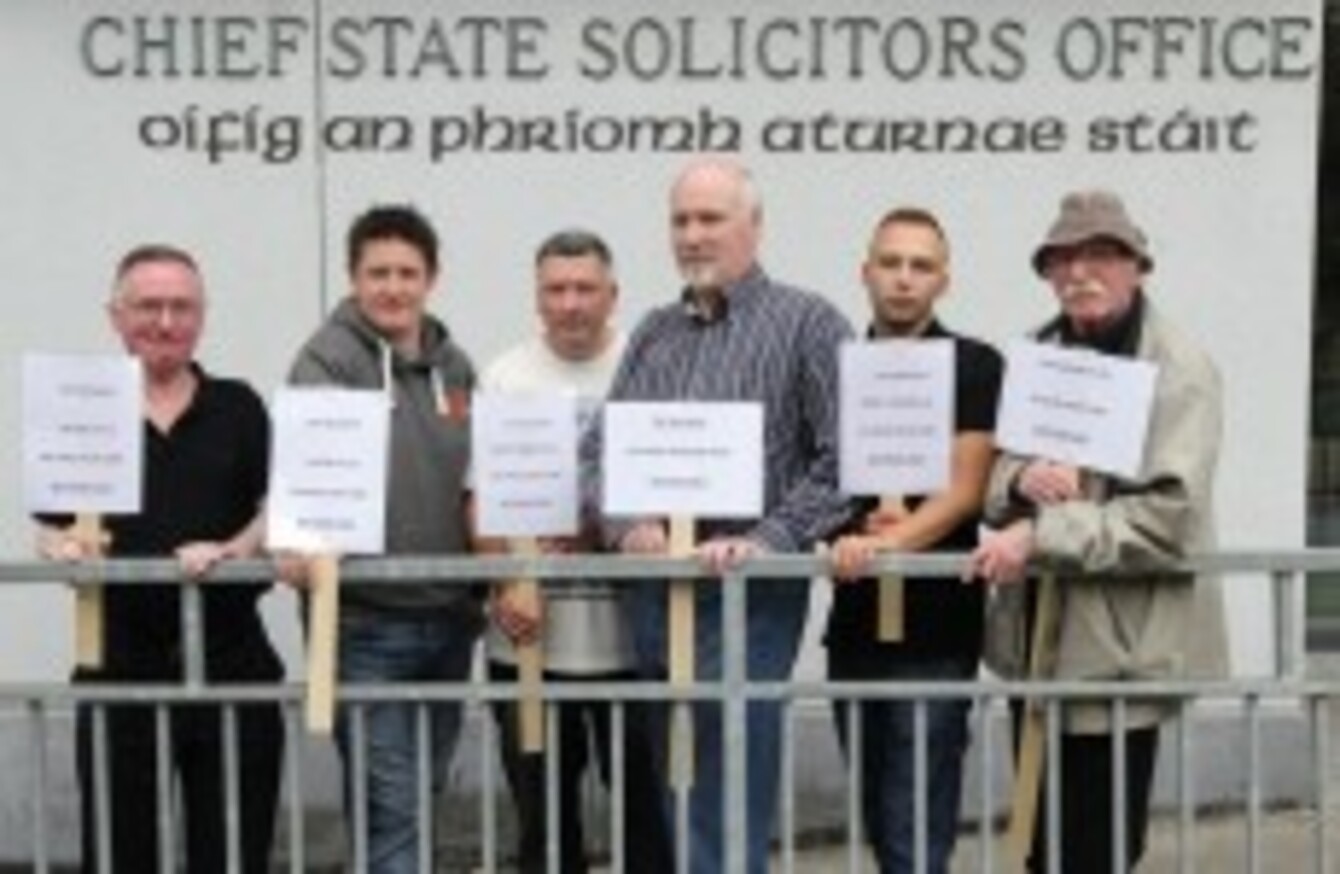 The security workers protest outside Chief State Solicitor's Office.
Image: Mark Stedman/Photocall Ireland
The security workers protest outside Chief State Solicitor's Office.
Image: Mark Stedman/Photocall Ireland
FORMER SECURITY WORKERS at the Chief State Solicitor's Office are to continue protesting after they were not taken on by new contractors at the site.
A SIPTU representative has claimed that TOP Security, which recently won the contract to provide security for the site,  has refused to engage with the eight men involved or to honour its obligations to ensure the men continue their employment under the new operator.
The men picketed the State Solicitor's Office in Little Ship Street in Dublin today and say they will continue their protest until meaningful discussions are forthcoming from TOP Security.
Under transfer of undertakings guidelines (TUPE), workers' employment status are protected when there is a change in the legal owner of the business or part of the business in which workers are employed.
SIPTU claims that these guidelines are also normal practice when a new contactor is granted a job under a tender process but that TOP Security has done nothing to meet its commitments in this regard. SIPTU organiser Peader Nolan also claims that TOP has recognised these rules in the case of five workers on a building site in a previous transfer so they cannot claim to ignore them in this case.
(Paddy Dowling who has been with the company for 18 years. Pic: Mark Stedman/Photocall Ireland)
The union said this stipulation was also mentioned as part of the Croke Park Agreement.
No consultation
Nolan says that there is usually a 30-day consultation period between workers and a new contractor ahead of the beginning of a new contract but that TOP Security have ignored numerous attempts at dialogue:
This is an unacceptable situation where security officers who have given loyal and professional service keeping the Chief State Solicitor's Offices and its staff safe, find themselves being displaced by others probably on much lower wages. In this instance the security officers have been essentially locked out from their job and displaced by other security officers with no redundancy paid.
The men were the employees of Manguard Plus security who previously held the solicitor's office contract but Nolan said the men want to continue working at the office before looking to Manguard to be reassigned elsewhere.
He added that the state's solicitor's office has been aware of the situation for at least two weeks but has so far been unwilling to support the men.  "SIPTU fully supports the workers protest and we call on the Chief State Solicitor's Office, as the client, to accept its responsibility to intervene and insist that TOP Security honour the its transfer of service obligations and reinstate these workers," he said.