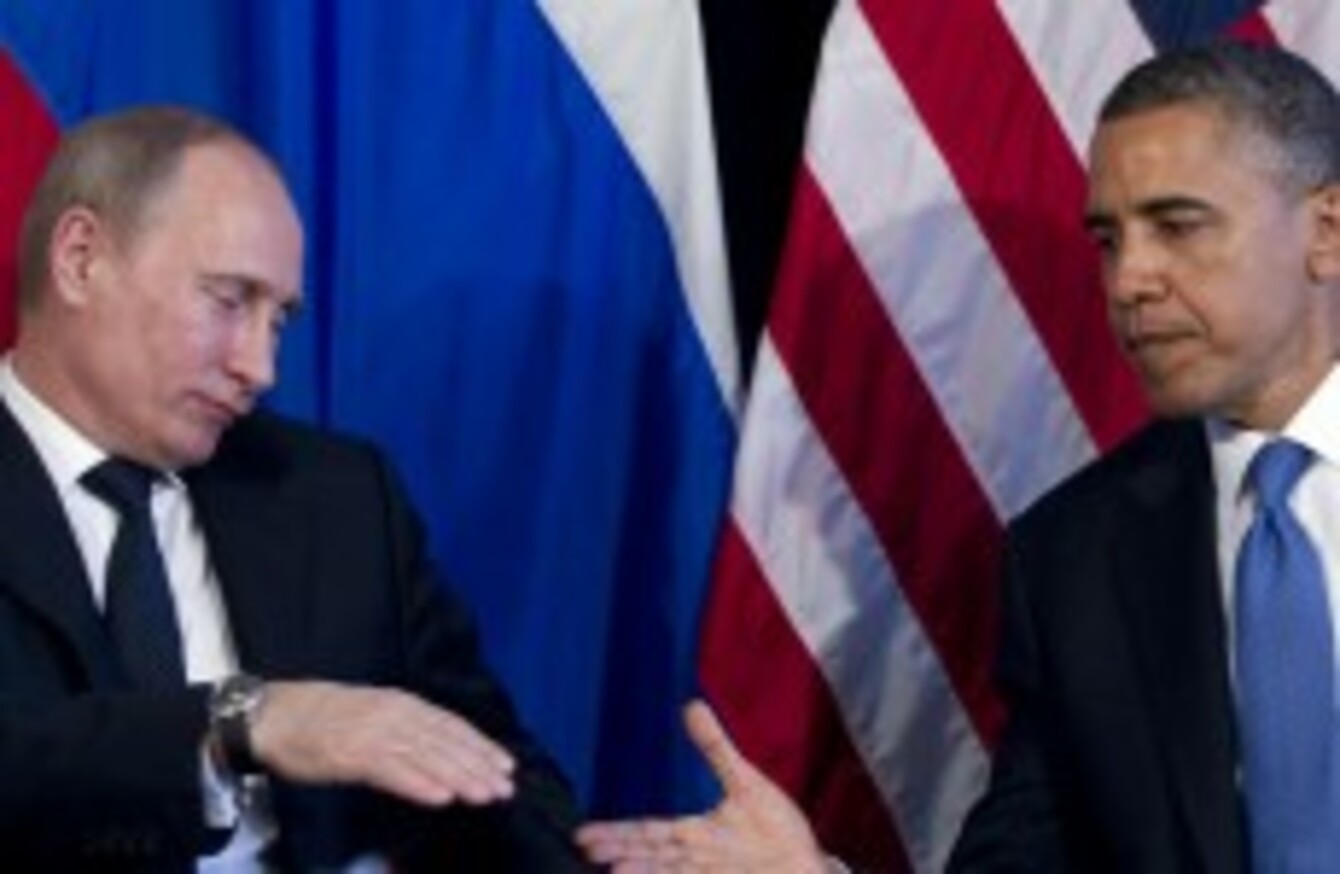 Putin and Obama shake hands in their meeting yesterday
Image: Carolyn Kaster/AP/Press Association Images
Putin and Obama shake hands in their meeting yesterday
Image: Carolyn Kaster/AP/Press Association Images
THE UN SECURITY Council is set to examine the future of its observer mission in violence-wracked Syria after a joint US-Russian call for an immediate end to the conflict.
Barack Obama and Vladimir Putin yesterday called for an "immediate cessation of all violence."
"In order to stop the bloodshed in Syria, we call for an immediate cessation of all violence," the two leaders said in a statement after meeting on the sidelines of the Group of 20 summit in Los Cabos, Mexico.
The UN mission's leader Major General Robert Mood, whose 300 unarmed monitors suspended operations on Saturday because of escalating bloodshed, is to brief the Security Council today.
With civilians trapped by regime shelling of rebel bastions such as the central city of Homs, Mood has urged the government and opposition to let "women, children, the elderly and the injured to leave conflict zones."
And UN rights chief Navi Pillay has demanded a halt to government bombardment of populated areas. "Such actions amount to crimes against humanity and possible war crimes," Pillay told the UN Human Rights Council.
Obama and Putin said in their statement: "We are united in the belief that the Syrian people should have the opportunity to independently and democratically choose their own future."
Putin told reporters that he and Obama had found "many common points" on the 15-month-old uprising against President Bashar al-Assad that monitors say has cost more than 14,400 lives.
Warships
Obama said he and Putin agreed on the need for a "political process" to halt the conflict and had pledged to work with UN-Arab League envoy Kofi Annan, who has crafted a largely-ignored six-point plan aimed at halting the bloodshed.
But there was little sign they had agreed on concrete means to end the conflict, following US frustration at Russia's blocking of Security Council moves against Assad.
Moscow news reports, meanwhile, said Russia is preparing to send two amphibious assault ships and marines to the Syrian port of Tartus where Russia has a naval base to ensure the safety of its nationals.
The amphibious warships, The Nikolai Filchenkov and The Tsezar Kunikov, are to be sent to Tartus with a "large" group of marines, Interfax news agency quoted an officer at Russian naval headquarters as saying.
There was no official confirmation of the report by Russian authorities.
The Tsezar Kunikov can carry 150 troops and armaments including tanks, while The Nikolai Filchenkov can carry up to 1,500 tonnes of cargo and equipment, the report said.