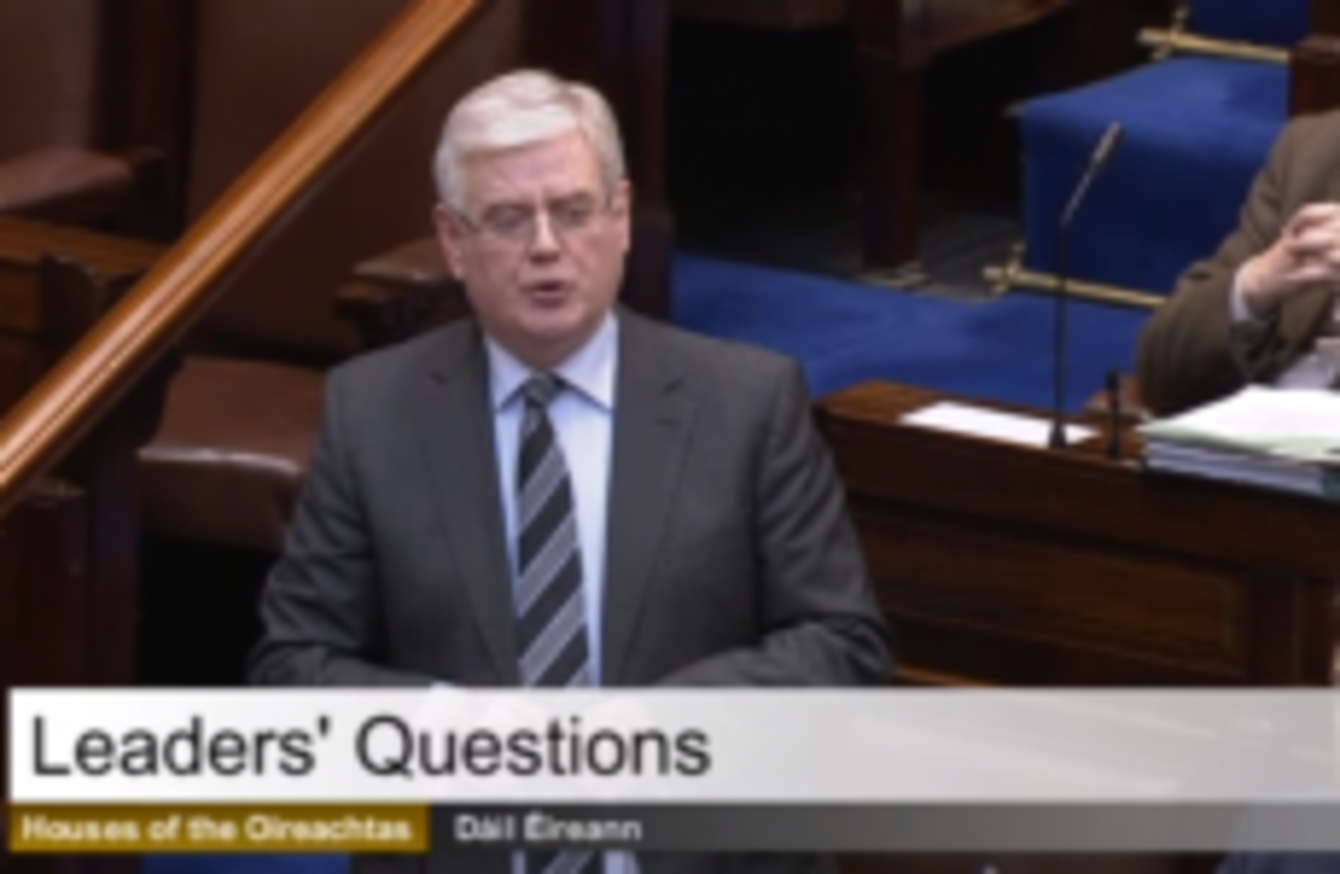 Image: Oireachtas TV
Image: Oireachtas TV
SIX THOUSAND PEOPLE a month are falling out of private health insurance, according to Fianna Fáil Health spokesperson Billy Kelleher who was speaking in the Dáil this afternoon.
He was questioning Tánaiste Eamon Gilmore on what was being done to help the families who can no longer afford health insurance as premiums continue to rise.
The Labour party leader responded by saying that he shares the wonder that people have that prices are up and not down, "at a time of of increased competition and new players in the market.
He noted that the government has "no legal power to intervene in the prices" but claimed it is "very concerned about the cost of standard health insurance for hard pressed families".
"That is why Minister for Health Doctor James Reilly set up a consultative forum to work on the issue of containing costs," he added.
He told Kelleher that work has moved into the second phase – of studying the key drivers of increasing prices in greater depth. He outlined some of the recommendations that have been made by the report so far:
Adopting a coordinated approach to identifying and tackling fraud in the industry and that it should publicly release data on funds recovered from hospitals and consultants;
Calls on the industry to fund a whistleblowers' initiate to assist in uncovering fraud;
Addressing the age structure of the private health insurers market by encouraging younger people to take up insurance;
The industry can make better use of legislation by discounting students under the age of 23.
Kelleher responded by saying:
We appreciate you sharing the wonder but we would much rather you share the responsibility of the escalating costs.
He outlined that "every family in this county will be affected by the cap on tax relief", asking if the Tánaiste would "reverse the cap on tax relief and bring in some model that will attract young people back into the health insurance market before it crumbles?"
Gilmore replied that there is a problem, the government is taking it seriously and that is why an initial report has been concluded and further study being undertaken.
He added, "I don't understand why a health insurance company should get a bill for €17,000 for one night in hospital. I don't understand that and I think that is one of the issues that we have to get to the bottom of."
Rising health insurance costs…is not a new phenomenon, its been with us for quite a while and this government is determined that it's going to get to the bottom of what is driving the rising costs of health insurance and try to get that under control for families who are under pressure in relation to paying it.
Wealth
The Tánaiste was also questioned by TD Seamus Healy on disproportionate wealth in Ireland:
The policies of governments have allowed a golden circle of the rich and powerful in this country to maintain obscene amounts of wealth while the vast majority have seen their incomes reduced and struggle day in and day out to make ends meet.
"Irish society is and is becoming more and more unequal…that's the message coming from Davos, Oxfam, CSO and also the message coming from Irish Waters huge payments to consultants."
"The Paris school of economics in a recent study showed that 1 per cent of the wealthiest people in Ireland own 7 per cent of national income.
Accumulated wealth is even more stark with 5 per cent of the wealthiest families in this country owning 47 per cent of the wealth.
"During the recession the wealthiest 10 per cent of people in this country have seen their incomes rise."
Gilmore responded by saying the "the top 1 per cent of earners in this country now pay around 20 per cent of the income tax and the top 5 per cent now pay around 40 per cent of all the income tax that's paid in this country."
He added: "The OECD now believe the tax system in Ireland is one of the most progressive in the OECD system."
Healy then asked Gilmore to withdraw water taxes, quoting the Tánaiste himself opposing water charged in 1997, saying:
Water charges were a form of double taxation and the government were right to abolish them.
"There are three essential forms of wealth: property, pensions and money and that on all of those three areas of wealth, this government has issued extra taxes," responded Gilmore.
In relation to the issue of water, he said:
We have made it clear there will be a charging system on water, there will be a free water allowance but that charging for water will be on a metered basis beyond that free allowance