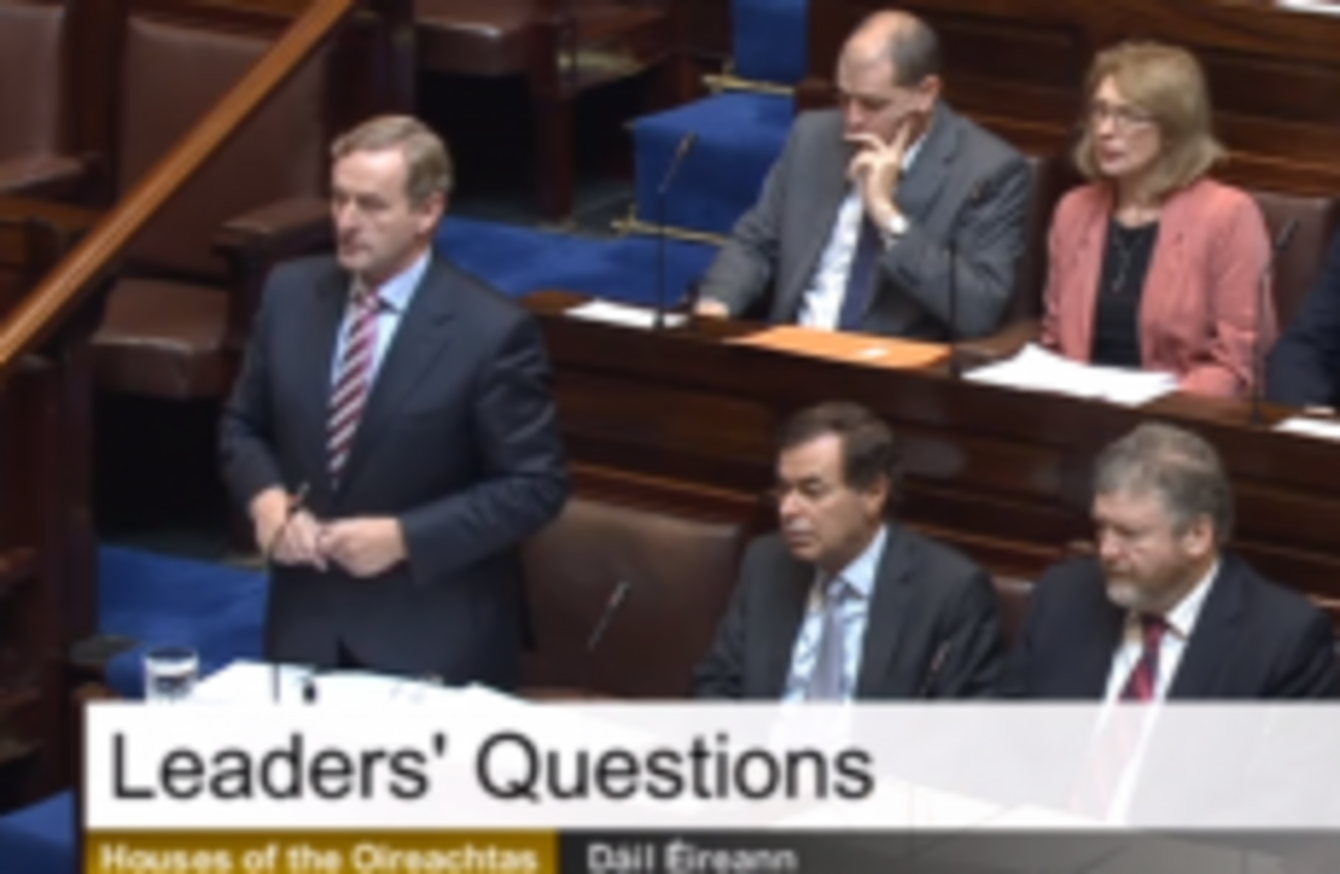 Enda Kenny in the Dáil this morning
Image: Screengrab
Enda Kenny in the Dáil this morning
Image: Screengrab
TAOISEACH ENDA KENNY faced another call to resign in the Dáil this morning as he defended his government's record in office and said it is not going to run away from its responsibilities.
For the second day in a row Sinn Féin leader Gerry Adams told the Taoiseach to resign and seek a mandate from the people for the policies he and his government are implementing.
But Kenny said: "I want you to understand that I have a mandate from the people to sort out the economic catastrophe that was left to this government."
He said that "in due course" the people will have an opportunity to deliver its verdict on this government and said that last week's Budget was about getting "this country and our people out of the bailout".
"I have news for you, we will not shirk our responsibility," Kenny told Adams, saying there are "brighter days ahead of our country".
Twice at Leaders' Questions this morning, Kenny heard statements he made in 2008, regarding the removal of medical cards from over 70s, quoted back to him in the wake of yesterday's protests by elderly groups outside Leinster House.
Defending his record, Kenny told independent TD Seamus Healy that the country was not in the bailout programme when he told protestors five years ago that "to take away your rights to have a medical card beyond the age of 70, I reject it, the cheek of it, shame on them".
Fianna Fáil leader Micheál Martin raised the issue of the capping of tax relief for health insurance to €1,000 per adult and €500 per child in last week's Budget, which he said would affect the majority of policy holders.
Kenny rejected this and figures from the private health insurers saying that the figures from the Revenue Commissioenrs, that 50 per cent of policy holders will be afffected and not 90 per cent, are "accurate".
"What we've done here is very fair," the Taoiseach insisted.