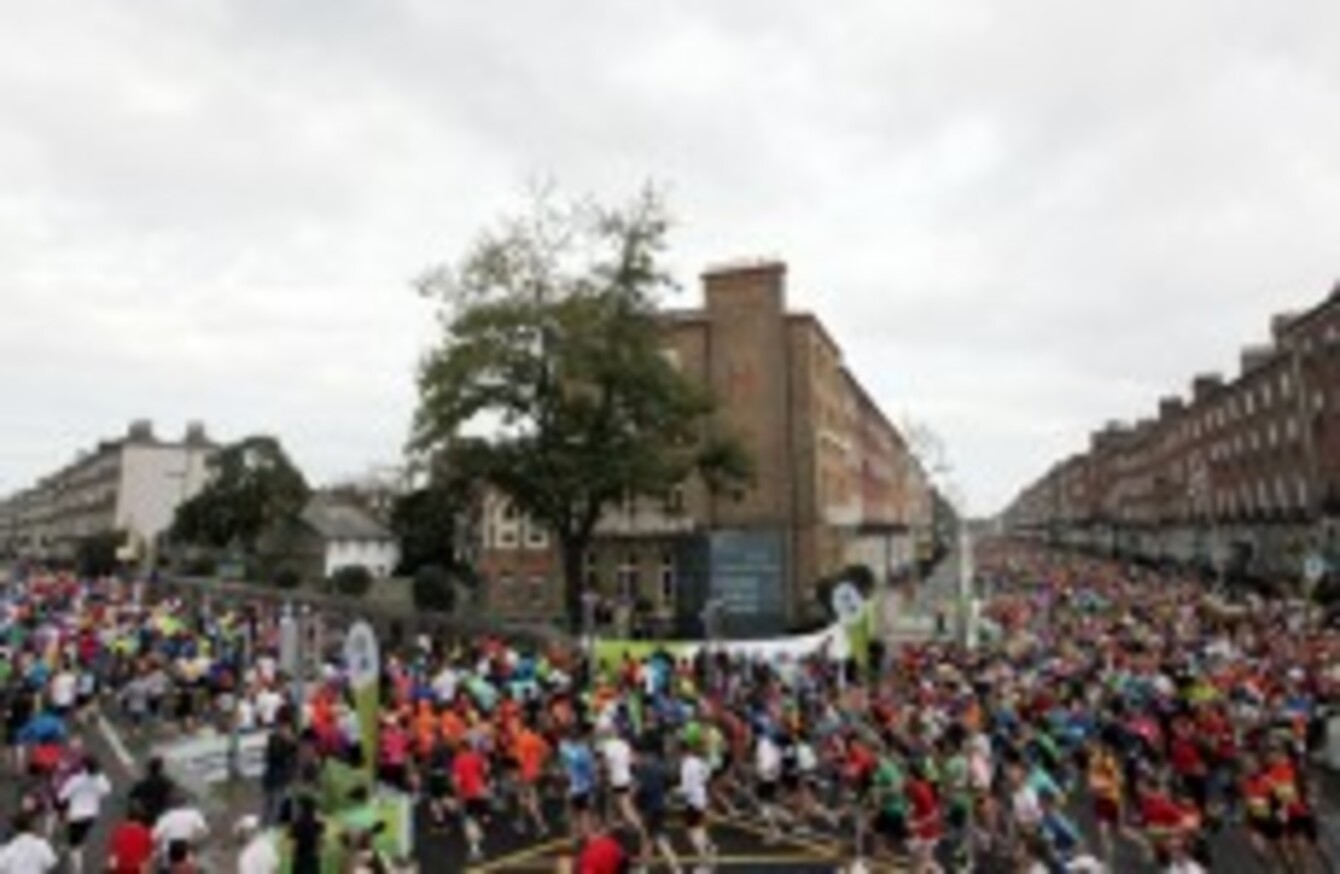 Runners in today's Dublin City Marathon.
Image: Stephen Kilkenny/LightCurvePhoto.com
Runners in today's Dublin City Marathon.
Image: Stephen Kilkenny/LightCurvePhoto.com
EVERY EVENING,TheJournal.ie brings you a roundup of the day's main news – as well as any bits and pieces you may have missed.
Two teenagers have died on Irish roads today. An 18-year-old woman was killed in a single vehicle collision in Clonakilty in the early hours of this morning, while a separate fatal accident in Galway claimed the life of a 17-year-old girl. Six other people were injured in the Portumna crash.
Greece is to hold a referendum on whether the new EU aid package should be adopted or not, the country's prime minister announced today.
Minister Brendan Howlin has apologised to the Referendum Commission for comments he made over the weekend, which seemed to criticise the Commission's chairman Byran McMahon. The Minister said that it was not his intention to slight the former judge.
Following Fine Gael's poor performance in last week's presidential election and Dublin West by-election, Government chief whip Paul Kehoe has insisted that there is no crisis within the party.
Meanwhile, the Government is coming under increasing pressure from Opposition parties over a US$1 billion payout to Anglo Irish Bank bondholders which falls due on Wednesday.
It was reported earlier today that the government has rejected a generous ESB severance package that was due to be offered to staff. However, TheJournal.ie has learned that the ESB has not even approached the State with an offer yet. According to the utility, it is still in talks with unions about cutting its cost base by €140 million over the next two years.
As we head towards another cold winter and following two outages this month, tenants at the Shangan Road flats in Ballymun where mother of two Rachel Peavoy died in 2010 are worried about the quality of their heating systems.
The world's population officially hit seven billion today and the birth of new babies has been celebrated across the globe. Concern Worldwide's CEO has written an open letter to Baby 7B.
Congratulations to the 14,000 runners, joggers and walkers who took part in today's Dublin City marathon. Kenya's Geoffrey Ndungu set a new record, completing the 26 miles in just 2 hours 8 minutes and 32 seconds. TheScore.ie has compiled some of the best images of the day.
Amy Winehouse's record label has announced that it will posthumously release the singer's third album on 5 December. Compiled by Mark Ronson and a number of other musicians and producers, the record will include 12 tracks, including some unheard material and original compositions.
Today is the last official day of autumn, meaning it is time for fish to start migrating for the winter. This salmon, pictured in Selkirk on the Scottish Borders today, was certainly on the move.