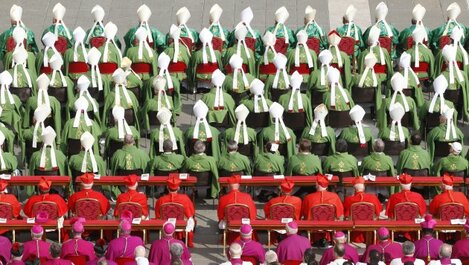 Bishops and cardinals attend a mass celebrated by Pope Benedict XVI at St Peter's Square at the Vatican today. (AP Photo/Alessandra Tarantino)
HERE ARE THE things you need to know as we round off the day in three easy steps.
THINGS WE LEARNED
#APRIL JONES: Hundreds of people attended a special church service in Machynlleth in Wales this afternoon for missing 5-year-old April Jones. Mark Bridger has been charged with her abduction and murder.
#JAMES REILLY: Minister for Jobs Richard Bruton has described James Reilly as a "reforming minister" and said he believes that the Health Minister has satisfactorily explained the criteria for the locations of primary care centres around the country.
#PRIVATE SCHOOLS: A junior government minister has said that the State should cut its payments of almost €100 million to private schools around the country. Alan Kelly made the comments on tonight's edition of RTE One's The Week in Politics.
#RESCUE: Two people were rescued from the Liffey in Dublin city centre this afternoon.
#ELECTION: Voters in Venezuela have been going to the polls today as President Hugo Chavez faces his toughest election in his near-14 year rule.
#SOLD OUT: Tickets for next year's Glastonbury festival sold out in a record time of just 1 hour and 40 minutes this morning.
#BECAUSE SCIENCE: A US Congressman has said evolution and the Big Bang theory are "lies straight from the pit of hell".
THINGS WE LOVED
The New York Times has this great story about two women who have been living in a New York hotel for 28 years, paying just over $1,000 in rent each month, and sometimes asking their families to help out when things get tough financially.
Here are the saddest cartoons of the day. Warning: you may feel sad after reading them.
To make you feel better, here's a photo of an intense-looking dog at a march in Beirut today: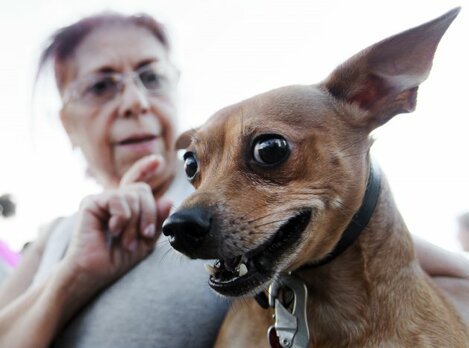 (Photo: AP Photo/Bilal Hussein)
THINGS WE SHARED
Yes, the evenings are getting dark earlier and it's almost time to wear a coat every day. Boo, cold weather. But never fear: Buzzfeed has 30 foolproof ways to get through this winter.
Bombs! Beethoven! Boobs! Bruce Willis! Lots of things requiring exclamation marks! Yes, it can only be one thing – the trailer for the new Die Hard movie ("A Good Day to Die Hard") has just been released. The plot is unintelligible at this stage but as always, there's something kind of endearing about the whole thing:
(Video: joblomovienetwork/YouTube)