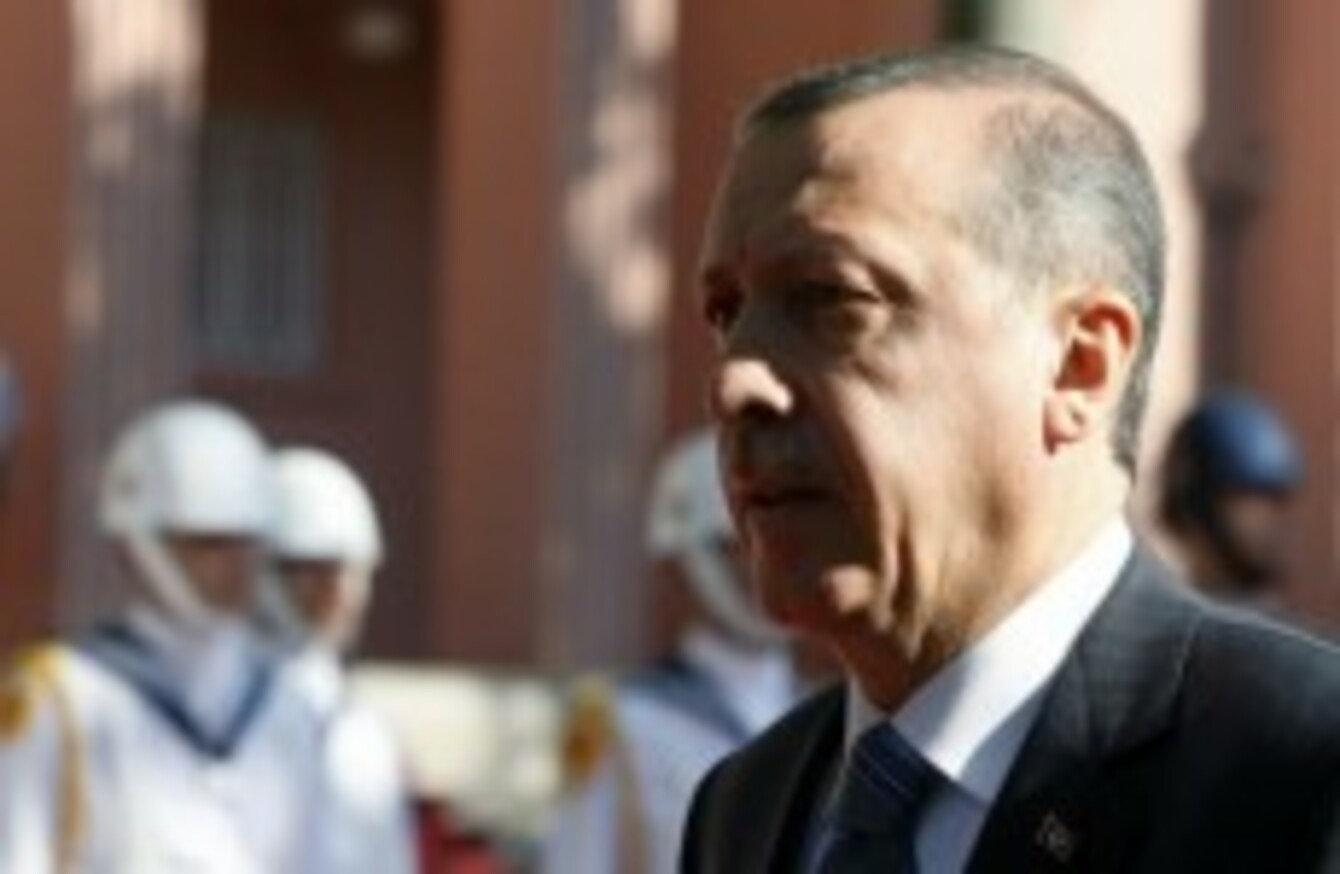 Turkish Prime Minister Recep Tayyip Erdogan in Ankara yesterday.
Image: AP Photo/Burhan Ozbilici
Turkish Prime Minister Recep Tayyip Erdogan in Ankara yesterday.
Image: AP Photo/Burhan Ozbilici
TURKEY'S PRIME Minister Recep Tayyip Erdogan has stepped up his belligerent rhetoric against Israel, saying that Turkish warships will escort future aid boats leaving its territory for Gaza to prevent a repeat of last year's raid by Israel on a flotilla that killed nine people.
Erdogan's comments to Al-Jazeera television broadcast yesterday were the first time Turkey has said its navy will use force to protect ships attempting to break Israel's blockade of the coastal territory. Turkey had already announced it would increase navy patrols in the eastern Mediterranean in response to Israel's refusal to apologise for the raid.
"At the moment, there is no doubt that the Turkish military ships' primary duty is to protect (Turkish) ships," Turkey's state-run Anatolia quoted Erdogan as telling Al-Jazeera. "We will be making humanitarian aid. This aid will no longer be subjected to any kind of attack as the Mavi Marmara was."
Mavi Marmara
Eight Turks and a Turkish American were killed aboard the Mavi Marmara — part of an international flotilla trying to break the blockade, which Israel says it imposed in 2007 to keep militants from bringing weapons into Gaza.
Dan Meridor, the Israeli Cabinet minister in charge of intelligence, said today that Erdogan's threat was "grave and serious."
"Turkey, which declares that Israel is not above international law, must understand that it isn't either," he said.
"I do not think it would be correct to get into verbal saber rattling with him now," Meridor told Army Radio. "I think that our silence is the best answer, and I hope this will pass."
"I think anyone who is listening can make their own mind up about him and the direction he has chosen," Meridor said.
A United Nations report into the raid, released last week, said violent activists on board the Mavi Marmara had attacked raiding Israeli naval commandos and described the blockade of Gaza as legitimate, although it also accused Israel of using disproportionate force against the activists.
Sanctions
Turkey has rejected the report's findings, saying Israel had no right to raid the ship in international waters and that the country would never recognise the blockade's legitimacy. It is insisting on an Israeli apology as well as compensation for the deaths as a precondition for normalisation of a relationship once seen as a cornerstone of regional stability.
Last week, it slapped a series of sanctions on Israel — once a top military trading partner — that included the expelling of senior Israeli diplomats and the suspension of all military deals. It has also wowed to back the Palestinians bid for recognition of their statehood at the United Nations.
Israel has expressed regret for the loss of lives aboard the flotilla but has refused to apologise saying its forces acted in self-defense. It has also said it was time for the two countries to restore their former close ties.
Turkey's opposition also criticised Erdogan's comments on Friday. Kemal Kilicdaroglu, the leader of the main opposition Republican People's Party said Turkey's Red Crescent was already sending aid to Gaza without breaching the blockade and called on Erdogan to "justify" in Parliament threats to send warships to escort aid ships.