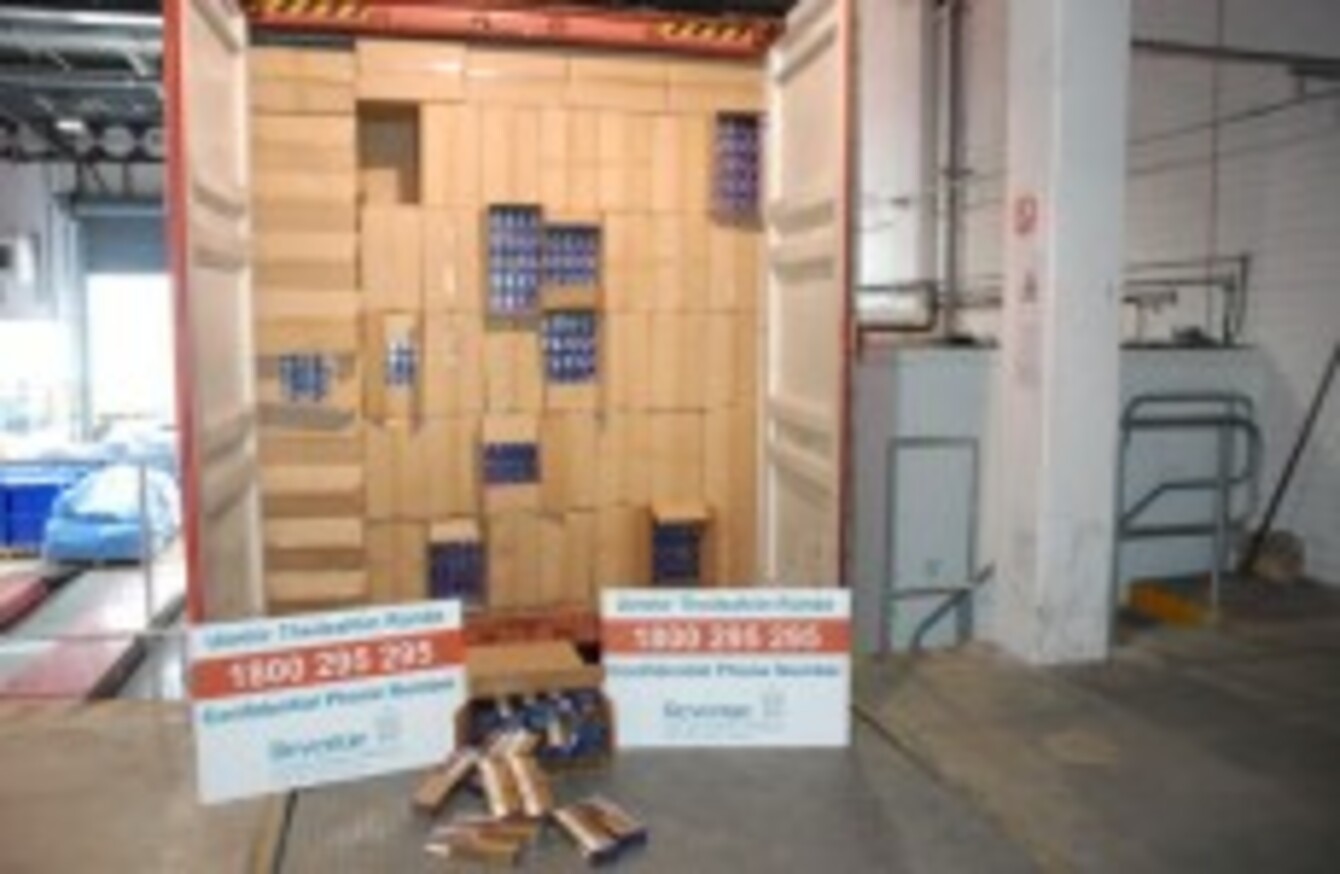 Image: Revenue
Image: Revenue
SOME 13 MILLION cigarettes were seized today during two separate operations in Dublin and Tyrone.
Over 9 million cigarettes, with an estimated retail value of above €4.5 million, were confiscated by Revenue's Customs Service at Dublin Port as part of an intelligence-led operation with China's Customs Authorities.
Officials discovered the 'Dorchester' brand cigarettes, which are believed to be counterfeit, in a container that departed China aboard the MS Cosco Fortune vessel. They arrived in Dublin on board a different ship and were described on documentation provided to customs officers as 'vacuum cleaners'.
Some four million cigarettes worth an estimated £1.3 million (€1.8 million) in lost duty and taxes, as well as a suspected mobile fuel laundering plant, were also seized in County Tyrone as part of a separate operation involving Revenue's Customs Service, the PSNI and HM Revenue and Customs and the Police Service of Northern Ireland. Five men were arrested following the seizure.
In a statement, Retailers Against Smuggling, a group representing 3,000 independent retailers across the country, said today's seizure of over 13 million cigarettes is "proof that the illegal market remains a massive business dominated by ruthless criminal gangs."
RAS spokesperson Benny Gilsenan said independent Irish retailers depend on legal cigarette sales for 10% to 50% of their business, and that their shops were being
"massively undercut" by the illegal trade.
No matter what amount of spin politicians try to put on this, cigarette smuggling is one of the main cash cows for criminal gangs at home and abroad.
He added:
The criminals are laughing all the way to the bank with cigarette smuggling because the fines on conviction are rarely paid.
The two seizures come just a day after 22,000 cigarettes, with a retail value of approximately €11,000, were confiscated by Revenue officers in Dublin Airport.
Nearly 9,000 litres of alcohol, worth an estimated €53,000, were seized from an unlicensed trader in North County Dublin on Tuesday.