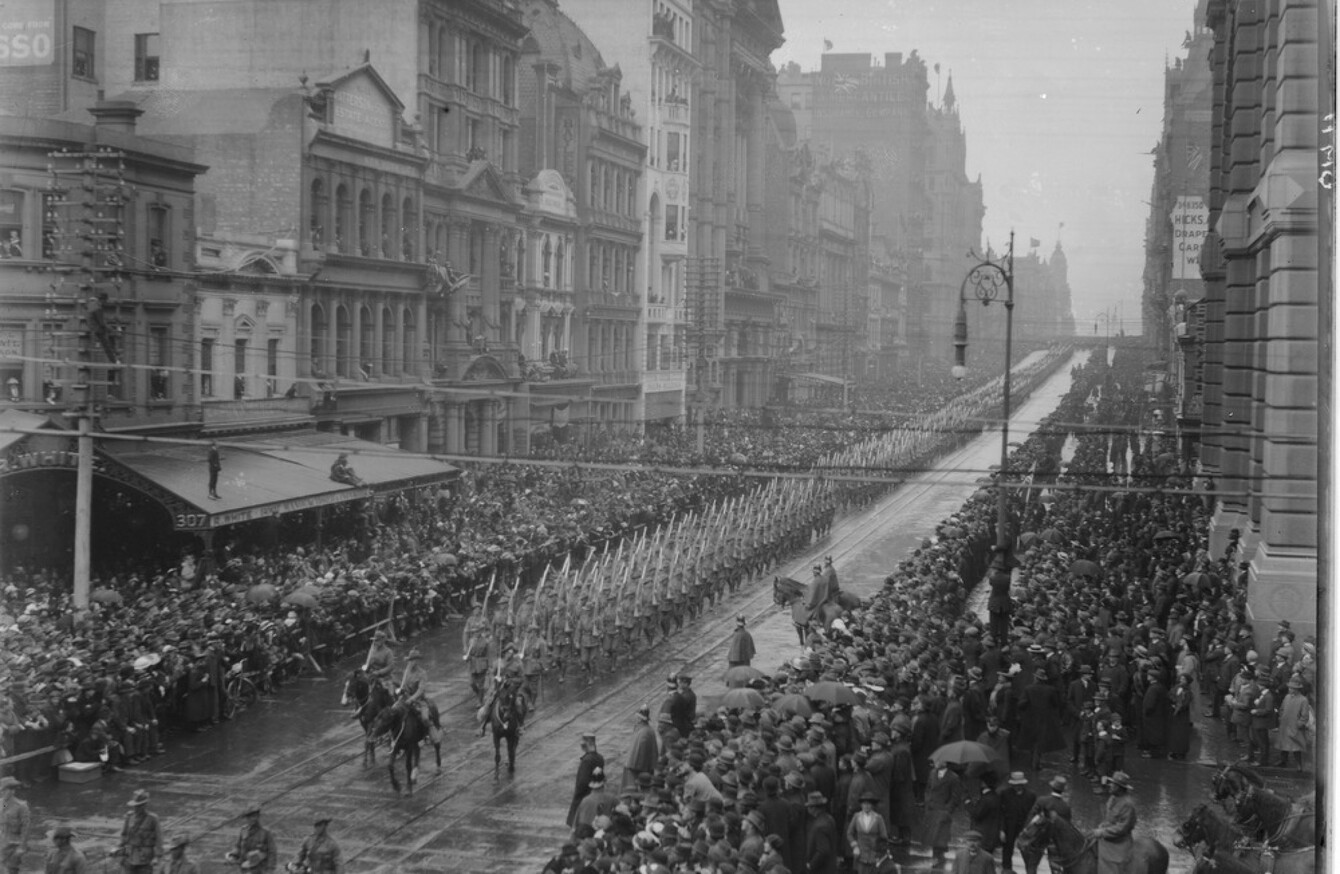 Soldiers marching down Collins Street in Melbourne
Image: Imaging Studio
Soldiers marching down Collins Street in Melbourne
Image: Imaging Studio
A DOCUMENTARY WHICH delves into the story of how the 1916 Rising affected Australia has been picked up a national broadcaster in the country and will be made available across Etihad Airways' international fleet.
'Michael, they've shot them' tells the story of how the events of the Easter Rising inspired the Irish Catholic Archbishop of Melbourne, Corkman Daniel Mannix, to take a very public stance against the conscription that Australians faced.
The strong Irish heritage at the time in Australia also inspired thousands to support the cause for Irish independence in the country, and the story is explored in this film from Flight of the Cubs Productions.
Its director, Eoin Hahessy, told TheJournal.ie that the documentary helped to tell "an untold story" that helped to forge a really strong Irish Catholic force in Australia.
"In some ways, a lot of Irish Australian history has been forgotten," he said. "This was one of the bitterest chapters in Australian history."
When the news reached the country that the leaders of the Easter Rising had been executed, Archbishop Mannix waded strongly into Australian politics where the British had traditionally dominated the pillars of power.
He reportedly wept "Michael, they have shot them" to his caretaker in Melbourne when the news reached him.
"He put it to the British establishment," Hahessy explained. "He became a hero in the fight against conscription. The Australian government tried to introduce it in World War One."
This fight from a Catholic bishop meant that disagreements then fell upon sectarian lines, a conflict which Hahessy describes as "bitter".
"Irish Catholics were seen as disloyal, but plenty of them joined up to fight for the British in the war," Hahessy said.
Mannix mobilised sentiment to such an extent that conscription was twice defeated in Australian parliament, leading the Prime Minister to send a cable to his British counterpart David Lloyd George to say that the Irish "killed conscription".
The Irish-Melbourne community's solidarity with the Irish campaign for independence culminated in a St Patrick's Day march in the city in 1920, which saw over 100,000 people lined the streets of the city.
Archbishop Mannix's work helped to lay foundations for the modern Australian Labour Party, who are currently leading the opposition in the country's parliament.
The documentary on this "forgotten" bit of history about Australia, and that of the 1916 Rising, will be broadcast this St Patrick's weekend on national broadcaster SBS, and Hahessy is hoping for a similar reaction to the film, after it received a positive reception following an RTÉ broadcast.
The film will also be rolled out on Etihad Airways fleet of international flights from February.
"There's not a parish back home that hasn't seen a son or daughter come to Australia," the director added. "We've gotten generally good feedback here from the Irish community so far. They're all very social media savvy so the word has gotten round very well.
"There's a really young Irish community here and, after this film, we're now looking at new ways to tell the other forgotten stories from Irish-Australian history and bring them to the fore."