A COLLECTION OF fascinating photographs of a Dublin bombarded by artillery fire in the 1916 rising has been posted online.
The pictures were taken by contemporary photographer Thomas Westropp (who died in 1922) in May 1916, just weeks after the fateful rising.
The Digital Repository Ireland (DRI) has shared the 40 photos on their site with the permission of the Royal Irish Academy (RIA), who themselves received the images from Westropp himself in June 1916.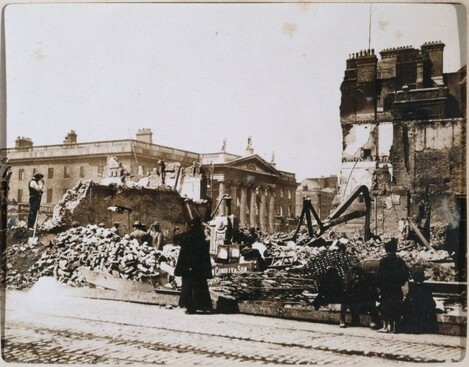 O'Connell Street (then Sackville Street) with the GPO in the background Source: Royal Irish Academy
The interior of the GPO Source: Royal Irish Academy
Henry Street, as viewed from Nelson's Pillar (destroyed in 1966) Source: Royal Irish Academy
"We're delighted at how much these photographs capture the public imagination, and bring to life in vivid detail a seminal moment in Irish history," DRI Director Dr Natalie Harrower told TheJournal.ie.
We just launched the Repository to the public six weeks ago, and this is a great example of the kinds of digital content we will continue to preserve and share with the public.
The Westropp photos are indicative of our entire purpose really – when you see the ruins in the pictures it reminds us of how quickly things can be destroyed and lost.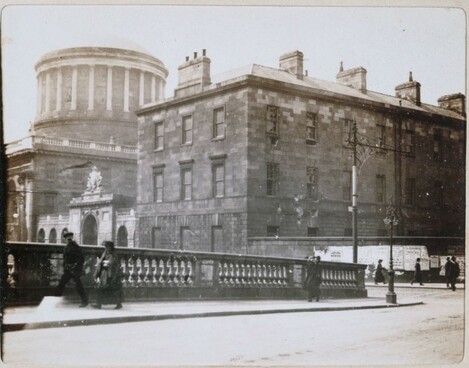 A dishevelled looking Four Courts building in May 1916 Source: Royal Irish Academy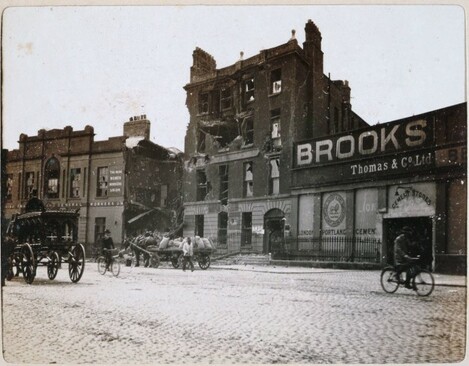 Liberty Hall Source: Royal Irish Academy
O'Connell Bridge Source: Royal Irish Academy
"When we look beyond the buildings, the rubble, the dust, we get a sense of what it might have been like to stand amongst the chaotic aftermath (of the rising)," said Dr Sharon Webb of DRI, who together with Rebecca Grant (also DRI) and Siobhan Fitzpatrick of the RIA worked to make the photographs available.
One particular poignant image (see below) shows a small boy looking directly at the camera. What did he think of Dublin's new landscape? Of the Rising, of the fighting? Indeed, what did he think of Westropp's camera?
Taking a step back from the camera, what did Westropp think standing at his many vantage points, climbing Nelson's Pillar to take shots of the GPO, of Henry Street? What did he think, surrounded by the rubble of the GPO, light filtering through the steel girders and the Rising's dust still settling?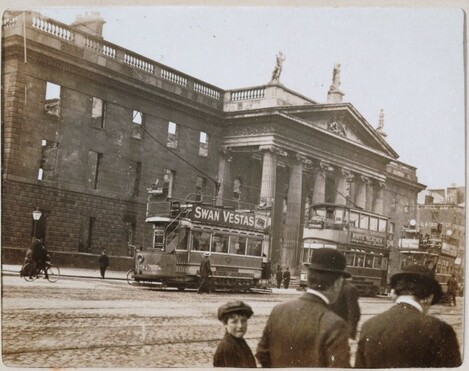 A young boy stares at the camera with the ruined GPO in the background Source: Royal Irish Academy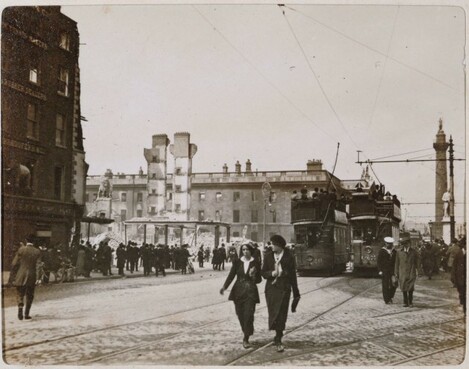 O'Connell Street Source: Royal Irish Academy
Imperial Hotel and Clerys, from Nelson's Pillar Source: Royal Irish Academy