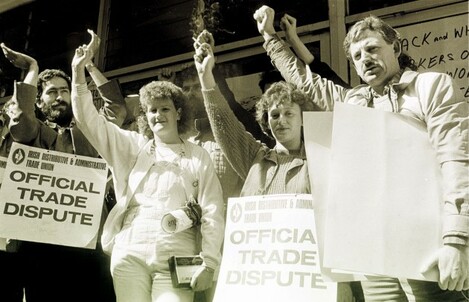 Workers Eamon O'Donoghue, Mary Manning, Catherine O'Reilly and Nicky Kelly in 1985 on Henry Street. Source: Photocall Ireland
ON THIS DAY in 1984, Dunnes Stores workers began a strike that would last almost three years.
Shop steward Karen Gearon gave a union instruction to her colleagues not to handle any South African goods, in protest against the apartheid regime in the country at the time.
When 21-year-old cashier Mary Manning refused to put some fruit through the till, she was suspended and nine of her colleagues walked out the door with her.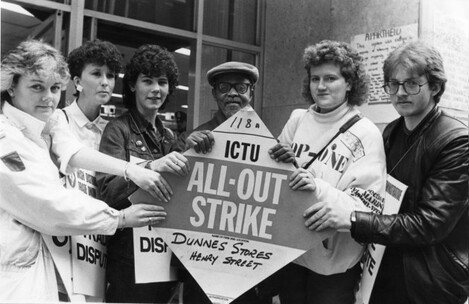 Sandra Griffen, Alma Bonnie, Karen Gearon, Mary Manning with anti apartheid activist Nimrod Sejake and Tommy Davis. Source: Photocall Ireland
This was the beginning of what would be a battle by twelve workers for two years and nine months. The government eventually banned South African goods from being sold in Ireland and this ban remained in place until the end of the apartheid regime.
Dunnes Stores protesters being arrested during the strike outside Dunnes on Henry Street. Source: Photocall Ireland
In RTÉ archive footage Gearon described how the workers had very little concern about what was going on in the rest of the world before the strike.
We were basically concerned about our own little life or little social circle and we would get paid on Friday, go out to a pub, some discos and blow the money, then go back into work on the Monday and just basically do your job and that was it.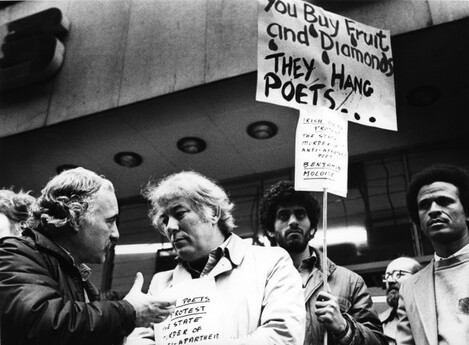 Irish Poet Seamus Heaney(3rd R) with Dunnes Stores Workers. Source: Eamonn Farrell/Photocall Ireland
Speaking from a picket outside the Henry Street store in 1985, she said that the strike had changed them all and made them more aware of not only the horrors in South Africa, but of other injustices across the world.
"Our battle is nothing to what their battle is," she said.
https://vine.co/v/MQjq3YVxa2b
When Nelson Mandela met with them in Dublin in 1990, he said that the stand these twelve workers took helped him to keep going during his time in prison. A number of the workers attended the former South African leader's funeral last year.