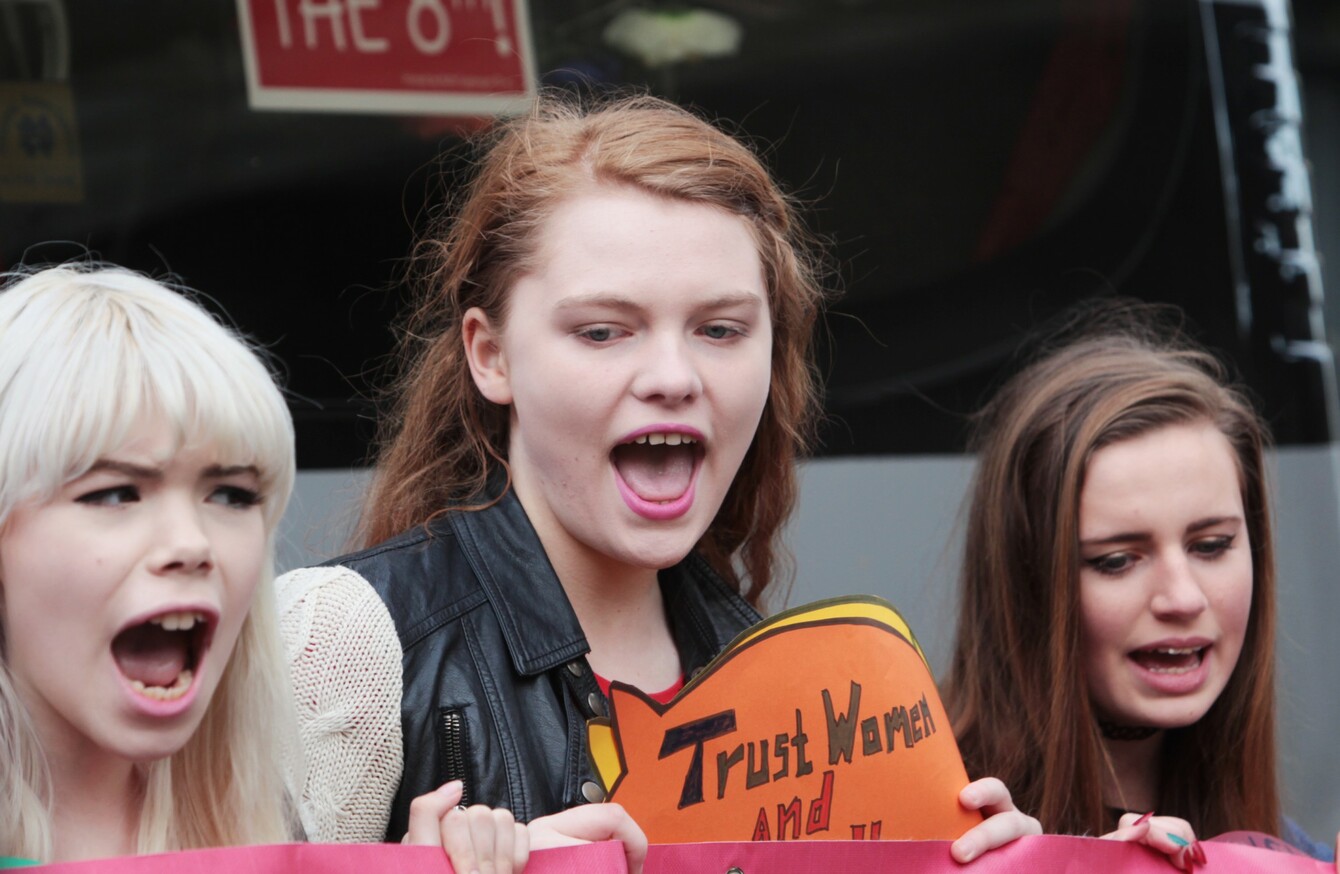 Pro-choice activists at a rally last year.
Image: Leah Farrell/Photocall Ireland - File image
Pro-choice activists at a rally last year.
Image: Leah Farrell/Photocall Ireland - File image
MORE THAN HALF of Irish people think expanding access to abortion in this country should be a priority issue for the next government.
According to a poll by Red C, commissioned by Amnesty International Ireland, one quarter of people disagreed, with the rest saying they were either neutral or didn't know.
Almost three quarters of the people polled think there should be a referendum to allow the people to vote on the Eighth amendment. This view is widely shared across all regions, from 65% in Connaught/Ulster to 75% in Dublin.
When it comes to allowing abortion in the cases of rape, incest, or fatal foetal abnormality, 42% said they were in favour. A further 38% were in favour of allowing women to access abortion as they choose.
Only 5% of people in the poll were opposed to abortion in all circumstances.
'Discriminatory'
The poll reveals more than half of Irish people believe this country's abortion ban is "cruel and inhumane". Only 26% disagreed when asked this question.
Almost three quarters agree that the fact that women must travel abroad to access abortion unfairly discriminates against women who are unable to or cannot afford to travel.  This view was highest among farmers, of whom 84% describe the current law as discriminatory.
"The Irish people, therefore, recognise the unfair burden which the current law places on marginalised women and girls, including migrant women, girls who are in the care of the state and poorer women," Amnesty said today.
When asked who they trusted most when deciding their position, the majority said medical professionals and women who have had abortions. They rely less on politicians, the media, church leaders and anti-abortion groups when forming their opinions.
"This poll demonstrates yet again, that on the issue of abortion, Ireland's people are way ahead of their political leaders," commented Amenesty International Ireland's executive director Colm O'Gorman.
In most instances, our polling found substantial support for expanding access to abortion across all parts of Ireland – for instance, support for decriminalising abortion is highest in Munster.
This poll reveals that, far from this being a divisive issue as some suggest, people in Ireland are clear and solid in their support of increased access to abortion. There is an evidently broad consensus on the urgent need to reform Ireland's restrictive abortion laws. This is true across all demographics and regions.
"It is time for our newly elected legislators to recognise this reality, move beyond the myth of a divided society on this issue and legislate to respect rights of women and girls."