MORE THAN 50 pro-choice activists are staging a protest outside the Spanish Embassy in Dublin today against the Spanish government's plans to change its abortion laws.
There are now proposals in draft legislation to roll back a 2010 decision to allow any woman to have an abortion within the first 14 weeks of pregnancy.
The new law would only permit a termination if a woman had been raped or if her health was at serious risk.
Gráinne Griffin, spokesperson for the Abortion Rights Campaign, the group which organised the demonstration, said yesterday that the proposal will force Spanish women to travel abroad for abortions, as thousands in Ireland currently do.
"We do not believe that people in Spain should be forced to live like we do in Ireland."
In Madrid, thousands of women marched through the streets to protest against the government's plan. They yelled "Freedom of abortion", carrying signs with lines like "MPs and rosaries, out of my ovaries".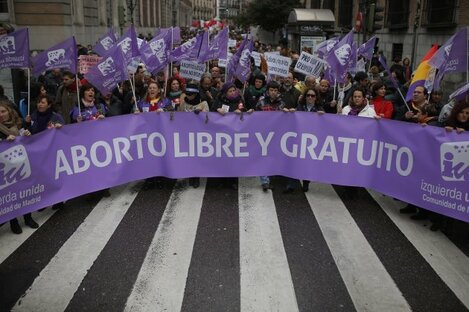 (Image: Andres Kudacki/AP/PA)
"The law means to take us back 40 years," said Concha Merin, 42, who travelled hundreds of miles from the Extremadura region to join the protest in Madrid.
"I have two daughters who could be affected. I am thinking of the freedoms of all women in general."
The bill has reportedly caused division within the ruling Popular Party and has not yet been sent to parliament, where the conservative Popular Party holds a strong majority.
- With additional reporting from AFP.