Updated 12.58pm
ONE QUARTER OF all Aer Lingus workers could lose their jobs in a takeover from British Airlines parent company IAG if the national carrier suffers the same fate as Spanish airline Iberia during its merger.
The IMPACT trade union has said if the merger trend continued in Aer Lingus it would mean up to 1,200 of the Irish airline's 4,000-odd staff faced layoffs.
British Airways and Iberia merged in 2011 to become the International Consolidated Airlines Group (IAG). By the end of this year, job losses at the smaller Spanish carrier are expected to top 4,500.
"Our best estimate is that if IAG were to take over Aer Lingus it would look to make the same sort of cost savings, the same sort of rationalisation measures," IMPACT's Niall Shanahan told RTÉ's Morning Ireland today.
That would mean a loss of anywhere between 1,000 and 1,200 jobs. That's more than 25% of the current Aer Lingus workforce."
Aer Lingus this morning confirmed it had received an improved offer from IAG after previously knocking back two buyout bids.
The latest all-cash offer is at €2.55 per share – valuing the airline at about €1.35 billion.
Under consideration
The Aer Lingus board said it was considering the revised proposal, which would also need the green light from its major shareholders, the Irish government and rival airline Ryanair, to go ahead.
The government holds just over 25% of the airline's shares and the latest offer would put the value of that stake at about €340 million.
A key factor in the deal would be what happened to the airline's valuable slots at Heathrow Airport, with the government likely to look for some kind of undertaking that connectivity between the UK capital and Ireland's main airports would be maintained.
Transport Minister Paschal Donohoe today told Newstalk there were several "really important priorities" the government would weigh in deciding whether to sell its share.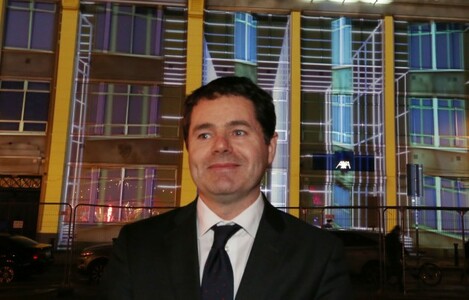 Transport Minister Paschal Donohoe Source: Sam Boal/Photocall Ireland
There is the value of the stake to the taxpayer, but alongside that there are really important policy concerns – our ability for people to get in and out of the country, the future of the Aer Lingus brand and then what any proposal would mean for choice to passengers on any routes that would be affected," he said.
"My explicit objective here is to do the best thing for Ireland in the long run".
Shanahan said the government's 25% stake in the airline was "strategically important" because it was the only guarantee Ireland had that direct connections to London's main airport were kept in place.
"There are wider job implications as well. When we look at the connectivity through the Heathrow slots and our connectivity to the US, we're talking about future potential job losses in terms of tourism and foreign direct investment."
Donohoe said he would be briefing cabinet on the offer tomorrow.
Additional reporting Peter Bodkin