American tourists outside an Irish Shop in Dublin. Source: Sam Boal/Photocall Ireland
SUMMER IS FINALLY here – maybe not weatherwise, but not a day can go by in Dublin city where you don't walk straight into a mass touring group of Americans with cameras.
You weren't imagining the increase this year, because Aer Lingus just released its passenger numbers for May and transatlantic passenger numbers are up 10.9% to 143,000.
Source: Sam Boal/Photocall Ireland
This is up from the same period last year, of 129,000.
While the airline was mired in controversy about whether the government would sell or not sell, passenger numbers were on the rise.
Across the board figures were on the up. Aer Lingus mainline traffic was up 3.5% to 956,000. Short haul passenger numbers increased by 2.3% to 813,000 from 795,000 in May 2014.
Source: Aer Lingus
Following yesterday's announcement that Boston College Football will play Georgia Tech in Dublin in the 2016 Aer Lingus College Football Classic, passenger numbers could see another boost.
Taoiseach Enda Kenny said he is "reliably informed" there will be up to 25,000 visitors arriving from all over the US and Europe.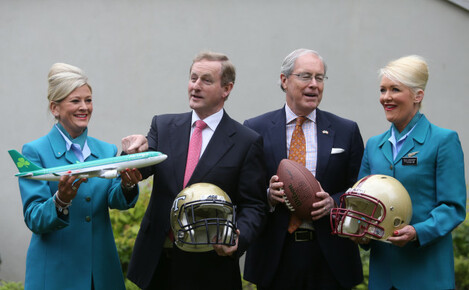 Aer Lingus Cabin Crew Sarah Nolan, Taoiseach and Fine Gael leader Enda Kenny, U.S. Ambassador to Ireland, Kevin O Malley and Tracy Johansson at the launch of the 2016 College American football game between Boston College and Georgia Tech. Source: Sam Boal/Photocall Ireland