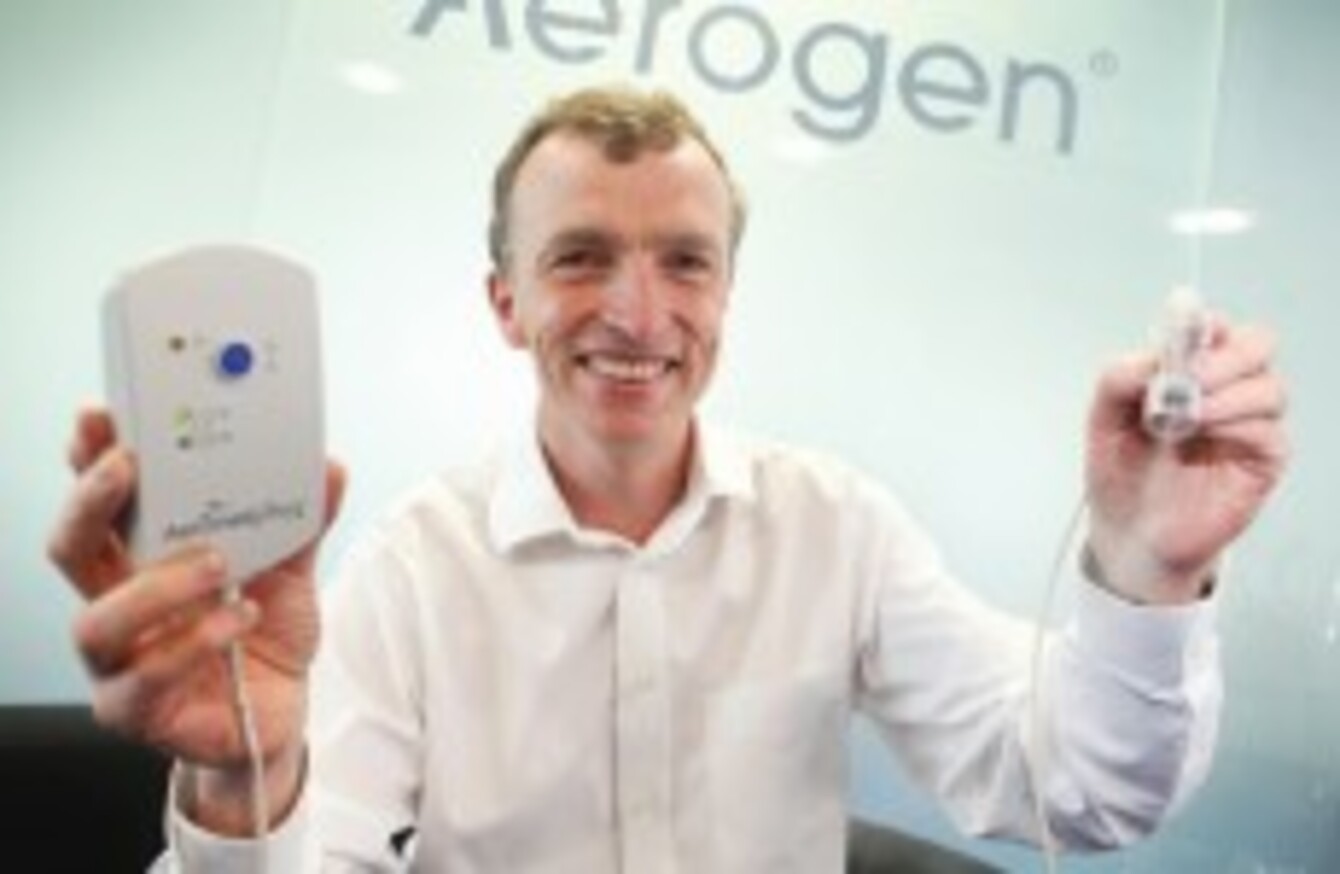 Aerogen CEO John Power
Aerogen CEO John Power
IRISH MEDICAL-TECHNOLOGY INNOVATORS Aerogen have developed the "gold standard" in delivering drugs to patients on ventilators in intensive-care units around the world.
The company, based in Dangan, Co Galway, makes nebulisers which allow medical staff to deliver drugs to a patient using an inhaler direct to where the medicine will be at its most effective.
"The emphasis, these days, is on getting the smallest amount of drug delivered to the correct location for a patient, in a targeted area," Aerogen CEO and founder John Power told TheJournal.ie.
Doctors want to get drugs into their lungs to treat these conditions. You don't want to be injecting the drug into the vascular system, you want to get the drug into the lungs."
About a decade after Aerogen first brought its product on to the market, Power said it was considered the "gold standard" for delivering drugs to patients who need ventilation to survive – from those on life support to premature babies in intensive care.
Its devices are an aid for the large share of hospital cases that deal with respiratory problems.
Put simply, its nebulisers converts drugs into an aerosol form, but they also include technology to control the particle size and delivery speed for the vapour.
They are capable of creating uniform droplets only 3.4 microns wide – about one-tenth the width of a human hair.
Exporter of the year
The company was recently named Ireland's exporter of the year at the Export Industry Awards in recognition of its reach into 70 countries and 30% growth each year since 2008.
It now makes 40 products and employs over 100 staff, a workforce set to expand further as it continues to expand in the big US healthcare market. The firm is currently looking for staff with experience marketing medical technology and product-development engineers.
Meanwhile, the next stage in its recent development will be adapting its technology for use in other environments like the emergency room and for home care.
Power said the biggest achievement in the early days of the business had been simply to survive without big domestic demand to support it.
"In the medical-technology market you really are a born global company. The Irish, internal market is so small you really need to export from day one and be ready to get up and move and travel."