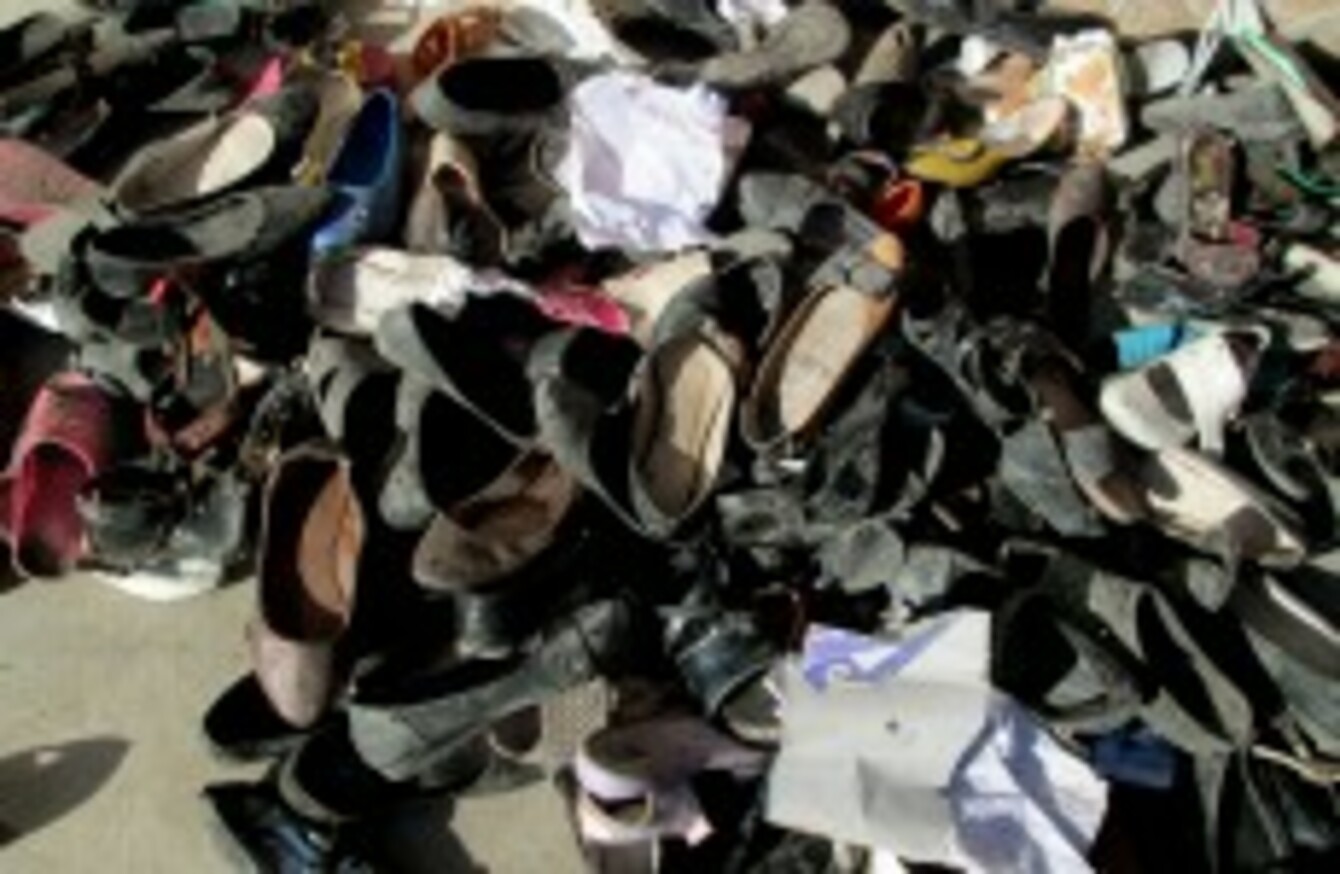 Shoes of schoolgirls are seen in Afghanistan's Takhar province, where at least 12 students were killed in a stampede yesterday.
Image: Naim Rahimi/AP/Press Association Images
Shoes of schoolgirls are seen in Afghanistan's Takhar province, where at least 12 students were killed in a stampede yesterday.
Image: Naim Rahimi/AP/Press Association Images
Updated at 10.05am
RESCUERS ARE TODAY picking their way through rugged terrain and pockets of Taliban insurgency in the search for survivors after a massive quake hit Pakistan and Afghanistan, killing more than 300 people.
The toll was expected to rise as search teams reach remote areas that were cut off by yesterday's powerful 7.5 magnitude quake, which triggered landslides and stampedes as it toppled buildings and severed communication lines.
A police official in the northwestern Pakistani city of Peshawar told AFP they had not been able to get in touch with authorities in the district of Kohistan in Khyber Pakhtunkhwa to see how its population of nearly half a million people had fared.
"There is no way to communicate with the officials in Kohistan, the communication system has been disrupted and roads blocked so we cannot say anything about the damage there," the official told AFP.
In other remote areas residents – including children and the elderly – were helping with relief work, many of them digging through rubble for survivors.
The bulk of the casualties recorded so far were in Pakistan, where 241 people were killed, including 196 in Khyber Pakhtunkhwa province, and more than 1,600 injured, disaster management authorities said.
Appeal for assistance
Pakistan army helicopters began evacuating victims today to the provincial capital Peshawar and Rawalpindi, which borders Islamabad.
The military has also sent medical teams, tents and rations to affected areas, while India – whose relationship with Islamabad is often prickly – said it stood ready to help.
Prime Minister Nawaz Sharif returned to Pakistan today after a visit to the US and said the government would announce a disaster relief package.
State media later reported he had flown to Shangla in Khyber Pakhtunkhwa – believed to be one of the worst-hit districts with 49 reported dead so far – where he will meet survivors.
Two hundred rescuers have been deployed to the district.
Afghan officials said at least 84 people were confirmed dead and hundreds more injured, with casualties reported from around half a dozen of the country's 34 provinces, and some 4,000 homes reported damaged.
The government has implored aid agencies for assistance.
But large swathes of Badakhshan, the remote province where the epicentre is located, and other quake-hit areas are effectively controlled by the Taliban, posing a huge challenge to any official aid efforts.
The militants have urged charity organisations not to hold back in delivering aid, and vowed their fighters would provide "complete help" in the affected areas.
'They could not even talk'
In one of the most horrifying incidents to emerge so far, a dozen Afghan schoolgirls were trampled to death as they rushed to escape their classrooms in remote northern Takhar province when the quake struck.
Bystanders rushed the dazed and terrified survivors to hospital, many lying limp in the arms of their rescuers, as doctors tried reviving some of them by pumping their chests.
"When the relatives of the dead students came to collect their bodies, they were so distressed that they could not even talk to authorities to record their names," said Hafizullah Safai, head of the Takhar health department.
Several historic buildings were damaged in Peshawar, including the Bala Hissar fort which houses the Frontier Corps and overlooks the city, and the 17th-century Mohabbat Khan mosque.
"A whole side of the Bala Hissar fort and a minaret of the Mohabbat Khan mosque collapsed during the tremor. The mosque has also developed some cracks," Khyber Pakhtunkhwa information minister Mushtaq Ahmad Ghani told AFP.
The quake was centred near Jurm in northeast Afghanistan, 250 kilometres (160 miles) from the capital Kabul and at a depth of 213.5 kilometres, the US Geological Survey said.
Afghanistan is frequently hit by earthquakes, especially in the Hindu Kush mountain range, which lies near the junction of the Eurasian and Indian tectonic plates.
In Nepal a quake in April and a strong aftershock in May killed more than 8,900 people, triggered landslides and destroyed half a million homes.
Also today, the Pakistan military said seven of its soldiers had been killed in heavy cross-border fire from Afghanistan, drawing attention to the continuing unrest along the porous border between the two countries, much of which had been affected by Monday's quake.
First published on 26 October