Image: Julien Behal/PA Wire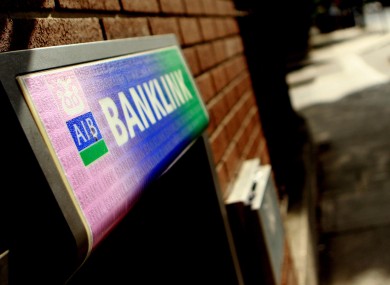 Image: Julien Behal/PA Wire
ONE OF THE WORLD'S most authoritative banking associations has ruled that AIB is officially in default, as a result of its moves to enforce burden-sharing on some of its junior bondholders.
The International Swaps and Derivatives Association, a trade organisation comprising of some of the world's largest banks, this morning voted to recognise that AIB's moves – which prompted legal challenges from junior bondholders – as a 'Restructuring Credit Event'.
The vote – passed unanimously by the 15 banks and institutions that sit on ISDA's determinations committee – means that AIB is officially considered to be taking moves to renege on its existing obligations: effectively a default.
While the decision does not have any tangible effect on the bank's operations, it does mean that certain types of instruments sold by institutions to investors – essentially a form of insurance against an AIB default – must now begin paying out to their holders.
The committee officially recognised June 9 as the date at which the default came into effect – indicating that the moves were confirmed when the High Court ruled that 16 out of the 18 different junior bonds issued by AIB were not affected by an ongoing legal challenge.
The outstanding two issues of junior bonds are the ones held by Aurelius Capital Management, which is appealing AIB's plan to force bondholders to accept massive discounts on the value of their investments, or face an even larger cut.
AIB itself declined to comment on ISDA's action when contacted by this website.
The official designation of AIB's moves as a default means that similar plans from Bank of Ireland, EBS and Irish Life & Permanent to enforce burden-sharing on their own junior bondholders could see those banks also classed as defaulting.
It may also have implications for Ireland itself, which is considered by many investors to now be inseparable from its banks. This morning the price of insuring against an Irish default spiked, as investors prepared for the possibility that Ireland itself may seek to renegotiate repayments of its government bonds.
The news also comes as Bank of Ireland faces a legal challenge of its own – from a group of British pensioners who say the bank's burden-sharing is being carried out under Irish law which should not apply to them.
AIB's shares were unchanged on the Dublin stock exchange, at 17c.