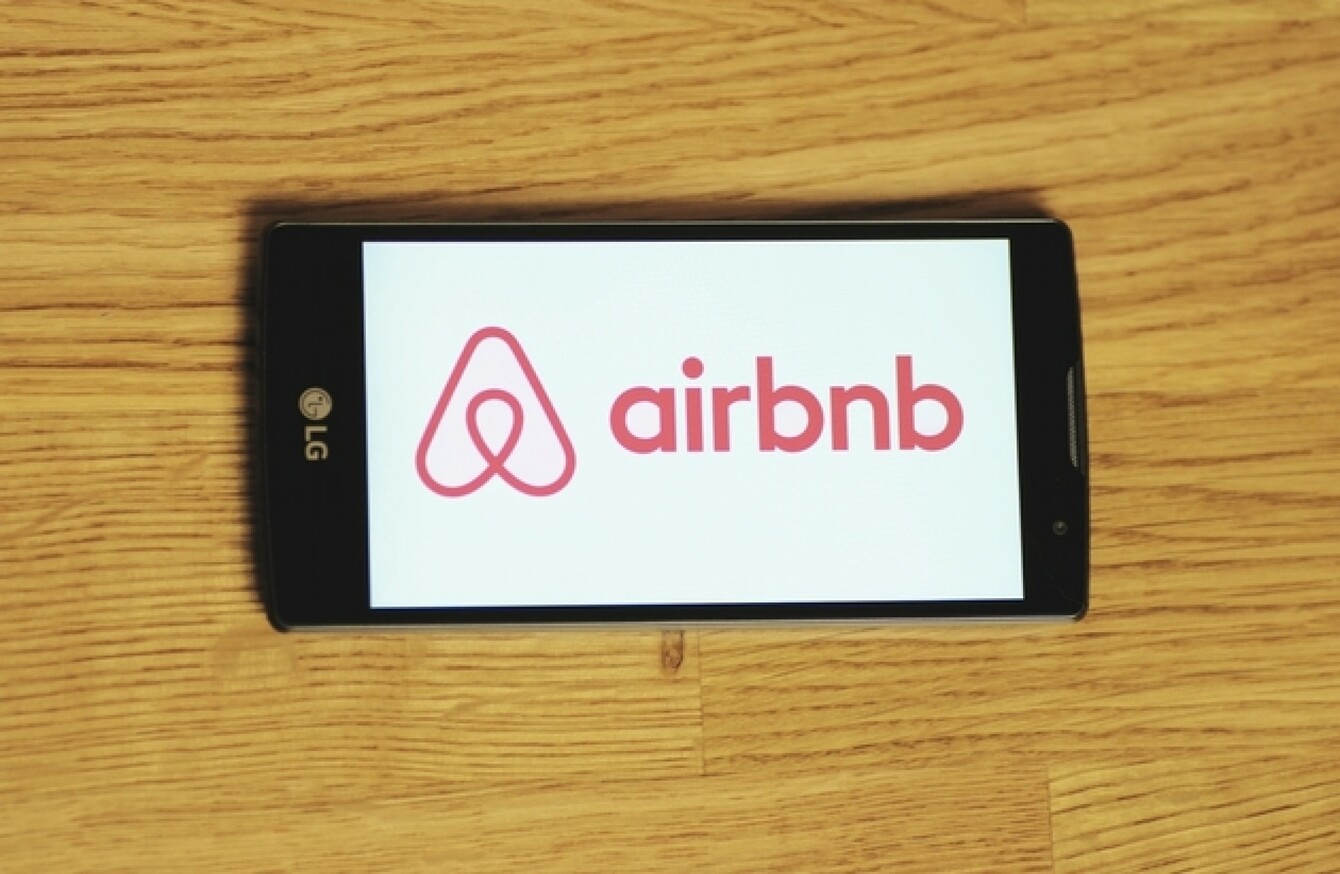 Image: Shutterstock/g0d4ather
Image: Shutterstock/g0d4ather
PEOPLE USING THE Airbnb service to host guests in their homes in Dublin collectively earned €52 million last year, according to a new report commissioned by the company.
The report found that the average annual earnings of a typical host was €4,900 (with some earning more and others earning less).
Airbnb is a homesharing website that allows people to rent out rooms or their homes to travellers on a short-term basis, with the cost decided by the renter.
Since it was founded in 2008 in San Francisco, the company has grown enormously around the world.
The number of hosts in Dublin has shot up in the past number of years – with a 100% rise in just a year.
6,100 hosts let out part or all of their properties at some point for guests last year, compared to 2,960 hosts between October 2014 and September 2015.
As well as this, income earned from letting has also almost tripled: from €17.3 million in 2014/2015, to €52 million last year.
The vast majority of the lettings (5,200) were in the Dublin city area.
The majority of Airbnb hosts are required by Revenue to pay tax on the money they earn. TheJournal.ie has sought clarification on whether the top line figure of €52 million is before or after tax is deducted.
The report 
The report – entitled Homesharing: The Positive Impacts on Dublin – also found that guests staying in Airbnb dwellings spent an estimated €221 million in Dublin last year.
In total, 403,500 guests stayed at properties in the capital hosted via the service.
Exactly half of all lettings were for private rooms. Meanwhile, just under half (47%) of listings were for an entire home.
In the case of an entire home listing the entire property is rented out by a guest and the host is not present in the building for the length of the stay.
The report also found that the vast majority of hosts (88%) shared their primary home. However, the report does not contain information on how many hosts put up more than one property for listing.
According to information on the data website Inside Airbnb compiled last August, almost half of hosts in Dublin have multiple listings on the website. These can be for separate rooms in the same building or for different buildings entirely.
TheJournal.ie has sought information from Airbnb on how many hosts have multiple dwellings. 
Other notable figures from the report include:
The average age of a host is 39
Over half of hosts say they rent out a property to help make ends meet
The average length of stay per guest is 3.2 nights
Criticism
The home sharing service has come in for some criticism recently, and may be subject to stricter regulations in the future.
In October, An Bord Pleanála upheld a Dublin City Council (DCC) ruling that an apartment owner in Temple Bar needed to apply for planning permission if they want to continue to rent the property out via Airbnb.
This ruling was supported by Housing Minister Simon Coveney at the time. A working group is also being set up by Government to review if new regulations should be introduced.
Sinn Féin TD Eoin Ó Broin last week raised the issue in the Dáil with Coveney, calling on new laws to be published to regulate the market.
"Sinn Féin is not against the principle of Airbnb as it was originally designed however it is my view that renting out a room in your home is entirely different to renting out your entire property," Ó Broin said.
Ó Broin argued that people using properties as "full-time B&Bs" was negatively affecting the property market in Dublin.
There are currently 1,494 listings for Dublin on rental property website Daft.ie.
Commenting on today's report, Aisling Hassell, site lead and global head of customer experience at Airbnb, said that the service allowed families to boost their income and helped the local economy.
"Hosts provide great experiences for guests, spread visitors and benefits beyond tourist hotspots and give an economic boost to local families, businesses and communities," she said.