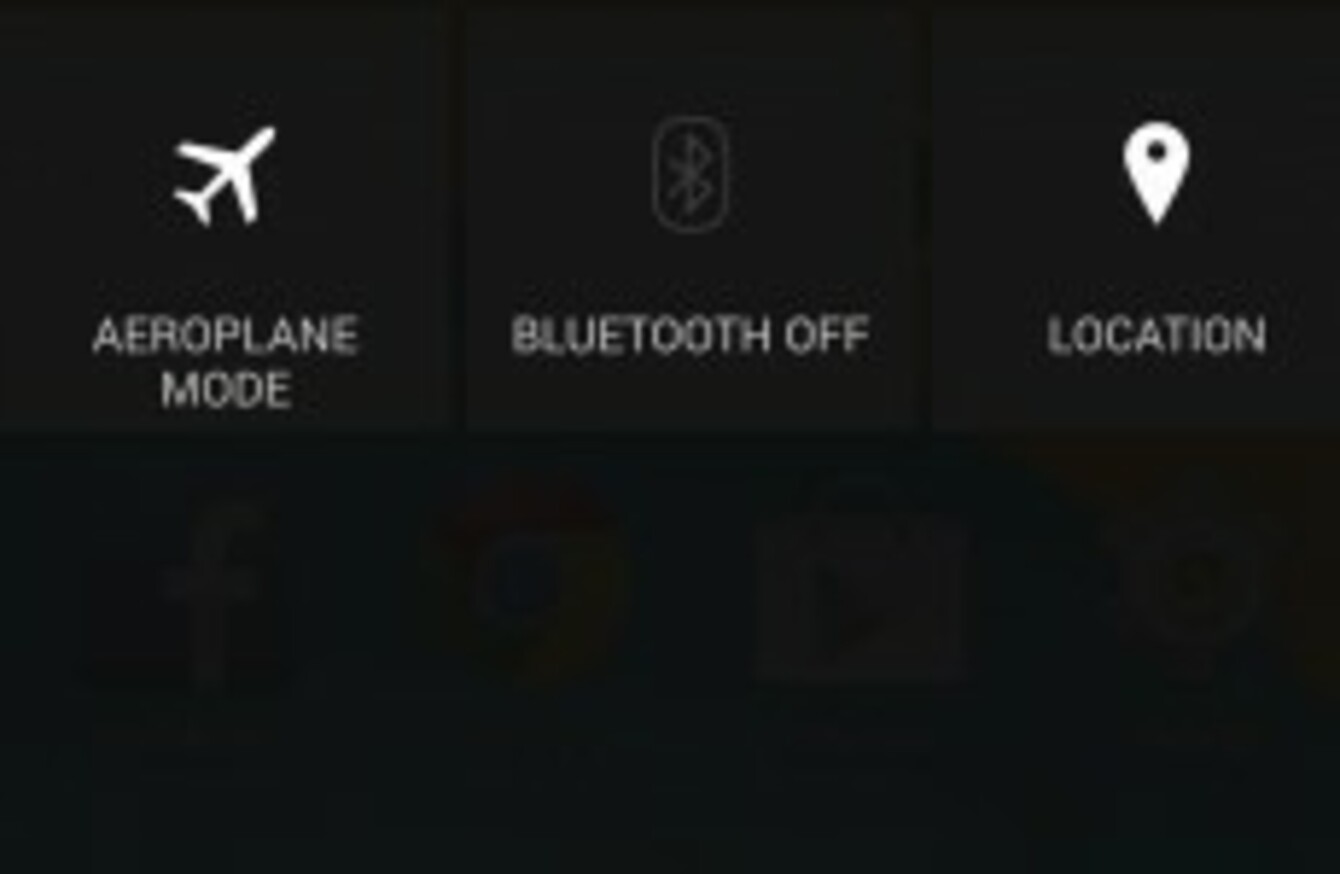 Image: TheJournal.ie
Image: TheJournal.ie
PRACTICALLY EVERYONE KNOWS about Airplane Mode and what it does (the clue is in the title).
While many of us use it when we're actually on a plane, the feature can come in handy for numerous other scenarios. Here are a few examples.
For a step above silent mode
When attending an event or meeting someone, we're usually put our phones on silent mode so we're not interrupted. But that's no use if you're constantly checking it for notifications or email updates, or if you think it's vibrating when it's not.
Switching it on airplane mode ensures that you won't get any updates, allowing you to focus on that conversation or task you're engaged with.
Conserve battery power
It's been mentioned before here, but since Airplane Mode turns off phone signal, 3G/4G, Bluetooth and location services, it results in the phone using less power, and also allows it to charge faster.
On certain devices, Bluetooth can be reactivated while your phone is in Airplane mode, in case you connect other devices to your smartphone or tablet.
For using WiFi only
This is a specialised tip, but if you're using a semi-reliable or unreliable WiFi connection, but need to avoid using mobile data, turning on Airplane Mode and then WiFi again means you will only be using WiFi when browsing the web or using apps.
Handy if your WiFi connection is inconsistent and causes you to use mobile data without realising it.
When watching videos/playing games
If you don't want to be interrupted while playing a game or watching a video uploaded on your phone, or if a child is using your phone for that reason, it's better to have Airplane Mode on to ensure they can watch/play uninterrupted.
Combine that with the previous WiFi tip and you can watch Netflix and YouTube without having to worry about interruptions.
Save photos without posting them online
Certain apps like Instagram only allow you to save photos when you post them on the app. If you want to edit a photo, but not publish it online, turning on Airplane Mode will allow you to edit and save it without anyone noticing. That way, you can edit it in a different app or upload it later.
For moments of peace and quiet
If you don't want to be interrupted by messages or notifications for a few minutes, switching it on will give you some reprise from the outside world. At the very least, you won't have to go through the guilt of letting your phone ring out.