EGYPT'S TOP COURT today ordered a retrial of the three Al-Jazeera reporters who have been in jail for more than a year.
The journalists, Australian Peter Greste, Egyptian-Canadian Mohamed Fahmy and Egyptian Baher Mohamed of the broadcaster's English service have been detained since December 2013 on charges of aiding the party of ousted Egyptian president Mohamed Morsi.
Custody
The three are to remain in custody pending a new hearing.
Al-Jazeera Television today called for the swift release of the three journalists.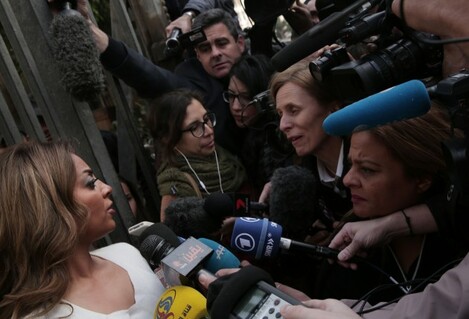 Marwa Omara, the fiancée of Egyptian-Canadian Al-Jazeera English journalist Mohammed Fahmy, speaks to journalists as she leaves the high court after a hearing, in Cairo today. Source: AP/Press Association Images
The Qatar-based news channel said that prolongation of the custody of its three staffers while legal proceedings dragged on could only do further damage to Egypt's international standing.
"The Egyptian authorities have a simple choice — free these men quickly or continue to string this out, all the while continuing this injustice and harming the image of their own country in the eyes of the world," the channel said.
"They should choose the former."
The case, which triggered global outrage, has been widely seen as political and reflecting the anger of the post-Morsi Egyptian regime with Al-Jazeera's Qatari sponsors who backed the Islamist.
Hopes for the journalists' release have grown following a thaw in relations between Cairo and Doha.
Originally published: 11.45am